American rapper T-Pain plagiarises Aashiqui2 song; gets trolled brutally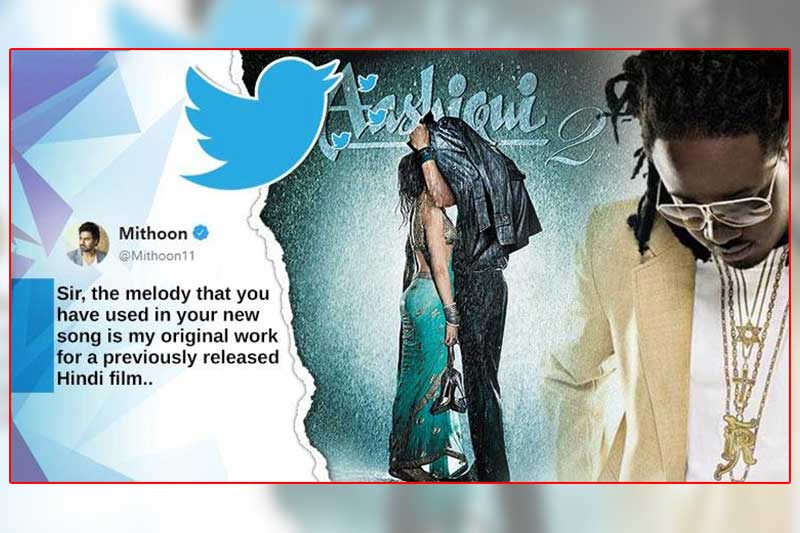 In a bizarre incident of plagarism, American rapper T-Pain faced the heat of Bollywood lovers after he allegedly used the tune of the popular Indian track Kyuki Tum Hi Ho from the movie Aashiqui2 in his newest release titled 'That's yo money'.
As soon as the the rapper shared his latest track, a recurring flute melody sounding very similar to the popular Hindi track caught the attention of the netizens who accused T-Pain of lifting the tune from the Bollywood song.
The song in question was song originally sung by singer Arijit Singh.
After following the hullabaloo on the internet, Mithoon Sharma the composer of the song commented that the tune that Pain was claiming to be his, sounded starkly similar to the work of Mithoon. Apparently Mithoon took to his Twitter handle and addressed to T-Pain that the melody used in his new song was originally composed by him.
Sir, the melody that you have used in your new song is my original work for a previously released Hindi film..The Label is looking into this.#tumhiho #Aashiqui2 https://t.co/5fnDf4sfg7

— Mithoon (@Mithoon11) December 15, 2018
Subsequently, the song was then removed from YouTube. And as the issue caught media's attention, T-Pain's tweet that had the song attached to it was removed from his official Twitter handle.
Twitterti trolled T-Pain
He did a thing. Tum hi ho and T-Pain, who'd have thought it'd work so well?! 🔊#tumhiho #tpain #thatsyomoney https://t.co/wYPllnqcDc

— anjali (@eleventhxrtysix) December 15, 2018
Copy of Tum Hi Ho 😡

— Prince Chauhan (@Prince1Chauhan) December 16, 2018
Lmao. T Pain accused of plagiarising new song from Aashiqui 2's Tum Hi Ho. World, why you so strange? https://t.co/FfmvJYdbNx

— Divyani Rattanpal (@Divyanie) December 18, 2018
— Shivam Singh (@Beingshivam9) December 18, 2018
Sir, the instrumental is simply a copy of #TumHiHo

— Md Dipty Prodhan Dipto (@dipty98) December 15, 2018
Hella just ruined an amazing Bollywood song 😤

— Megha Sharma (@meghasharma30) December 17, 2018
Also read: Here's why Pete Davidson refuses to see ex-Ariana Grande