Tej Pratap sacrifices RJD crown for young brother Tejashwi, says 'what rift'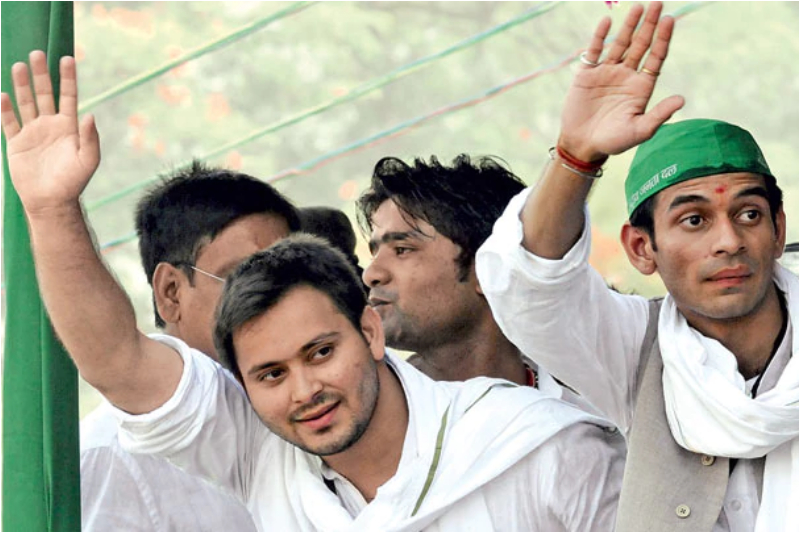 Setting off the speculation aside that there is a rift between two brothers over who will become the political heir of Lalu Prasad Yadav and lead Rashtriya Janata Dal, elder brother Tej Pratap Yadav settled for a back seat and gave the thrown to younger brother Tejashwi Yadav with a crown at a mega event to mark the foundation day of the party, launched two decades ago.
Tej Pratap not only set aside his difference with brother, but also blamed the opposition parties for trying to create a rift between the two. Before tying the crown with a sting, he gave blessing s to his younger brother Tejashwi. He said, "Tejashwi  has a long way to go. Let jealous people feel bad, I will give him blessings and will also crown him. There are people who are trying to create a difference between us." Soon after that Tejashwi reciprocated by touching his older brother's feet.
ALSO READ: RJD leader Tej Pratap Yadav alleges BJP hacked his Facebook page
Though Tej's name was not mentioned in the list of dignitaries to the event, the public display of mutual respect is hard to digest for the political party members in Bihar. Last week there were speculations that Chief Minister Nitish Kumar is trying hard to get back into the fold of 'Mahagatbandhan' and had made a call to Lalu Prasad Yadav, admitted in Mumbai for treatment.
However, senior JDU leader quashed it by saying that it was just a courtesy call. Tejashwi, who do not share good relations with Nitish is against the induction of JD(U) in the grand alliance, post break up in July 2017. Making the foundation day as an opportunity, Tejashwi called the party leaders to be prepared for polls.
ALSO READ: Tejashwi Yadav calls Nitish Kumar 'palturam', gets renamed as 'muhalla-level leader'
He said, "It might happen that BJP would dump Nitish Kumar at end (before Lok Sabha polls). And the elections for Lok Sabha and Assembly take place simultaneously, so be prepared." He further added, "Some people are trying to create a narrative here that BJP will not be defeated till JDU comes back in Mahagatbandhan. They (BJP-JDU) recently lost a number of by-polls in Bihar, so what happened then?"
Photo Courtesy: India Today