Gold medallist Tejinder Singh Toor's father passes away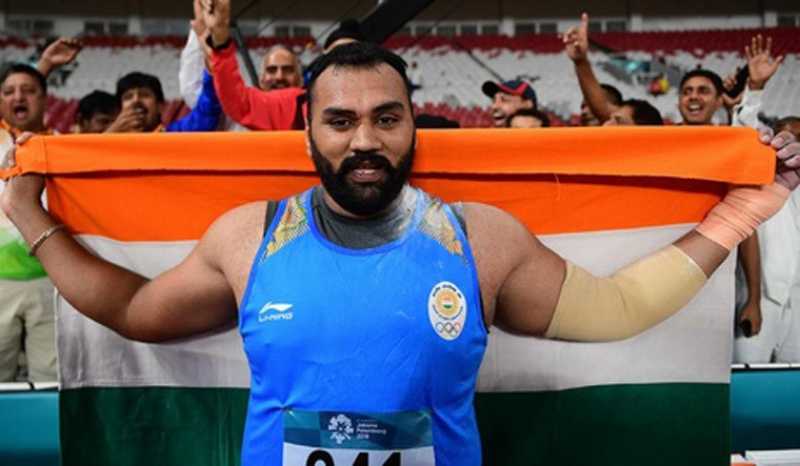 Gold medal-winning shot-put thrower Tejinder Singh Toor's homecoming didn't quite happen the way it should after his father, Karam Singh passed away on Monday evening. News reports suggest that the athlete received the news of his father's demise when he was on his way towards his hometown in Moga, Punjab after he landed in Delhi from Jakarta. Tejinder decided to travel by car to Moga because he knew that his father, who had cancer wasn't keeping well. But the news reached him when he was on his way, adds the report.
The Athletics Federation of India took to Twitter to express their condolences. "AFI is in deep shock. We received Tejinder Toor,our Asian Shot Put Champion Gold Medalist at the airport last night & as he was on his way to the hotel, sad news of his father's demise reached us. May his soul rest in eternal peace. Our heartfelt condolences to Tajinder & his family," a tweet by AFI's, official account read.
With a 20.75m throw at the Games this year, Tejinder Singh Toor created a national record in shot put. After his victory, Toor dedicated his medal to his father and family. Karam Singh has been battling cancer for a long time.
He had said in an interaction with PTI,"This medal is my biggest achievement because a lot of sacrifices have been made. For the last two years, my father (Karam Singh) has been battling with cancer. My family though never let me get distracted. They allowed me to chase my dream. A lot of sacrifices have been made by my family and friends and all those have paid today."
"My family never pressurized to attend my father in the hospital and it was always my friends who took care of all the hospital formalities in my absence. I have not gone home much in this period since I was training in Dharamsala. Now I will meet my dad but I will be there for only two days. I have to get ready for the next challenge. My coach M S Dhillon also needs to be credited for the hard work put in by him," said Toor, hoping that he would meet his father and then proceed to train for the upcoming competitions.
Also read: Asian Games 2018: TejinderPal Singh dedicates shot put gold to cancer stricken father