Telangana Assembly election results 2018 LIVE UPDATES: TRS leading in 87 seats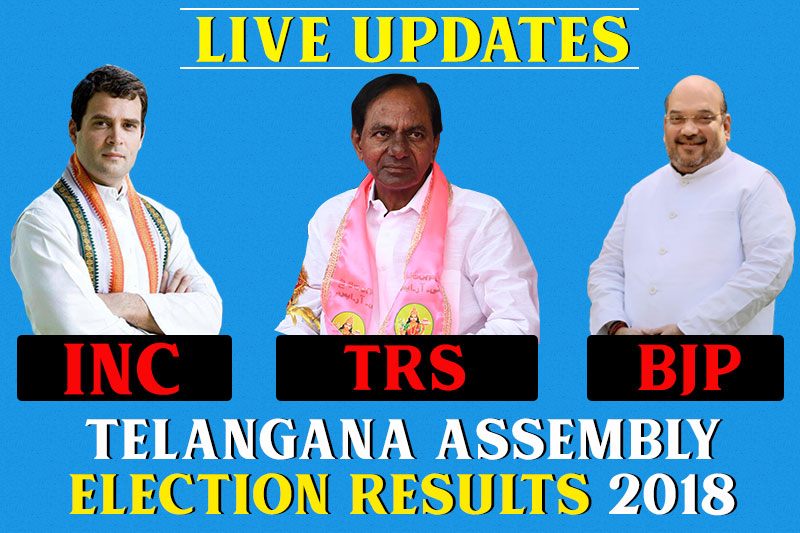 16:45 PM: TRS is leading in 87 while Congress is leading in 21 seats, BJP in 1 seat.
18:00 PM: After TRS' impressive performance in the Telangana Assembly Elections, party chief and caretaker CM K Chandrashekar Rao addressed the media at party headquarters in Hyderabad. At the party office, he was greeted by supporters and garlanded an idol of a goddess.
14:50 PM: Caretaker chief minister and TRS president K Chandrashekar Rao has won from Gajwel constituency by a margin of 50,000 votes against his nearest Congress rival, Pratap Reddy. The TRS has gained an unassailable lead and was ahead in 86 seats, while the Congress-led Prajakutami alliance was ahead in 22 seats, as per latest trends at 2:30 pm.
13:50 PM: Even as trends for Telangana election results showed that the Congress-led 'Prajakutami' alliance was trailing behind the TRS, a Congress delegation has submitted a complaint to Telangana Chief Electoral officer (CEO) Rajat Kumar, expressing doubts that the Electronic Voting Machines (EVMs) may have been tampered in the state. As of trends at 1:45 pm, Congress-led alliance was leading in 23 seats, while the TRS was ahead in 85 seats.
12:30 PM: As TRS established a formidable lead ahead of its opponents as per the latest trends for Telangana Election results, K Kavitha, daughter of KCR and TRS MP, dismissed Congress' allegations that incidents of EVM-tampering in the state, terming them as "false". She also said that the people had given victory to the TRS. Speaking to ANI, she said, "The losing party always says the EVMs have been tampered with, this is absolutely false. Even the CEC in a press meeting yesterday said that it is not possible to tamper EVMs. People have given victory to TRS, what Congress is claiming is false."
12:00 AM: As Congress faced another defeat at Telangana, despite being a part of the alliance called Prajakutami, it was trailing in the Telangana election results, as per the latest trends. However, Congress blamed its apparent loss on alleged tampering of the Electronic Voting Machines (EVM). Telangana Congress President N Uttam Kumar Reddy said that all the Congress will lodge a complaint to RO officers "We will also complaint to ECI on this matter. How can TRS leaders say before counting that who will lose in elections?"
11:45 AM: The K Chandrashekar Rao-led party looking set for a landslide victory in Telangana as the party was leading in 93 seats.
11:30 AM: The TRS is leading in 91 seats out of 119 seats while the Congress is ahead in 16 seats, BJP is ahead in 4.
11:00 AM: Telangana state chief N Uttam Kumar Reddy was leading in Huzurnagar constituency by 1,852 votes against TRS' Saidi Reddy after the third round. Reddy had been touted as the possible chief ministerial candidate if the Congress-led Prajakutami came to power.
10:29 AM: As the counting of votes for 119 seats Telangana Assembly is underway, KCR's party has extended its lead on 86 seats while Congress has fallen behind on 22 seats, reported NDTV.
10:14 AM: The ruling Telangana Rashtra Samiti (TRS) is inching close to the half-way mark in Telangana, as it is leading on 85 seats. The Congress gains 18 constituencies, whereas the BJP is ahead on 5 seats.
Akbaruddin Owaisi wins from Chandrayan Gutta constituency
10.02 AM: According to news agency ANI, AIMIM president's Asaduddin Owaisi's younger brother Akbaruddin Owaisi has won from Chandrayan Gutta constituency.
9:56 AM: As per trends, TRS is ahead on 85 constituencies out of 119 seats. The Congress is leading on 22 seats while BJP has fallen behind on 4 seats.
9:10 AM: According to NDTV, KCR-led TRS is leading on 79 seats in Telangana Assembly elections while Congress gains 23 seats. BJP stuck on 3 seats. Check: Rajasthan Assembly elections result 2018 LIVE UPDATES: Congress crosses majority mark
9:10 AM: The ruling party TRS has taken early leads on 65 seats whereas Congres leads on 25 seats and rival party BJP is leading on 3 seats.
8:59 AM: TRS is leading on 48 Constituencies whereas Congress gains 17 seats and BJP is leading on 3 seats.
8:53 AM: As per trends, TRS seems to take an early trend as it gains 35 seats while Congress is leading on 18 seats and BJP gains 3 seats.
8:49 AM: TRS is leading on 27 seats while Congress is ahead on 15 seats and BJP on 3 seats.
8:33 AM: TRS is reported to have gained 17 seats while BJP Congress is leading on 4 seats.
8:24 AM: As per trends, TRS is leading on 4 seats and Congress is ahead on two seats in Telangana Assembly elections 2018.
Telangana elections result 2018 LIVE UPDATES:
The counting of votes Telangana Assembly Elections 2018 has begun amid high-security for119 seats in. The results of Vidhan Sabha elections 2018 are seen as the semifinal before the 2019 Lok Sabha election. The polls for Telangana Assembly were conducted on December 7 with a voter turnout of 73.20 percent.
Counting of votes for Telangana Assembly elections 2018 is being held today. Telangana Assembly elections witnessed a three-cornered battle with the TRS taking on the BJP and a grand alliance led by the Congress and Chandrababu Naidu's TDP. The Live Mirror brings to you the 2018 Vidhan Sabha election results.
For Telangana Assembly polls, a total of 1821 candidates including 135 women are in the fray for the 119-member state Assembly. The Assembly poll which was held on 7 December, recorded a 67% voter turnout. Asaduddin Owaisi –led AIMIM will make the difference and can emerge as a kingmaker in the Telangana elections result today.
TRS leader and interim Chief Minister K Chandrasekar Rao's son – K T Rama Rao is aiming for a third term from Sircilla constituency. KCR's nephew and cabinet minister T Harish Rao appears set to retain Siddipet seat for the fourth term in a row.
AIMIM leader Akbaruddin Owaisi is seeking election from Chandrayangutta, in Hyderabad, for a fifth consecutive term. On the other hand, Telugu Desam Party (TDP) founder NT Rama Rao's granddaughter N Suhasini will compete from Kukatpally, a constituency in Greater Hyderabad while BJP's state President K Laxman is contesting from Musheerabad in Hyderabad.
Congress party's Telangana unit chief N Uttam Kumar Reddy is contesting for a third consecutive term. He may emerge as a strong contender for the post of the chief minister of state.
Also Read: Telangana Assembly elections 2018: 67% voter turnout recorded