Rajasthan Assembly election results 2018 LIVE UPDATES: Congress leads in 100 seats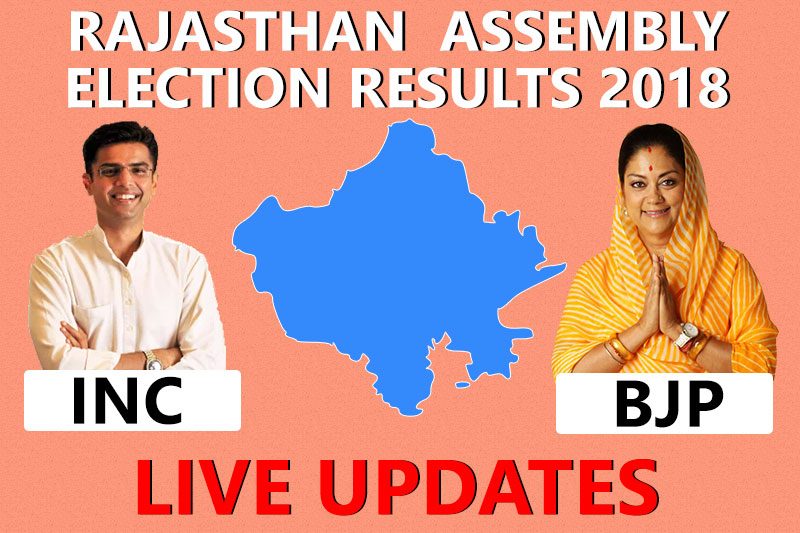 19:32 PM: Congress leading in 100 seats, BJP leading on 74 seats.
19:30 PM: BJP dissident and Rashtriya Loktantrik Party (RLTP) leader Hanuman Beniwal wins from Khinvsar seat by 16,948 votes.
16:45 PM: Congress leading in 100 seats, BJP leading on 74 seats.
16:25 PM: Congress leading in 99 seats, BJP leading on 75 seats.
16:00 PM: National Vice President of the Rashtriya Lok Dal (RLD) Jayant Chaudhary issues a letter, states "Respecting the mandate of the people, party President Chaudhary Ajit Singh has directed the MLA of the party to help Congress form a stable govt."
15:40 PM: Newly elected Congress MLAs of Rajasthan will meet in Jaipur tomorrow.
15:30 PM: Congress leads on 101 while BJP on 70. BSP leads on 06 and others on 22
14:30 PM: Chief Minister Vasundhara Raje wins from Jhalrapatan, beating Manvendra Singh of the Congress.
14:20 PM: Sachin Pilot wins Tonk, Ashok Gehlot wins Sardarpura
12:40 PM: "Non BJP independent MLAs, who share the same ideology as Congress, I'm in touch with all of them, especially those who are against the BJP, I'm in touch with all of them, we will get them on board, the mandate is against the BJP. Tomorrow there will be an MLAs meeting," says Congress leader Sachin Pilot.
12:35 AM: Rajasthan: "Congress has won the mandate. Numbers can go up and down but public's mandate is in the favour of Congress. We will get clear majority, still we would want independent candidates & parties other than BJP to support us if they want," says Congress leader Ashok Gehlot.
12:07 AM: Congress leading on 99 seats, BJP leading on 79 seats, BSP on 2, CPM on 2 and others on 16 seats in Rajasthan.
12:01 PM: With leads coming in for all 199 seats, Congress is leading at 94-95 seats, BJP has managed to hold fort at 80-81 seats while others are leading at 24-25 seats.
11:50 AM: First result from Rajasthan. Samaram Garasiya of BJP wins from Pindwara seat in Sirohi district. The Congress is still ahead in the state on 102 states.
11:30 AM: "Trends make it clear that Congress is forming a government in Rajasthan with full majority, we had 21 seats last time. We should wait for the final numbers. Congress leadership and MLAs will decide who will get what role," says Congress'CM probable Sachin Pilot. He added that the victory in Rajasthan is a gift to Congress president Rahul Gandhi, who became party chief on the same day last year.
11:25 AM: "People of Rajasthan have overwhelmingly voted against the Vasundhara Raje-led BJP government. We have been blessed with the people's mandate…In Madhya Pradesh and Chhattisgarh as well, the BJP has suffered a setback," said Sachin Pilot, who is among the frontrunner to secure the chief ministerial post.
11:20 AM: Minutes after the Congress came down with leads in 95 seats, the party is now ahead in 102 constituencies. The BJP is trailing, with leads in 79 assembly segments.
Congress lead reduced to 84 seats in Rajasthan elections
11:01 AM: Congress' lead took a dramatic turn as its lead reduced to 84 seats, almost 30 minutes ago, the grand old party was leading on 103 seats. The ruling party BJP is ahead on 84 seats.
Vasundhara Raje and Ashok Gehlot lead in their constituency
10:38 AM: According to data released by an election officer, incumbent chief minister Vasundhara Raje is leading by 8845 votes from Jhalrapatan, while Congress' leader and former Rajasthan chief minister Ashok Gehlot is leading by 5112 votes from Sardarpura, Congress' Sachin Pilot leading by 5295 votes from Tonk.
These Ministers are trailing in Rajasthan elections
10:36 AM: The political leaders who are trailing in Rajasthan Assembly elections include state Social Justice Minister Arun Chaturvedi (Civil Lines), Water Resources Minister Rampratap (Hanumangarh), Agriculture Minister Prabhu Lal Saini (Anta), UDH Minister Srichand Kriplani (Nimahera), Gaupalan Minster Otaram Devasi (Sirohi seat) and Health Minister Kalicharan (Malvia Nagar).
10:27 AM: Congress is ahead on 103 constituencies while BJP is leading on 78 seats in Rajasthan elections.
Ashok Gehlot, Ex-CM leads in Rajasthan's Sardarpura
10:12 AM: Ashok  Gehlot, ex-chief minister and Congress candidate Ashok Gehlot is leading by of 5,112 votes in Rajasthan's Sardarpura, reported news agency PTI.
10:00 AM: As per NDTV trend, Congress has crossed Rajasthan Assembly's majority mark of 100 seats and leading on 101 seats, while the ruling party gains 80 seats.
9:54 AM: Congress is ahead on 86 seats inching closer to cross the majority mark in Rajasthan elections 2018 while ruling party BJP is leading on 70 constituencies.
9:29 AM: According to news agency PTI,  the incumbent Chief Minister Vasundhara Raje is leading by 4055 votes in her constituency, Jhalrapatan.
9:24 AM: As per the trends, BJP has narrowed down the gap as it is leading on 68 constituencies whereas Congress is ahead on 78 seats. Check: Telangana Assembly elections result 2018 LIVE UPDATES: Akbaruddin Owaisi wins from Chandrayan Gutta
Congress Buys firecrackers in Jaipur
Firecrackers brought to Congress office in Delhi by party leader Jagdish Sharma as counting is underway for assembly elections in five states pic.twitter.com/vq5dZB2Gta

— ANI (@ANI) December 11, 2018
Sachin Pilot, Chief Ministerial aspirant is leading from Tonk. On Monday, Pilot held an informal interaction with media persons at the party office. During the interaction, Pilot has expressed confidence about the Congress win in  Rajasthan Assembly election 2018.
9:00 AM:  Congress seems to touch its halfway mark as it has gained the lead on 71 constituencies whereas ruling party BJP leads on 49 seats.
8:55 AM: As per ABP news, Congress has gained its lead on 54 constituencies while BJP is ahead in 34 seats.
8:37 AM: Congress is leading on 19 seats while BJP is ahead on 9 seats in Rajasthan elections.
Congress has gained +12 seats as compared to the 2013 elections in Rajasthan, it is a huge change in the state.
8:21 AM: According to trends, Congress has taken early leads and is projected to win 12 seats in Rajasthan elections 2018 while BJP is leading.
8:15 AM: Counting of votes for the crucial assembly elections 2018 has started in the five states which went to polls. Stay tuned here for the updated results news updates coming from Rajasthan.
Rajasthan Assembly election results 2018 LIVE UPDATES:
Counting of votes for Rajasthan Assembly elections 2018 began. By winning Rajasthan Assembly elections, BJP and Congress both will be eager to gain the momentum for the upcoming Lok Sabha polls in 2019.
For Rajasthan Assembly polls, a total of 2,274 candidates including 187 women are in the fray for 199 out of the 200-member constituencies. State Legislative Assembly elections which was held on 7 December, recorded a 67% voter turnout. Counting of votes for the crucial elections for Vidhan Sabha Polls Begins has begun. Stay tuned for the lastest update for Rajasthan elections 2018 today.
The election in Alwar district's Ramgarh constituency was postponed due to the death of Bahujan Samaj Party (BSP) candidate Laxman Singh.
Mayawati-led BSP and the rebel leaders can make the huge difference in state and are in the position of Kingmaker. The BJP has contested on all seats while the Congress left five seats for its allies. The BSP has fielded 190 candidates, the CPM 28 and the CPI 16. Importantly, there are a total of 830 independent candidates.
The contest is largely bipolar between the BJP and Congress in about 130 seats. A triangular contest may emerge in about 50 other seats, where rebel candidates from both the parties are in the fray, refusing to step down in favour of the official nominees.
The former chief minister and senior Congress leader Ashok Gehlot is fighting for Sardarpura seat. In Tonk, Sachin Pilot and Rajasthan Transport Minister and BJP candidate Yoonus Khan are in the contest. CM Vasundhara Raje is contesting for Jhalrapatan constituency, facing BJP veteran Jaswant Singh's son Manvendra Singh who has defected to the Congress.
In the current House, the BJP has 160 seats and the Congress 25.
Anxious to know the Rajasthan assembly election results? Well, you don't have to wait much longer. The counting of votes has already begun amidst tight security.
Also Read: Rajasthan Assembly elections 2018 LIVE UPDATES: 72.7% voter turnout recorded till 5 PM; Voting ends