Tesla Founder Elon Musk announces new electric Cybertruck
The Cybertruck will launch in 2021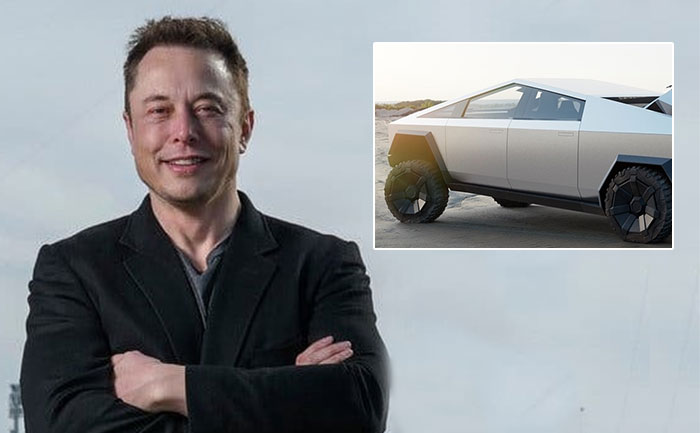 Tesla CEO Elon Musk has unveiled the Cybertruck at an event in Los Angeles, California. The Cybertruck is an electric pickup truck that is currently open for pre-orders. It will launch in late 2021. Tesla Inc. has shared details about the new electric truck as part of the launch announcement. These include different versions, price, range, availability, etc. Elon Musk emphasized the durability of the Tesla Cybertruck during the launch.
Tesla Cybertruck Specifications
The Tesla Cybertruck features a hardy exoskeleton designed for strength and Endurance. It has an Ultra-hard 30X Cold-Rolled stainless steel skin in addition to Tesla armor glass. This will help avoid any dents, damage or long-term corrosion to the electric vehicle.
Tesla is touting the electric truck as a better utility vehicle than any in its competition with a superior performance than a sports car. The back storage has been described as "Vault-like" by Tesla. Six adults can travel in the vehicle at a time.
Tesla hasn't forfeited luxury to accommodate these features though. On the inside, the Cybertruck offers a 17-inch touch screen with a custom user interface. It also boasts of onboard power and compressed air.
Elon Musk announced that the Tesla Cybertruck will be available in three options.
Single motor rear-wheel drive with 250 miles of range, 7,500-pound towing capacity, and 0-60 mph capabilities in under 6.5 seconds, for $39,900.
Dual motor all-wheel drive with 300 miles of range, 10,000-pound towing capacity, and 0-60 mph in under 4.5 seconds for $49,900.
Triple motor all-wheel drive with 500 miles of range, 14,000-pound towing capacity, and 0-60 mph in under 2.9 seconds for $69,900.
The Tesla launch had a bit of an oops moment when Musk tried to demonstrate the endurance of the Cybertruck. The Tesla glass broke during the demonstration leaving Musk to say sheepishly "We'll fix it in post." Musk also showed the Cybertruck besting an F-150 in a tug of war, and beating a Porsche 911 off the line through demo videos.
ALSO READ: Tesla Coming To India In 2019, Says Elon Musk