Thappad Movie Review: Taapsee Pannu starrer is a powerful and impactul film
'Thappad' is the most anticipated films of the year. Here's our review about the film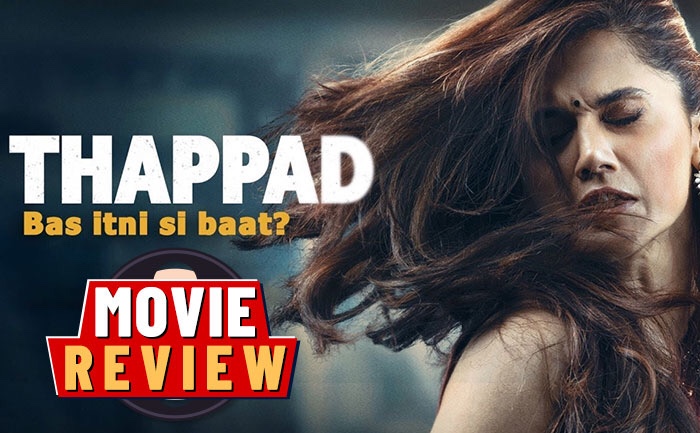 DIRECTOR: Anubhav Sinha
RUNTIME: 2 24m
CAST: Taapsee Pannu, Pavail Gulati, Ratna Pathak Shah, Tanvi Azmi, Dia Mirza, Ram Kapoor.
RATING: 3.5/5
STORY: Thappad is set on the story of a married couple who have a seemingly effortless relationship, but an unexpected slap changes everything. But is one slap enough to question what a relationship stands for?
Let's find out our honest reviews of the film.
REVIEWS: Thappad releases on Friday i.e. 28th February 2020. Here's our review of the film.
As we all know, Taapsee Pannu is known for doing films, which are socially relevant and that aims at bringing change in society. Once again, she has worked her magic in this film.
If you've watched the trailer you would by now know what the story is all about. It shows how a slap can change everything in a relationship.
Taapsee Pannu (Amrita) plays the role of a housewife whose life revolves around her husband and mother in law just like every other ordinary wife. Whereas, Pavail Gulati (Vikram) is a focused businessman who's focus is mainly in his career.
One day, Vikram arranges a house party and that's when in the heat of the moment he slaps Amrita in front of all the relatives and colleagues. This leaves Amrita in complete shock and after a few days, she decides to part ways with her husband. Whereas, Vikram lives in denial and wonders how 'just one slap' is turning out to be a life-changing moment.
Talking about the storyline, it will keep you engage throughout even though it felt like 2 hours was too much to cope up. It shows how a woman deals with the pressure just because women are always told 'Shaadi mein tho yeh sab kuch hota rehta hai, Thoda sehna padta hai hum auraton ko.'
The best part about the movie is its amazing dialogue. The dialogue delivery but each character is mind-blowing. Anubhav Sinha deserves applause for portraying such an important message in a beautiful manner.
In all, Thappad is a must-watch movie this weekend.
Watch the trailer of 'Thappad' here: