The Irishman teaser: Robert DeNiro & Al Pacino reunite as mobsters
Here is the teaser of The Irishman featuring Robert DeNiro & Al Pacino in the mob drama.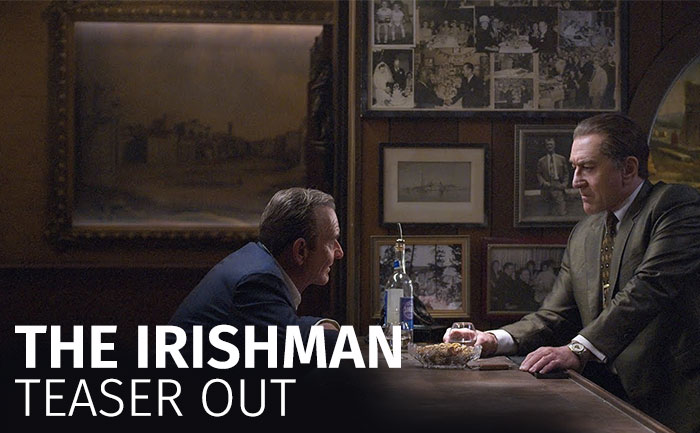 Martin Scorcese is back with a new film now. Yes, here is the teaser of his upcoming release The Irishman. The movie starring Hollywood superstars Al Pacino and Robert De Niro is a biographical film based on the life of Frank Sheeran, who was known as The Irishman.
Check out the teaser here:
In the teaser, we see that the film opens in the 1960s when organised crime in New York was controlled by Italian-American mafia families. Here, we meet De Niro's Frank Sheeran talking over the phone to Al Pacino's Jimmy Hoffa.
The Irishman is based on Charles Brandt book 'I Heard You Paint Houses'. Robert De Niro is playing the role of Frank Sheeran a World War II veteran and a hitman. Apparently Frank played a role in the disappearance of Jimmy Hoffe played by Al Pacino. Hoffe was the leader of labour unions and deeply involved with the organised crime sector. Joe Pesci plays mob boss Russell Bufalino.
Martin Scorsese's big-budget mafia epic, The Irishman will have its premiere at the New York Film Festival. The Irishman reunites Robert De Niro and Joe Pesci with the esteemed filmmaker.
The movie also features Bobby Cannavale, Harvey Keitel, Anna Paquin and Ray Romano. Scorcese has used VFX to make the actors look younger.
The Irishman is Scorcese and Niro's ninth collaboration and will release in select theatres and Netflix later this year. Scorsese and De Niro have previously worked on 'Mean Streets', 'Taxi Driver', 'Goodfellas' and 'Casino'.
Also Read: Robert De Niro and wife Grace Hightower split after 20 years of marriage