Thor and Khaleesi's Epic Face-Off on Twitter has sent fans in a veritable tizzy
Thor and Daenerys epic meme face-off on social media has left fans gasping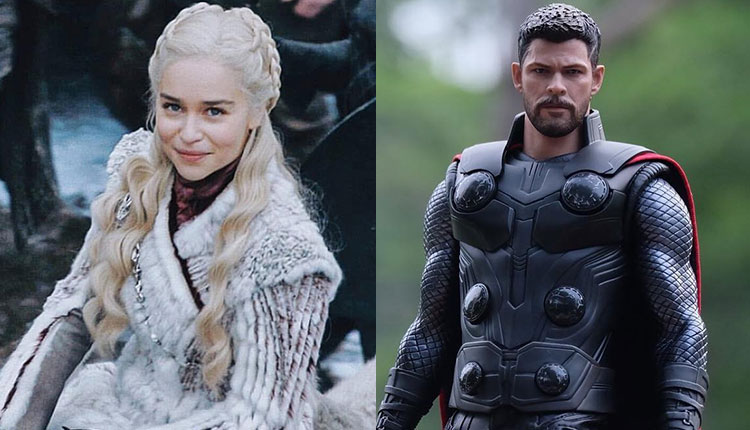 'Game Of Thrones 8' and 'Avengers: Endgame' has taken the world by storm, if one is rocking the big screens then the other is a craze on the small screen. Fans are already on an all-time high as their favorite characters in both the movie and the series fight the ultimate battle. But recently we had an interesting Face-Off between Thor Ragnorak and Daenerys Targaryen that has gone viral on the social media.
Yes, an epic face-off between Daenerys Targaryan and Thor has sent fans of both the franchises in a veritable tizzy. But wait before you jump the gun let us make one thing clear the face-off took place between two viral memes.
Check out the face-off here:
"Can I speak to your manager please?"

"I AM the manager" pic.twitter.com/uA3ZXizJtH

— JD (@Jonny_Dodds) April 26, 2019
The first featuring Daenerys aka Emilia Clark smiling sarcastically at Sansa Stark in the second episode of the ongoing Season 8. The second is an image of Chris Hemsworth aka Thor, displaying a similar expression. The viral image has over 400,000 likes and over 140,000 shares. It has got fans too sharing their own versions of the meme.
Check them out here:
Who did it better?
Like for Thor
Retweet for Daenerys pic.twitter.com/u2OgzLbT0f

— Charbel (@deeb_charbel) April 26, 2019
I am LIVING for these Daenerys/Thor memes ugh!!! Hahahahahaha https://t.co/5kFMJ3wKCE

— denise (@denisexdenephew) April 28, 2019
Between this and the "is he tho" comparison between Dany/Thor, someone should do a "Daenerys as MCU characters" thread.

— julia ? alexander (@loudmouthjulia) April 27, 2019
Daenerys is obviously the first speaker. Thor is the manager. I am Thor. https://t.co/Triok37umO

— Jessica Rossana Sawin ✨ (@jessicajrossana) April 26, 2019
same energy pic.twitter.com/bJTsnaoSYg

— heath (@heathdwilliams) April 23, 2019
How much I love them both ?? now we have two sources of "is it though?" memes #Thor #Daenerys https://t.co/Y0ATlj0Jhp

— Enje Jawher (@EnjeJawher) April 24, 2019
Who do you think will win in a face-off if it ever happened between the two?
Also Read: Avengers Endgame: How was Captain America able to lift Thor's Hammer?