Thugs of Hindostan: Meet Aamir Khan as Firangi Mallah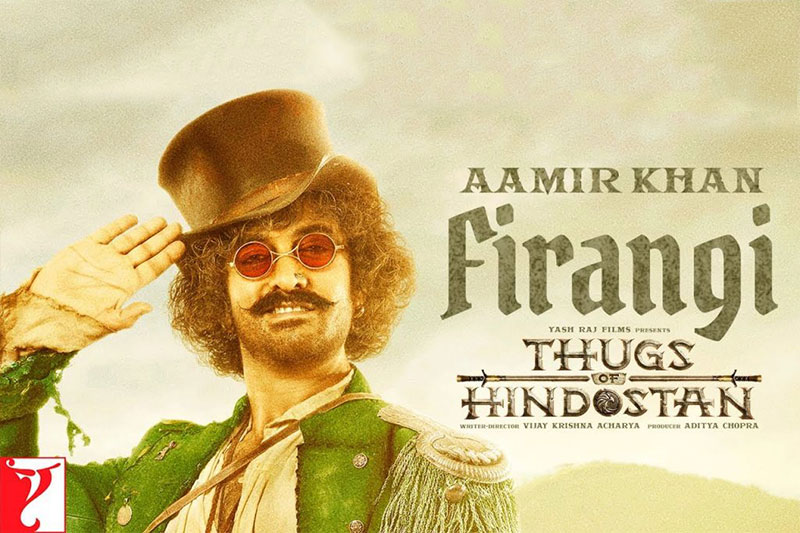 Finally the last and the most awaited motion poster of Thugs of Hindostan starring Aamir Khan is out. Aamir Khan appears as a tipsy traveler (notice that mead bottle strapped to his side), who is cheerful but he is up to some mischief. Aamir wrote, "और इ हैँ हम, फिरंगी मल्लाह. हम से ज्यादा नेक इन्सान इस धरती पे कहीं नहीं मिलेगा आपको. सच्चाई तो हमरा दूसरा नाम है, और भरोसा हमरा काम. दादी कसम !!!" which translates to "This is me. Firangi Mallah. You will not find a more noble man than me on this earth. I am the second name of truth and trust is my work. I swear on my grandmother."
Katrina Kaif shared the poster and wrote, "This Diwali, beware of this Thug " while Fatema Sana Sheikh wrote, "Iss Thug se Bach Kar dikhao."
Firangi can be seen travelling on a horse and seems to be the connection between land and sea which have divided the other thugs.
The filmmakers have already introduced us to Khudabaksh (Amitabh Bachchan), the lord of the sea and to Zafira (Fatima Sana Shaikh), an ace archer and Suraiyya (Katrina Kaif) a mesmerizing dancer. In addition to the thugs we also met the film's main villain John Clive (Lloyd Owen), who is presented as a senior officer in the East India Company.
The film is a reunion of sorts for Aamir Khan, who is collaborating with Katrina and director Vijay Krishna Acharya again after Dhoom 3, with Fatima Sana Shaikh after Dangal and with Lloyd Owen after Lagaan. This is also the first time when he is coming together with Megastar Amitabh Bachchan.
The film will hit theatres on 8 November.
Also read: Watch: Katrina Kaif as Suraiyya and Llyod Owen as Lord John Clive in Thugs of Hindostan