Kerala nun rape case: accused Franco Mulakkal sent to Judicial custody till Oct 6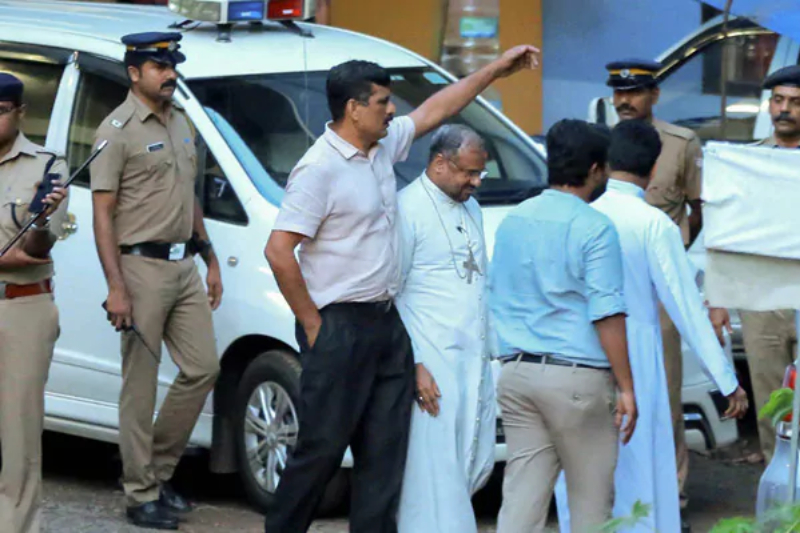 Pala Judicial Magistrate Court on Monday sent Kerala nun rape accused Bishop Franco Mulakkal to judicial custody till October 6. After three of interrogation, Bishop was arrested for allegedly raping a nun on several occasion.
Mulakkal was produced in Court on Saturday, after that he was awarded two days police custody. The police had secured Mulakka's custody till September 24. On Monday, the rape accused filed an application seeking bail when he was produced in the Court, but the application has reportedly rejected by the magistrate. He now will be lodged in Pala sub-jail till October 6.
Mulakkal was arrested on Friday for allegedly repeatedly raping 44-year-old Kerala based nun between the year 2014 to 2016. The victim had filed a complaint in June, alleging that she was sexually assaulted by Jalandhar based Bishop, Mullakkal on several occasion.
If the report is believed, during the three days interrogation Police have found evidence, pointing out Bishop had raped the Kerala nun and hence have decided to arrest him.
He has reportedly handed over the charge to his deputy. German Catholic priest and said, "I leave everything into the hand of God as I await the result of the findings of the team probing the allegation. In my absence, Msgr. Matthew Kokkandam will administer the Diocese as is the normal practice when I am away from the diocese."
On Saturday, a video is doing rounds on social media in which he is seen being taken to the local magistrate court in Pala under the presence of heavy police security, even as scores of people were seen thronging the court premises to see him.
And as the crowds booed collectively, the Franco Mulakkal was seen wearing a smile as he moved through the crowds and entered the police van. Last week, a day before his arrest, the Apostolic Nunciature (Pope's Ambassador) to India accepted the request of the rape accused Bishop to relieve him of his religious duties temporarily.
Also read: Bishop Franco Mulakkal discharged from hospital