Tik Tok influencer gets trapped under ice during stunt video
A TikTok influencer 'almost died' after getting trapped under the ice during stunt video; watch viral video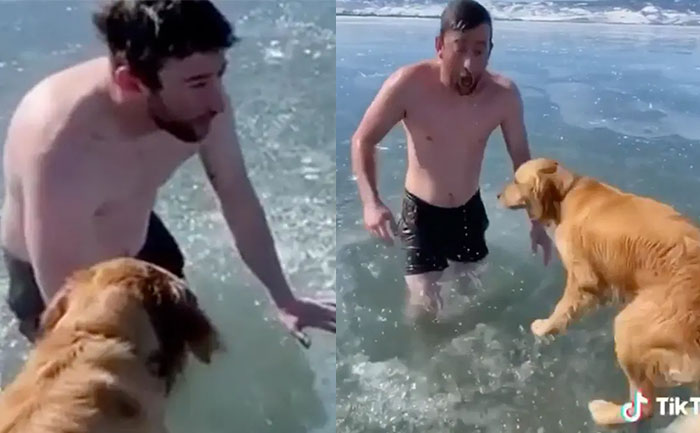 A TikTok influencer Jason Clark who has over 419,000 followers recently shared a video that showcases his close brush with death. In the video that has gone viral on social media, Clark made an attempt to swim under a frozen water body. He tried to enter and exit through the same small hole but was soon trapped under the ice while a woman filmed him.
Check out the hair raising video shared by Jason Clark. He had written, "Never been this close to dying. This is hard for me to watch."
Check out the video here:
The video shows Jason taking a deep breath before lowering himself into a frozen lake through a hole. He soon seems to lose his way while swimming under the ice. The footage shows him struggling to locate the opening, After struggling to find it, he attempted to break the ice with his back. Clark eventually found the hole and can be heard telling Abby Mcdonald, who was behind the camera, that he "almost died."
"She genuinely thought it was another one of my jokes and didn't recognize the severity of the situation," Clark wrote on Instagram.
Jason Clark's video has collected a whopping 21 million views on TikTok, and another 1.6 lakh on Instagram. It has also attracted the attention of celebrities like Will Smith and Jennifer Garner. Will Smith, who reposted it with the caption: "#AwwHellNaw."
"I do not like this," Jennifer Garner commented.
Despite the harrowing tale, Clark made a follow-up video redoing the stunt the next time, this time with a bigger exit hole.
TikTok has issued a statement condemning such acts. They wrote,"The safety and well-being of our users is a top priority at TikTok. As we make clear in our Community Guidelines, we do not allow content that encourages, promotes, or glorifies dangerous challenges that might lead to injury, and we remove reported behavior or activity that violates our guidelines."
Also Read: 7 Times Tik Tok Star Jannat Zubair Slayed The Traditional Look