TikTok star Mr Faisu Beats Salman Khan, Ranveer Singh & Virat Kohli in Popularity and Engagement
Mr Faisu overtakes mainstream celebrities including Virat Kohli, Ranveer Singh and Salman Khan.
An online video intelligence and analytics platform Vidooly had recently released a report claiming the TikTok star Mr Faisu has overtaken not only Bollywood actors Salman Khan, Ranveer Singh but also Virat Kohli when it comes to social media engagment.
We all know how important engagment is when it comes to social media influencers. The latest report proved that TikTok stars Mr Faisu, Jannat Zubair and Avneet Kaur have beaten mainstream actors or cricketers in popularity and engagement on Instagram in 2019.  Jannat Zubair And Mr Faisu's Tere Bin Kive Music Video Was Deleted For THIS Reason
The analysis report revealed that Bollywood superstars Salman Khan (29.5 M) and Ranveer Singh (29.3 M) and Indian skipper Virat Kohli (49.1 M), are ruled the social media when it comes to having more number of Instagram followers. But, when it comes to Instagram video views, comment and overall engagements, Salman Khan, Virat Kohli and Ranveer Singh were way behind than TikTok star Mr Faisu in 2019.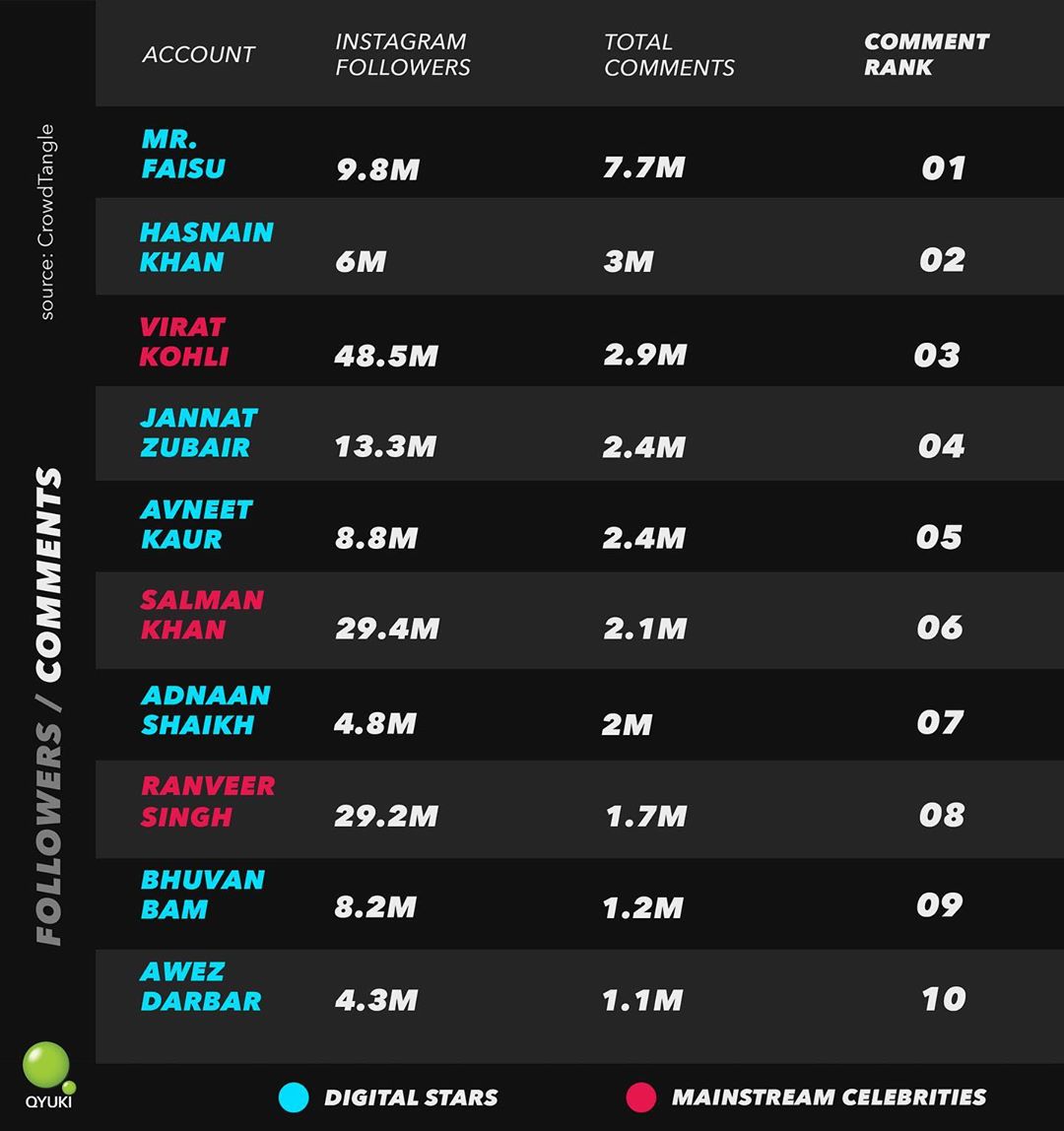 Last year, Mr Faisu (9.8 M) topped the TikTok roster when it came to the number of comments. Yes, you read it right. Mr Faisu received a whopping 7.7 million comments on Instagram in 2019 while Hasnain Khan (6.1 M) received 3 million comments.
Notably, Faisu and Hasnain Khan were ahead of Kohli who had managed to receive only 2.9 million comments throughout the year. Talking about other TikTok stars, Jannat Zubair (13.5 M) and Avneet Kaur (8.9 M) followed in the list with 2.4 million comments each.
Dabangg 3 actor bagged the sixth position in the list with 2.1 million comments in 2019 while TikToker Adnaan Shaikh (4.8 M) edged over Ranveer Singh, garnering 2 million comments while the latter received 1.7 million comments. YouTuber Bhuvan Bam (8.2 M) came in next with 1.2 million comments while TikToker Awez Darbar (4.4 M) had 1.1. million comments in 2019.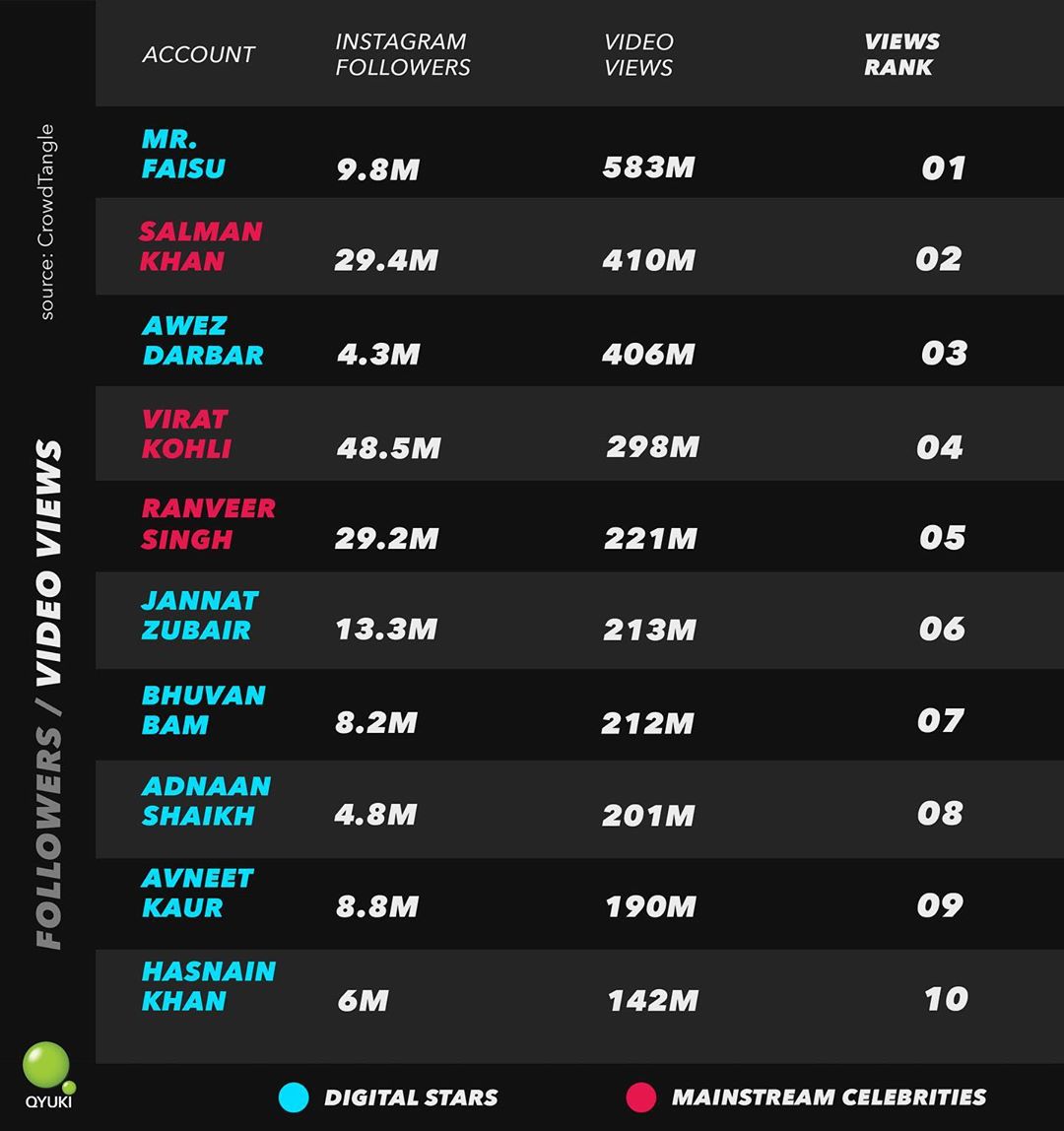 When it comes to Instagram video views, Mr Faisu topped the list as his videos garnered 583 million views in 2019 followed by Salman Khan (410 m), Awez Darbar  (406 m), Virat Kohli (298 m) and Ranveer Singh (221 m).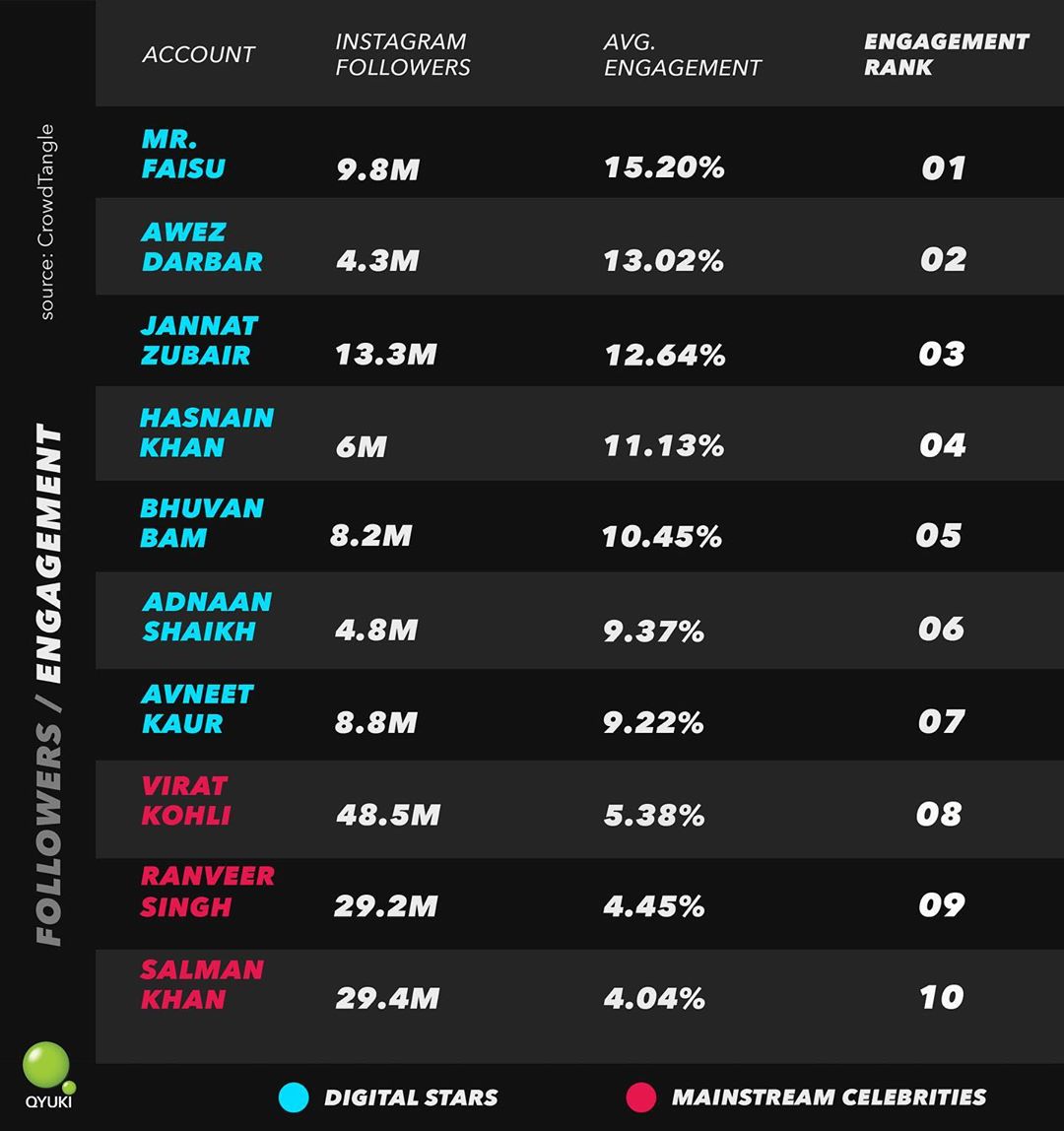 Talking about overall engagment, this list is also topped by Mr Faisu and when you have a look, you will see there is no mainstream actor in the top five. Yes, Virat Kohli, Ranveer Singh and Salman Khan bagged 8th, 9th and 10th position in 2019 list of the Instagram overall engagement respectively.