Ratnagiri dam breach: Six dead, 16 missing after Tiware dam breaches
6 Dead, 18 Missing After Dam Breach Floods Villages In Maharashtra's Ratnagiri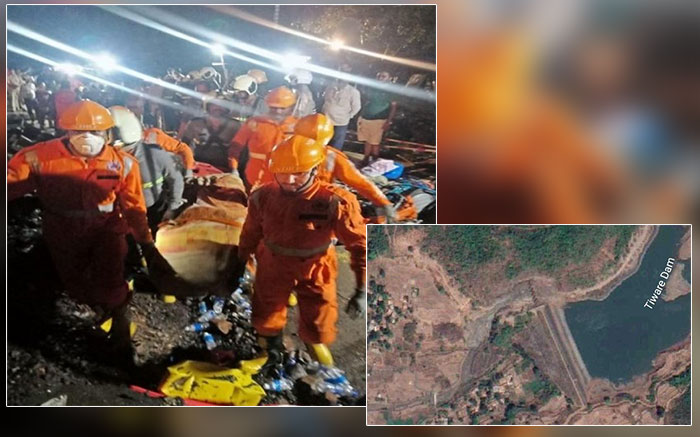 At least six people were killed and more than 16 missing after Tiware Dam in Ratnagiri district breached. This incident took place late Tuesday night taking the villagers unaware. Several houses were washed away in the Chiplun Taluka, all thanks to the heavy rains that lashed Maharastra since past couple of days.
As per the information given by the Ratnagiri police, the Tiware dam on a rivulet in Chiplun is two decades old. It had started developing cracks after Tuesday evening. Before villagers downstream could be alerted, the dam developed a rupture flooding the villages and hamlets within minutes.
At least 12 houses from a hamlet adjacent to the dam were washed away. Teams from local police, district disaster management cell, fire brigade along with local villagers are searching for the missing people. Bodies of two adult males were recovered on Wednesday morning.
The monsoon has brought large parts of the state and its capital Mumbai to a standstill. Heavy rainfall was also recorded in Thane, Palghar and Raigad districts, as also Nashik, Ratnagiri, Sindhudurg and western parts of the state.
In Malad east due to a wall collapse more than 20 people were killed. A 12 year old girl Sanchita's body was recovered after a 14 hour rescue attempt. She was trapped in the debris. A Spice Jet flight overshot the runway while landing at the Mumbai airport. This led to the closure of the main runway causing delays.
Trains too were delayed as the tracks were flooded so were the roads causing traffic jams.
The Meteorological Department has warned of "extremely heavy" rainfall in Thane and Palghar on July 4 and 5.
Also Read: Mumbai Rains: 2 Friends Drown In Jammed SUV In Malad After Heavy Downpour