Daily Horoscope 30 January 2020: Check Astrological Prediction For All Zodiac Signs
Check out today's Horoscope for all the zodiac signs.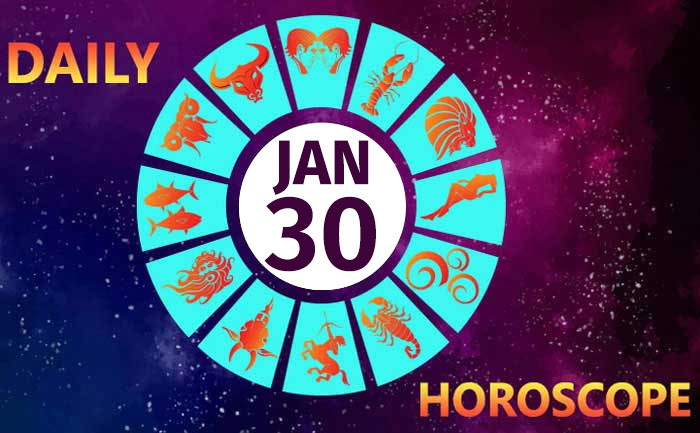 Horoscope Today, January 30, 2020: IF TODAY IS YOUR BIRTHDAY: Your radical number is 3. As an Aquarius born on January 30th, your personality is defined by openness, wit and imagination. You are a sharp-minded Aquarian who maybe worries too much. Lucky numbers are 3 and 4. Lucky colours Blue and Purple.  Saturday and Thursday are your lucky days.
In this article, we have brought you today's astrological predictions for all the sun signs like Gemini, Scorpio, Leo, Taurus, Cancer, and others. Check out the astrological prediction for all zodiac signs.
Horoscope Today, January 30, 2020: Check today's astrological prediction from all sun signs
Daily Horoscope ARIES:
Things look most promising on the professional front. Getting a prestigious membership or invitation is possible for some. A lucrative deal will be clinched despite tough competition. Your efforts will bring peace and harmony on the domestic front.  Your good intentions may be misunderstood by the loved one today, so exercise caution. Lucky Colour: Beige
 Daily Horoscope TAURUS:
Decision regarding a property related matter may be given in your favour.  Your initiative to save money will be appreciated.  Someone at the workplace may need your help. You are likely to handle the ups and downs on the health front effectively. You are likely to experience pure bliss by spending extra time with lover! Lucky Colour: Light Red
Daily GEMINI Horoscope
A journey to a distant land will be both comfortable and educative. Those thinking of buying property will need to be more deliberate and read the fine lines. Self-motivation is your key to total fitness.  Tempers can flare up on the home front over some issue. A resolution is in sight for those not pulling along in a relationship. Lucky Colour: Dark Slate Grey
Daily CANCER Horoscope:
A showdown with parents or siblings needs to be taken care of.  A property issue is likely to be settled in your favour.  Steps taken to come back in shape are likely to prove most beneficial. Your good work may be negated due to office politics. Your thoughtful gift to lover will help keep the relationship ticking. Lucky Colour: Light Grey
Daily LEO Horoscope:
A comfortable journey is foreseen for those travelling long distances. You will have the time and resources to pursue something that is close to your heart.  On the official front, some of you may need to undertake a journey out of town at a short notice. Support of family members is yours for the asking.  The eligible will get a matrimonial alliance. Lucky Colour: Light Grey
Daily VIRGO Horoscope:
Getting into the good books of a senior by helping out in a personal matter is possible for some.  Those feeling down will recover and become healthy again. Chance of missing out on a handsome commission is likely. A new love brings oodles of happiness in the lives of the lonely hearts. Lucky Colour: Maroon
Daily LIBRA Horoscope:
Someone may expect you to cater to his or her whims. Those trying to sell property may find a lucrative offer.  Keep important documents and valuables in safe custody. This is the right time to aim high on the professional front.Lover's sweet gesture can leave you totally smitten with romantic feelings! Lucky Colour: Chocolate
Daily SCORPIO Horoscope:
You can be at your wits end in dissuading someone from doing something not to your liking. Financial problems disappear and financial stability returns. Digestive problems may trouble some, but not for long. Those feeling trapped in their present job may seriously consider a job switch. Those engaged to get married are set to enjoy an extended courtship.Lucky Colour: Light Grey
Daily SAGITTARIUS Horoscope:
Don't get involved in any property deal today. You will find the opportunity to strengthen your bonds with people who matter. You will need to be at your convincing best on the professional front for something not accomplished satisfactorily. Your childish approach can put off lover and thwart to your romantic aspirations. Lucky Colour: Purple
Daily CAPRICORN Horoscope:
There is a fair chance of some property getting allotted to you. You will be able to revive old connections with someone influential Don't take any chances with your health today. Help from unexpected quarters may not be forthcoming. Flames of passion can fizzle out, if you don't spare time for love.Lucky Colour: Orange
Daily AQUARIUS Horoscope:
A vacation is foreseen for some and promises much fun and relaxation.  Inviting friends or relatives for spending time at your place is indicated today. Take adequate rest for rejuvenation. It will be wise not to invest in a scheme that seems dubious.  Don't bring work home if you want domestic harmony. Those married can find their marital boat in choppy waters. Lucky Colour: Red
 Daily PISCES Horoscope:
A chance to travel may come your way. Returns from property and investments will keep your coffers brimming.  Those in financial doldrums may need to do something about it soon. Stressful situations on the work front will be successfully countered.You are assured of the sympathetic ear of the one who is close to you.Lucky Colour: Violet
 ALSO READ: Daily Horoscope 28 January 2020: Check Astrological Prediction For All Zodiac Signs