Tom Cruise rides Kawasaki Ninja H2 Carbon for Top Gun 2, world's fastest bike again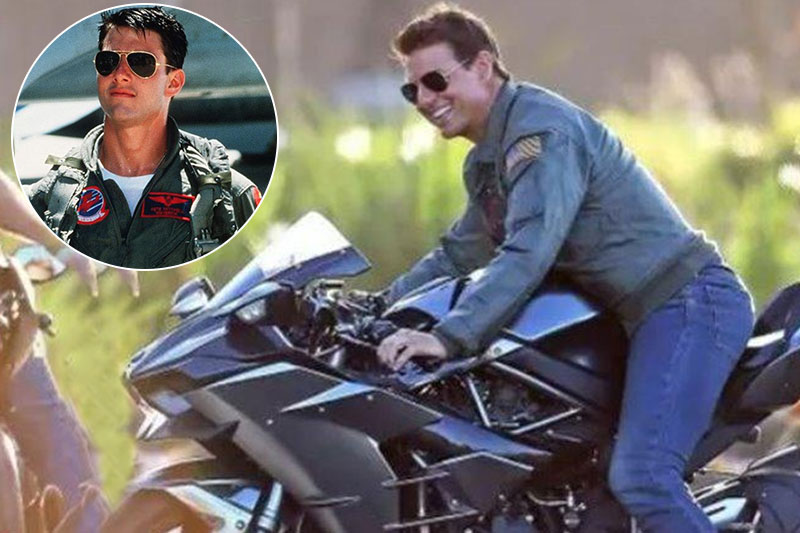 Remember 'Top Gun'! The movie which made Tom Cruise what he is today! Yes, the sequel to the high-on-adrenaline movie will soon be out and we all can't wait to watch the first trailer. Well, the good news is that the first images of Tom riding the new Kawasaki Ninja H2 Carbon is out and he look damn hot. Not only Tom, the new Kawasaki Ninja H2 Carbon looks awesome too.
Like his earlier movies, Tom will still be riding the world's fastest bike motorcycle – the Ninja H2 Carbon, which brings back the old good memories of Tom ruling the roads with Kawasaki GPZ900 or simply Ninja 900 in the original Top Gun in 1986. Dressed in air force uniform and aviator sunglasses and the song being played at the background "Take My Breathe Away", Tom reminds the good old days.
The image of Tom riding the Kawasaki Ninja H2 Carbon, which is currently the world's fastest production motorcycle, has been leaked by the People. As per to the report, this will be the first time that Kawasaki Ninja H2 Carbon will be starring in a Hollywood film.
Speaking about the configuration, H2R is a bit a star in itself. Powered by the same 998cc inline four-cylinder engine, it has a significant boost in power. With a slight change, the new 2019 H2 has 231 hp in comparison to the old version of 200 hp. Also, the it has an increased toque output of  141.7 Nm of torque.
Though the dates for the upcoming coming movie 'Top Gun 2' has not been revealed, the wait for the both Kawasaki Ninja H2 Carbon and the man riding the superbike are unparalleled.
ALSO READ: Princess Eugenie and Jack Brooksbank get married at studded royal wedding in Windsor