Shiv Sena: If women enter Sabarimala temple, be prepared for mass suicide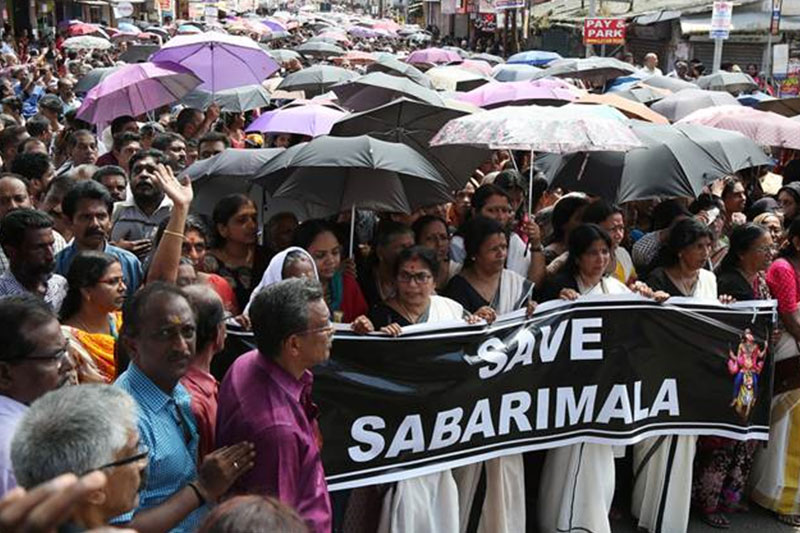 The controversy over Sabarimala temple and the Supreme Court's order allowing women to enter the premise is not ending. From devotion to controversial comments, the issue has gained political mileage. Now, the Kerala unit of the Shiv Sena on Saturday has threatened that their members will do mass suicide if women are allowed to enter the premise.
Speaking against the Supreme Court order, the state unit of the saffron outfit dared women to enter the temple premise and face the consequences. Member of the Sena said, as reported by the ANI, "Our women activists will gather near the Pamba river on October 17 and 18 as part of a suicide group. If any young woman tries to enter Sabarimala, our activists will commit suicide."
This is not the first time that Sena members have defied the apex court's order. They have been vocal about women being allowed to enter the premise of the temple and have condemned the decision to allow women of menstruating age at the Sabarimala temple. According to them this is against the centuries-old custom at the shrine.
However, the Supreme Court had ordered women to allow inside the the premise, as the bench announced "the attribute of devotion to divinity cannot be subjected to the rigidity and stereotypes of gender" in their September 28 ruling. Kerala Chief Minister Pinarayi Vijayan said that his government would follow the top court's order, while another outfit RSS have said that they will file a review petition in the top court.
ALSO READ: Sabarimala temple: Kollam Thulasi makes controversial comment, case filed