Tooter: Swadeshi Social Media Platform Modelled After Twitter
Tooter: Everything you need to know about this Swadeshi Twitter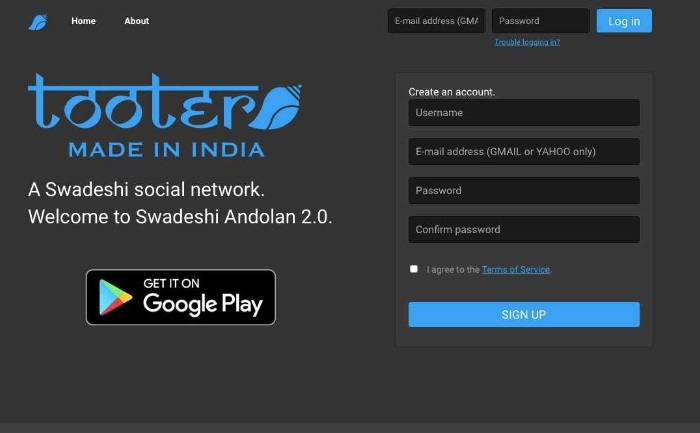 Tooter is a new social media platform that is a total "swadeshi" or made in India product. Tooter, as the name suggests, is conspicuously modelled after the microblogging platform Twitter. On Tuesday, Indian Twitter was abuzz after netizens discovered the Swadeshi version of the microblogging platform.
The site's About Us claims: "We believe that India should have a Swadeshi social network. Without one we are just a digital colony of the American Twitter India Company, no different than what we were under the British East India Company. Tooter is our Swadeshi Andolan 2.0. Join us in this Andolan. Join us!"
Tooter has been created in June this year but the general public became aware ever since it has took the social media by storm today. Veteran journalist Venkat Ananth tweeted that the app has a number of famous users. Prime Minister Narendra Modi, Home Minister Amit Shah, and actor Abhishek Bachchan, and cricketer Virat Kohli to name a few. Kiran Bedi, Rajnath Singh, Smriti Irani, and Yogi Adityanath too are active users. The BJP also has an official account on Tooter.
Here is all you need to know about Tooter:
Tooter is an Indian-developed website, also available as an android app on Google Play. It is based out of Barugudem, a small village in Khammam, Telangana, and operated by Tooter Pvt. Ltd.
Like Twitter, the interface of Tooter is with a white-and-blue colour scheme. Tooter also has a blue 'conch' as its symbol. Its posts are called toots (instead of tweets).
Tooter has a web application as well as an Android app on the Google Play store. But is missing from App Store for iOS devices as of now.
Just put your email id, create a password and a new username and you can sign up to Tooter.
 The privacy policy of Tooter states that "children under 18 years of age" are not allowed to join the site or provide information to it of any kind.
Similar to Twitter, social networking site Tooter's features will entail "message boards, chat rooms, personal web pages or profiles, forums, bulletin boards, group pages, discussion threads, and other interactive features."
Tooter also says "user contributions must not aid, abet, assist, counsel, procure or solicit the commission of, nor constitute an attempt or part of a conspiracy to commit, any unlawful act."
Also Read: Twitterati Trend Boycott Amazon For Hurting Religious Sentiments-View