Travis Scott Bonds With Daughter Stormi By The Pool
The rapper shared the fun day out with his fans on his Instagram story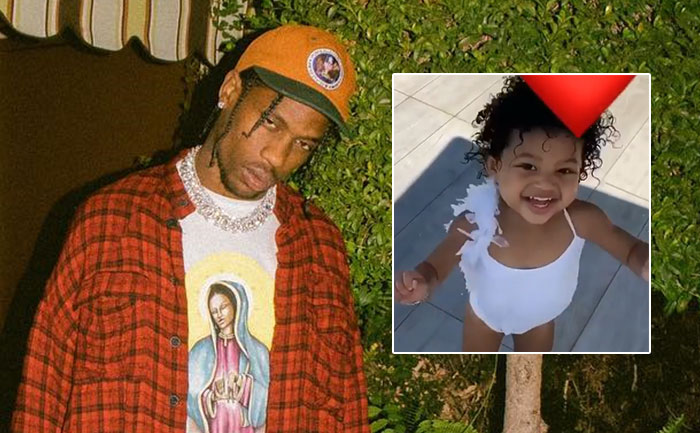 Travis and Stormi Scott spent a special father daughter pool day during the quarantine. The rapper shared the fun day out with his fans on his Instagram story.
The short video clip sees Stormi jump in her one-piece bathing suit. Travis asks her a question. However, Stormi doesn't responds and jumps away happily.
Another Instagram story sees Stormi still wet after going swimming.
"What happened?" she asks her dad, to which he responds, "nothing."
The toddler then hops back into the pool and runs through the water.
"See ya," Dad Scott says off-camera.
Stormi is the daughter of Travis Scott and Kylie Jenner. It's not clear if the parents of the two-year-old are self-isolating together during the coronavirus pandemic.
This isn't the first time Travis has shared videos of his quality time with daughter Stormi Scott. In March, Scott shared a clip on his Instagram where he shoots hoops with his daughter in a backyard basketball court.
Kylie Jenner and Travis Scott decided to take a break from their relationship after over two years together in October 2019. Jenner confirmed the news on Twitter. She wrote, "Travis and I are on great terms. Our main focus right now is Stormi. Our friendship and our daughter is a priority."
The couple did spark reconciliation rumors in in February. However, a source told PEOPLE that while the two are in a "great" place, they are not back together.
"Things are great with Kylie and Travis," the source said. "They are very happy. Kylie still isn't labeling their relationship. It seems they aren't seeing other people, though."
ALSO READ: Kylie Jenner's Mother Kris Jenner Wants Travis Scott To Propose Her Daughter