Twinkle Khanna Shares That It Took 46 Years And A Lockdown To Experience 'Maa Ke Haath Ka Khana'
She revealed that her mom Dimple Kapadia cooked a scrumptious bowl of fried rice for her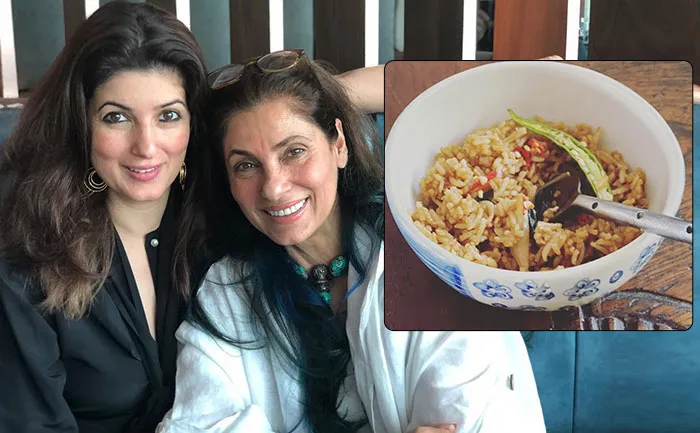 Twinkle Khanna recently had 'Maa Ke Haath Ka Khana' for the first time in her life. The actor took to Instagram to share that she got to taste her mother's cooking for the first time during the coronavirus lockdown. She revealed that her mom and Bollywood actor Dimple Kapadia cooked a scrumptious bowl of fried rice for her.
Twinkle Khanna shared a photo of the appetizing bowl of rice. She captioned the image, "It has only taken 46 years, a pandemic and an extended lockdown for my mother to make me my first meal-fried rice. Now I also know what people mean when they say 'Maa Ke Haath Ka Khana' #MamaMia."
Twinkle is spending a majority of her quarantine time reading, writing, and gardening. The 'Mrs. Funnybones' author also enjoys spending time with her family.
However, Dimple Kapadia isn't the only family member trying her hand at cooking. Twinkle also shared that her son Aarav is also putting on the chef's hat during the lockdown. Twinkle Khanna was every bit the proud mother when she shared a picture of the chocolate brownies Aarav had baked.
Praising his cooking skills, the actor wrote, "When I had a bun in the oven, I did not know I was going to push out a future baker. I produced him and seventeen years later he produced this Chocolate brownie cake with cherry compote. #ProudMomMoment."
On the work front, Dimple Kapadia is all set to make her Hollywood debut with Christopher Nolan's Tenet. The film has a heavyweight star cast including John David Washington and Robert Pattinson in lead roles. The film is scheduled to release on July 17, 2020.