Pati Patni Aur Woh: Twitter slams Kartik Aaryan for Joking about Marital Rape
Twitter users have slammed Kartik Aaryan 's character for joking about rape in the trailer of 'Pati Patni Aur Woh.'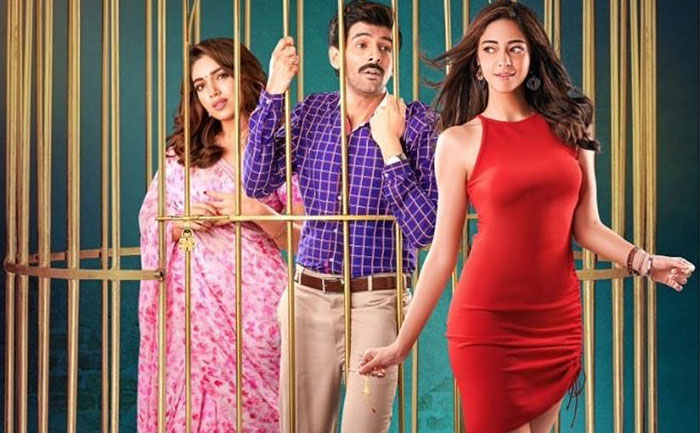 Kartik Aaryan, Bhumi Pednekar, and Ananya Panday are sharing screen space for the remake of Pati Patni and Woh. Yesterday the makers unveiled the much-awaited trailer of the film. In the trailer, Aaryan is seen on a rant against women and also joking about marital rape that has left Twitterati irked.
Upset with the dialogue, Twitter users have slammed Kartik's character Chintu Tyagi for it, "Biwi se sex maang lein, toh hum bhikaari. Biwi ko sex mana kar dein, toh hum atyachaari aur kisi tarah jugaad laga ke uss se sex haasil kar lein na toh balaatkaari bhi hum hain."
Check out all the reactions on Twitter:
The sickening pervasive misogyny that is increasingly becoming a trend in Bollywood is disturbing to day the least. Rape jokes, crass remarks about 'obtaining' sex from women as if that's all that one can 'get' from the fairer sex….. what else is left? #PatiPatniAurWoh

— Rhea (@exultantdreamer) November 5, 2019
I am an aspiring filmmaker taking a Screenwriting course. And I strongly condemn the views of writer, director and the producer of #PatiPatniAurWoh to write absolutely irresponsibly on marital rape. I request you to take that particular line out from the final cut.@TSeries

— Kunal Domkawale (@_kudostweet_) November 5, 2019
Do any of you understand the gravity of marital rape? And that people have been fighting to have it criminalised in India? And adding this sort of pathetic humour to our discourse is problematic? Has ONE PERSON thought this through?

— Ritika Grover (@groveritika) November 4, 2019
Saw trailer of #PatiPatniAurWoh and what a shameful statement what says that "Rape" is a "Jugad Sex"
Utterly disgraced by this dialogue and atleast didn't expect this from @TheAaryanKartik .

— Aaftab Alam ❤️?? (@SRKian_Aaftab) November 4, 2019
i don't even want to watch this movie after seeing the number of sexist dialogues shown in the trailer #PatiPatniAurWoh

— Sonali (@prettyandsadtbh) November 4, 2019
Its 2019 and still people think it's okay to joke about rape! Cringeworthy at all levels!
#PatiPatniAurWoh

— Swetha Girirajan (@GirirajanSwetha) November 4, 2019
Watch a shitty movie like this make 100 crores+ while beautiful movies like The Sky is Pink fail to get the recognition they deserve https://t.co/Qvno8IlnLW

— B (@pseudosabya) November 4, 2019
#PatiPatniAurWoh trailer is just so wrong.Ananya seems too young for the role.The jokes are crass & sexist.Women are being degraded as if it is perfectly normal.Nothing but stupid old Bollywood.They never learn.

— I am NOT a boy (@ishab26) November 4, 2019
#PatiPatniAurWoh #PatiPatniAurWohtrailer
…so the whole team of this movie think rape is a joke…"balatkaar" is not a joke and no wife would tag her husband as "balatkaari" just for fun…stop justifying stupidity just bcoz ur need a rhyming scheme in ur dialogues..!!!

— Apurva (@Apurva81287066) November 4, 2019
At the Pati Patni Aur Woh's trailer launch, Bhumi Pednekar said the team was conscious that the film didn't shape up as a sexist comedy but it looks like the Twitter users aren't agreeing to it.
The trailer shows that Abhinav Tyagi, better known as Chintu (Kartik Aaryan) is happily married to Vedika (Bhumi Pednekar) but seems bored of the relationship. However, Chintu's world turns upside down when Tapasya (Ananya Pandey) enters his life as his secretary.
The film 'Pati, Patni Aur Woh' is a remake of the 1978 film with the same name. The original classic featured Sanjeev Kumar, Vidya Sinha, and Ranjeeta Kaur. 'Pati Patni Aur Woh', directed by Mudassar Aziz and co-produced by T-Series and B R Studios
'Pati Patni Aur Woh'  is set to release on December 6.
ALSO READ: Pati Patni Aur Woh Is Not A Sexist, Baseless Film; Says Bhumi Pednekar