UAE: Thousands mediate with Sri Sri Ravi Shankar to promote world peace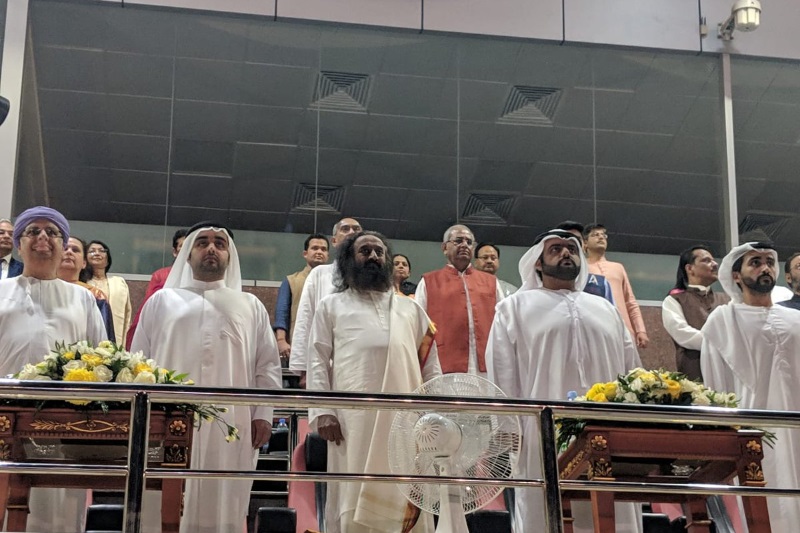 Spiritual leader Sri Sri Ravi Shankar on Thursday held a meditation programme in United Arab Emirates (UAE) to promote world peace. The meditation programme which was held at a football stadium in Fujairah saw participation of thousands of people, including women and children.
On this occasion, Sri Sri imparted lessons about imbibing the art of happiness in life and explained how tension and stress create an intolerant society. Showering praises on the efforts taken by Fujairah in promoting peace and countering extremism, Sri Sri offered full support of the AOL to bring peace and happiness in the Arab world.
He said, "We want to bring happiness in the whole Arab world. All the Arab countries are burning with many issues. And there are crores of people suffering." "The AOL is doing its bit to bring solace to the people of Iraq, Sriya, Lebanon and Jordan," he added.
The gov of Fujairah organised a large scale event 'Illuminate Peace' at the Fujairah football stadium. Addressed the gathering with the Crown Prince HH Mohammed bin Hamad bin Mohammed Al Sharqi. There was also a cultural show of Arabian music and Indian classical dance. pic.twitter.com/nhnnLTkTtg

— Sri Sri Ravi Shankar (@SriSri) November 16, 2018
Meanwhile, the Crown prince of Fujairah, Sheikh Mohammed bin Hamad bin Mohammed Al Sharqi, who was present during the event, called the spiritual guru as the 'Master of Love'. It is to be noted that this is the first time when an Indian spiritual leader a meditation programme in UAE.
The Art of Living (AOL) founder is visiting the Emirates for the first time. He embarked on a four-day tour to the UAE on Thursday on an invitation from the ruler of Fujairah, Hamad bin Mohammed Al Sharqi.
Also Read: Telangana elections: BJP proposes Yoga in schools, free trips to religious places