Birthday Special: 10 Unknown Facts About Birthday Girl Hema Malini
Happy Birthday Hema Malini: The veteran turned 71 today and no matter how old she turns, she will always remain our dream girl.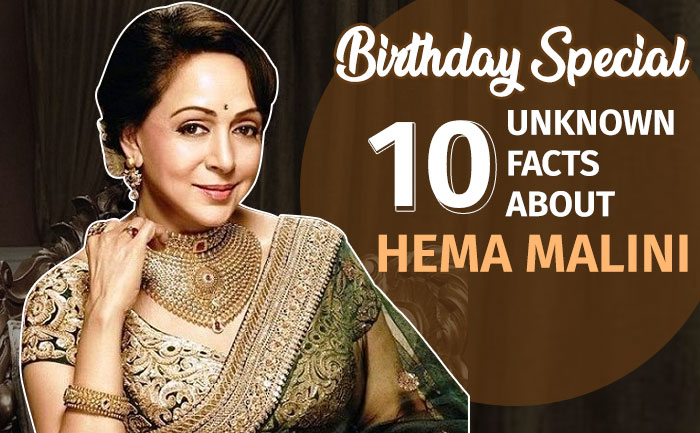 Bollywood's legendary actress Hema Malini is celebrating her 71st Birthday today (16th October). From her acting career to her movies, the Dream Girl turned politician's input to the Indian Cinema has always remained commendable. Known for her classic beauty the actress was named as Dream Girl. She is married to veteran actor Dharmendra and has two daughters with him Esha and Ahana. On her special day as a treat for her fans we share some unknown facts of the beauty.
On the occasion of her birthday here are 10 unknown facts about Hema Malini.
1. Hema Malini made her on-screen debut with Tamil film titled 'Ithu Sathiyam'
2. Hema Malini is a trained Bharatnatyam dancer and runs a dance school named the Natya Vihar Kalakendra dance school.
3. When Hema was 15, she was considered for a Tamil film Venniradai later, was rejected by the director Sridhar who thought she was too thin.
4. Hema is the only actress who has romanced with all the five Kapoors- Raj Kapoor, Shammi Kapoor, Shashi Kapoor, Randhir Kapoor, and Rishi Kapoor.
5. Dharmendra and Hema Malini converted to Islam to tie the knot as Dharmendra was already married. The couple has an age gap of 13 years!
6. She was the fourth highest-paid actress in 1971-1975 and the second-highest-paid actress in 1976-1980 and 1982-1985.
7. In her autobiography 'Hema Malini: The Authorized Biography' she revealed that Jeetendra and Sanjeev Kapoor had approached her with a marriage proposal.
8. The actress won her first Filmfare award for the movie 'Seeta Aur Geeta' in which she played the double role of twins!
9. Hema Malini met Dharmendra on the sets of 'Tum Haseen Main Jawan'. Thereafter, the couple did more than 40 films together.
10. Hema is a trained Bharatnatyam, Odissi and Kuchipudi dancer.
We wish the Dream Girl of Bollywood a very Happy Birthday!
ALSO READ: Amitabh Bachchan Birthday Special: Unknown And Rare Facts Of The Shahenshah