United States: Six Year Old Who Saved Sister From Dog Attack Celebrates Raksha Bandhan
In Pics: United States boy who saved his sister from a dog attack celebrates Raksha Bandhan, see pics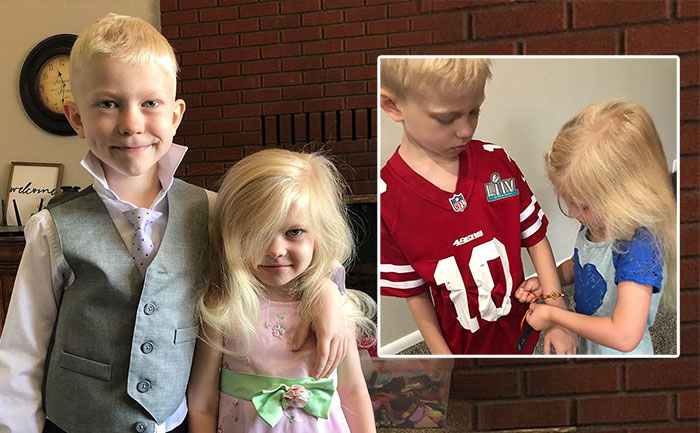 Remember that six-year-old from the United States who saved his little sister from a dog attack. Yes, we are talking about braveheart Bridger Walker who got 90 stitches on his face as he saved his Lil sister from dogs. The youngster was even praised by Hollywood superstars such as Mark Ruffalo, Anne Hathaway, Chris Evans, and Robert Downey Jr.
The brother-sister duo is once again melting hearts. They celebrated Raksha Bandhan and pictures of the two are viral on the internet.
Bridger Walker's aunt Nikki Walker took to Instagram and shared pictures of how Bridger Walker and his sister celebrated Rakshabandhan this year. She wrote, "Bridger's story has resonated with people across the world and has travelled to places like Mexico, Brazil, Ireland, Iran, South Africa, Japan, and India—just to name a handful. Our new connections to these places have allowed us to cross boundaries, unifying us in the love that a brother can have for his sister."
She explains further how the family recently learned about Raksha Bandhan and what the festival symbolizes.
Check out the picture here:
Bridger's father dad Robert Walker, also shared a post about the festival.
The heartwarming post and pictures shared by Walkers have garnered much love from netizens.
Also Read: Six Year Old Saves Sister From Dog Attack; Chris Evans Commends His Bravery