US Open 2020: Novak Djokovic Disqualified From Tournament After Hitting Line Judge
Novak Djokovic out of US Open 2020 after hitting lineswoman with ball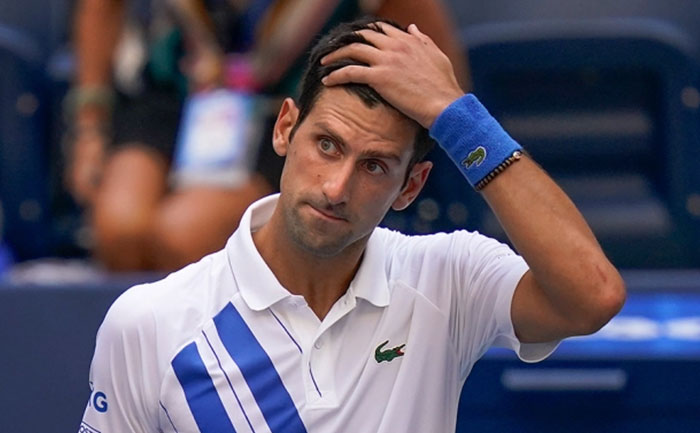 World number one Novak Djokovic was disqualified in the fourth round of the US Open on Sunday, September 6. The Serbian star accidentally hit a lineswoman with a ball during his match against Spain's Pablo Carreno Busta. The woman who was hit on the throat was seen gasping.
Check out the viral video here:
Here's what he did. #Djokovic pic.twitter.com/iVjP5UG7ER

— Greg Brady (@gregbradyTO) September 6, 2020
Novok went 5-6 down in the first set to Spain's Pablo Carreno Busta. Reportedly in frustration, he angrily smacked a ball behind him. The ball flew right at the line judge, who dropped to her knees at the back of the court and reached for her neck. Novok Djokovic soon rushed over to the line judge to check that she was okay. He even apologized for the incident.
A discussion of about 10 minutes took place near the net involving tournament referee Soeren Friemel, Grand Slam supervisor Andreas Egli and chair umpire Aurelie Tourte. Novok Djokovic pleaded his case.
"His point was that he didn't hit the line umpire intentionally. He said, 'Yes, I was angry. I hit the ball. I hit the line umpire. The facts are very clear. But it wasn't my intent. I didn't do it on purpose.' So he said he shouldn't be defaulted for it," said Friemel, who made the decision to end the match. "And we all agree that he didn't do it on purpose, but the facts are still that he hit the line umpire and the line umpire was clearly hurt."
The umpire declared that Carreno Busta had won by default. Djokovic shook hands with Carreno Busta before leaving the court. Djokovic quickly left the tournament grounds without speaking to reporters, posting an apology on social media hours later.
Also Read: Novak Djokovic And Wife Jelena Test Positive For Coronavirus