US restaurant offers free pizzas to those who lock their phones while eating
US Restaurant Offers Free Pizzas to Those Who Surrender Their Smartphones While Eating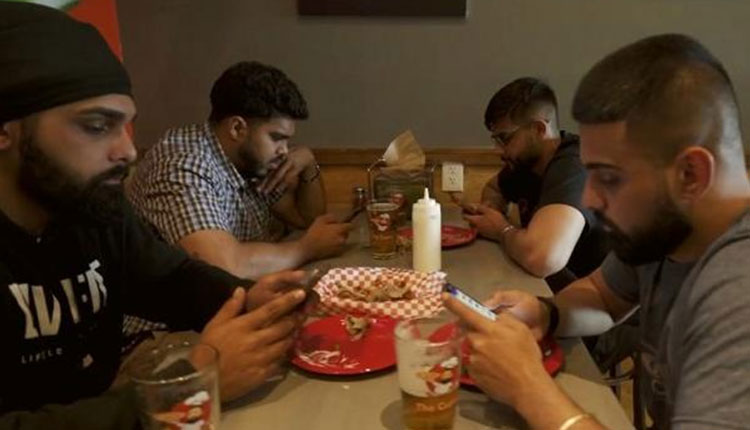 Encouraging people to avoid cell phones while having lunch, dinner or any meal, a Pizza restaurant located in California has decided to offer free Pizzas if people coming to their restaurant agree to lock their smartphones while eating. The restaurant is making all possible efforts to inspire people to talk to each other instead of using mobile phones while having a meal. A Curry Pizza Company in Fresco is running the "Talk to Each Other Discount".
If a bunch of people or at least four people visit the restaurant they will have an option to lock their smartphones in a locker. If the group manages to engage in conversation without staring at their smartphones they can get an opportunity to take a free Pizza home or they can have it later on their next visit.
Promoting their "Talk to Each Other Discount" campaign on social media, the restaurant took to Facebook and wrote: "Our goal is to get families/friends to stop using their phones while eating and talk to each other and communicate more. If you like you may receive a free large (per group) on your next visit (must be at least 24 hours) or you can donate your free large pizza to the needy. We donate pizzas to the homeless in downtown Fresno every month, so we would add your donated pizza along with the many others or you could do it yourself."
What you just need to be a part of "Talk to Each Other Discount" is to have a smartphone and have a group of at least four people. The cashier will keep an eye on everyone's phone for the network ensuring if everyone is playing fair.
Varinder Malhi, co-owner of the restaurant, told the Fox News that he was inspired by his own phone usage. In a move to set a good example for his children, Malhi stopped using his phone at home unless it is mandatory. When he himself noticed the benefits of it, he decided to give it a try at his restaurant.
According to reports, they have given between 40 to 50 pizzas so far.
Also Read: Man In South Korea Rewards Students With 125 Pizzas For Returning Wallet