US urges Pakistan to take action against those responsible for 26/11 Mumbai terror attacks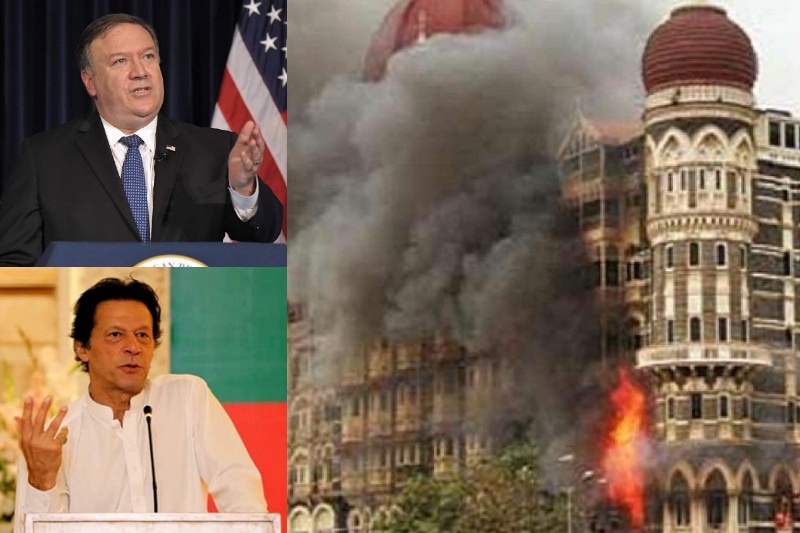 Taking a note of Pakistan's ignorance, the United States Secretary of State Mike Pompeo urged Islamabad to take action against those responsible for the 2008 Mumbai attacks. Notably, US also offered a new reward of $5 million for helping secure the capture of 26/11 perpetrators.
It is to be noted that the announcement comes on Sunday i.e on the eve of the tenth anniversary of the assault, which left around 166 people dead and many injured after terrorists from Pakistan unleashed a wave of violence across India's financial capital lasting three days. While nine of the attackers were killed by police, the lone survivor Ajmal Kasab was captured and hanged after handed down death sentence by Supreme Court.
In a statement, Pompeo said, "It is an affront to the families of the victims that, after ten years, those who planned the Mumbai attack have still not been convicted for their involvement." "We call upon all countries, particularly Pakistan, to uphold their UN Security Council obligations to implement sanctions against the terrorists responsible for this atrocity, including Lashkar-e-Tayyiba and its affiliates," he added.
He further said, "We stand with the families and friends of the victims, whose loved ones were lost in this act of barbarism, including six American citizens."
Meanwhile, the Department of State's Rewards for Justice (RFJ) Program meanwhile said it was offering up to $5 million "for information leading to the arrest or conviction in any country of any individual who committed, conspired to commit, or aided or abetted" the execution of the attack.
Importantly, this is the third such reward offered by the US after the State Department announced bounties of $10 million for Lashkar-e-Tayyiba (LeT) founder Hafiz Mohammad Saeed and $2 million for Hafiz Abdul Rahman Makki, another senior leader of the group. Saeed, who is also designated a terrorist by the United Nations, has denied involvement in terrorism and the Mumbai attacks.
Also Read: Another attack in India with magnitude similar to 26/11 from Pakistan will lead to war: Observers