Uttarakhand Fire: Over 50 Hectare Land Gutted, Wildlife In Danger
Uttarakhand Burning: #PrayForUttarakhand Trends on Twitter, check devastating pics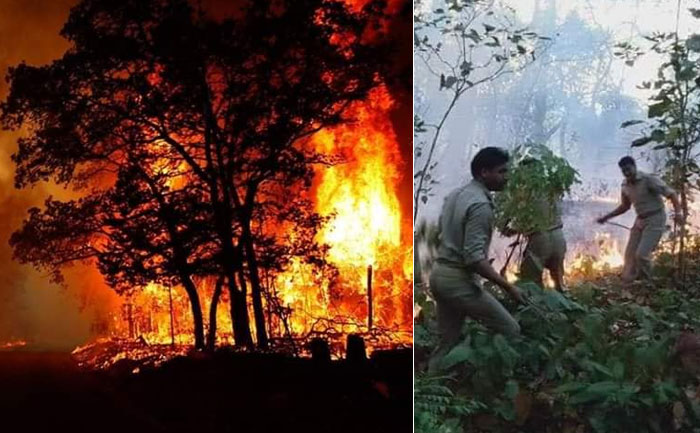 India is facing the brutal brunt of nature, from COVID-19 pandemic, Cyclone Amphan, Earthquake to locust attacks. We now have a devastating fire raging across the forest of Uttarakhand. For the past four days, the state has been burning up as wildfires break out in different regions of the Uttarakhand. The reason being the rising temperatures and hot spells that have pumped super-hot winds all over North India.
As per a TOI report, the forest fire has consumed 51.34 hectares of cover thus far.   Kumaon region reported the maximum wildfires with 21 incidents.  Garhwal and reserve forest areas reported 16 and 9 instances respectively. The flora and the wildlife species residing in the forests are in danger.
Hashtag #PrayForUttarakhand has become the top trending topic on the social media platform on Wednesday. Netizens are sharing devastating visuals of forest fires.
Check them here:
Again, we aren't paying attention to #UttarakhandForestFire

Around 5 hectares of forest is burnt in the last 2 days. Millions of Animals & Trees are at stake. There is report of over 20 incidents of fire in the span of just four days.
Do we care about our Mother Earth? pic.twitter.com/mpzuQDDP3L

— UCIFoundationOfficial (@FoundationUci) May 26, 2020
How many of you are aware that our Uttarakhand is burning for the last few days?

46 wildfire incidents, 51.34 hectares, 71.05 repository of herbs & wildlife diversity gutted. It's sad to see so much wildlife destroyed.

Bdw 2020, what else?#UttarakhandForestFire@ParveenKaswan pic.twitter.com/mxnp2a5PM1

— Nausheen Khan (@DrNausheenKhan) May 26, 2020
Saddest news of today "Devbhoomi in Fire".
Forest fire 🔥breaks out in #Uttarakhand

All the worst things are taking place in 2020…😥💔💔#UttarakhandForestFire#uttarakhandfire pic.twitter.com/OHLl0eVvsA

— CYBER WARRIOR🌍….⚔️ (@sandeep_che) May 26, 2020
@PMOIndia sir this requires immediate action. Please pic.twitter.com/BGR9q0Ifa6

— Divyani Juyal (@JuyalDivyani) May 26, 2020
The estimated losses incurred by the forest department have been estimated to be around Rs 1.32 lakh. Two people have also lost their lives owing to the wildfires, while one person is reported to be injured due to the wildfire.
Also Read:  Rains lashes Northern States: Cloudburst in Uttarakhand leaves 18 dead