Venkaiah Naidu: Private sector must provide accessible and affordable treatment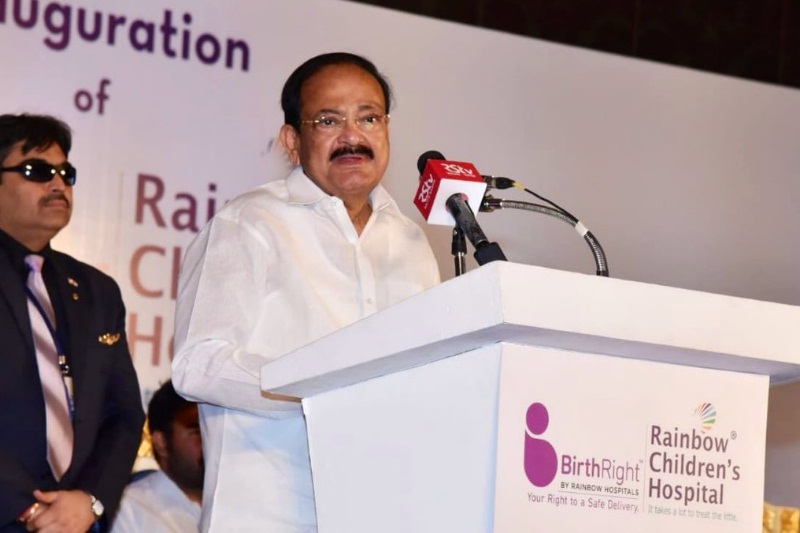 Vice President Venkaiah Naidu on Sunday said that the private sector must ensure that the treatment provided by them is not only accessible but also affordable.
While addressing a gathering after inaugurating Rainbow Children's Hospital in Chennai, Venkaiah Naidu hoped that the hospital would provide specialized but affordable care to children and contribute to the larger national mission of ensuring all infants survive, thrive and grow up into healthy active citizens of the New India
Highlighting the importance of healthcare in governance of any country, VP Naidu said that providing a healthy and happy childhood to its children was the responsibility of every Indian. "It must be noted that childhood plays a vital role in the overall physical, emotional and social well-being of an individual in the later years," he added.
The Vice President also said that the experience in childhood leaves a profound impact and lays the foundation for the future. "A child who is well nurtured nutritionally and emotionally will not only be happy but will also stay healthy," he noted.
Expressing concern over the prematurity and low birth weight, pneumonia and diarrheal diseases, among others were main causes of child mortality in India, he stressed the need to step up the efforts in a concerted manner to meet the Sustainable Developmental Goals (SDGs).
On the occasion, the Vice President called up on the private sector to partner with the government in making healthcare affordable as well as accessible to the common man, particularly in the rural and remote parts of the country. "The private sector should not concentrate on urban areas alone and must set up healthcare facilities in the rural areas as part of its CSR activities," he added.
In the end, Naidu said that the miniscule penetration of health insurance at the individual level was a major reason for increase in the out-of-pocket expenditure borne by the households and stressed the need to vastly expand the health insurance coverage of the population in the country.
Also Read: Venkaiah Naidu lays foundation stone for construction of Kartarpur road corridor