Vicky Kaushal Reveals How He, Taapsee Pannu & Rajkummar Rao Felt Embarrased At Shah Rukh Khan's Diwali Celebration
When Vicky Kaushal, Taapsee Pannu, Rajkummar Rao had to hang out in one corner at Shah Rukh's Diwali Party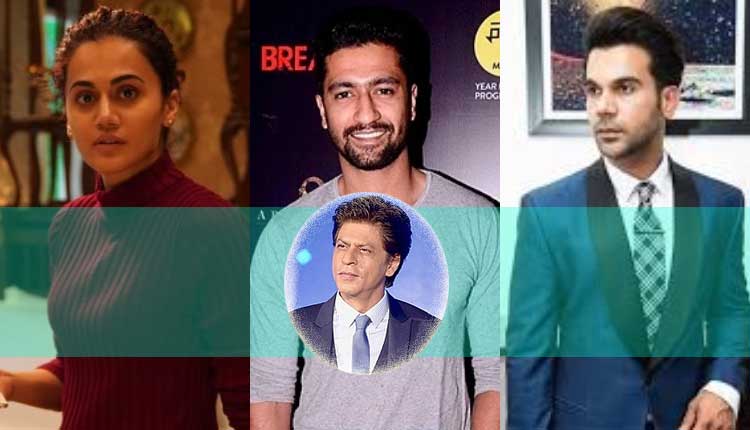 Shah Rukh Khan, who is known for hosting parties on the occasion of Diwali every year at his Bunglaw, Mannat and last year was not different. Shah Rukh's 2018 Diwali bash was attended by the who's who of Bollywood including Vicky Kaushal, Taapsee Pannu, Rajkummar Rao, Kareena Kapoor Khan, Malaika Arora and others.
In a candid conversation on a chat show, Vicky Kaushal revealed how he felt embarrassed at Shah Rukh's Diwali bash and had to hang out in the corner along with Taapsee Pannu and Rajkummar Rao. Vicky Kaushal quoted by India Today as saying, "So Shah Rukh sir called me and said, 'It was my birthday a few days ago. It's just a chill dinner, so come with your friends.' It was my first time at Mannat and I was so happy that it was a chill get-together for his birthday. So I go in my denim and T-shirt and shirt over it, just casual."
It should be noted that the 'Uri' actor did not know it was Diwali bash and went in his casual avatar. Kaushal did not expect to see the other actors dressed at their ethnic best. 'Sanju' actor said,  "I enter and see Kareena Kapoor Khan, Malaika Arora, everyone in like heavy Indian," he was further quoted as saying. Further revealing what happened next."
"Me, Taapsee, Rajkummar Rao…three-four of us were prepared for a birthday casual scene till we realised that we were so off. We were hanging out in one corner behind the curtain. Like, bar ke peeche wale curtain ke peeche wale wall ke peeche. We were like, koi dekh na le humein. I was so embarrassed because I was the first of that lot to enter," he added.
Vicky Kaushal also revealed what happened when he ran into ace filmmaker Karan Johar, "Karan meets me and he's like, 'Hi, you.' Then he just looks at me (disapprovingly) and says, 'We need to talk.," he added.
Also Read: Nita Ambani Gifts Her Daughter In Law Shloka Mehta Wedding Gift Worth 300 Crores: Deets Inside