Vijay Mallya undermining Enforcement Directorate orders, tries to mediate through PM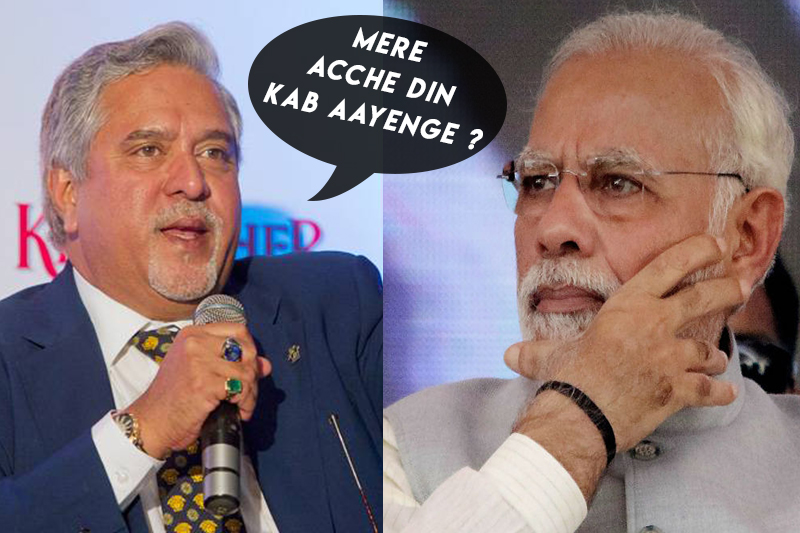 Vijay Mallya clearly seems to be in a mood for redemption. The former Rajya Sabha MP, industrialist and socialite, Vijay Mallya who once enjoyed being India's Richard Branson has now been reduced to a wilful defaulter and eventually a fugitive.
Vijay Mallya, has been absconding ever since he was accused of defaulting a loan of more than Rs 9000 crores given to him by various banks for his Kingfisher Airlines. Vijay Mallya, who claims that the Consortium of 17 banks led by State Bank of India (SBI) which made various loans to KFA of approximately Rs 5,500 crores, has ignored his recoveries in excess of Rs 600 crores have since been made through the sale of pledged assets and a further Rs. 1,280 crores has been lying deposited with the Hon'ble Karnataka High Court since 2013. He claims he had written letters to the Finance Minister Arun Jaitley and Prime Minister Narendra Modi, asking them to oversee the charges of fraud levied against him. The Mallya scion has made the letter public today, coincidentally on the same day when Narendra Modi was in Mumbai to address the 3rd AIIB Meet. Vijay Mallya has also added that he had sought approvals from a court in Karnataka to sell assets worth Rs. 13,900 crore to repay creditors including banks.
"I wrote letters to both the Prime Minister and the Finance Minister on 15th April 2016 and am making these letters public to put things in the right perspective. No response was received from either of them," Mr Mallya said in a statement from the UK.
The liquor baron fled to the UK in 2016 and has been fighting against any moves to extradite him to India to face trial. Meanwhile last week, the ED( Enforcement Directorate) made its first official move to clampdown against big bank loan defaulters as it moved court against Vijay Mallya seeking to declare him a 'fugitive offender' and to confiscate his assets worth Rs 12,500 crore.
The agency filed an application before a Mumbai court under the recently promulgated Fugitive Economic Offenders Ordinance that empowers it to confiscate all assets of an absconding loan defaulter. On April 21, the Union Cabinet approved the ordinance and the President gave his assent to its promulgation a day later. The ED has furnished evidence in its two charge sheets under the Prevention of Money Laundering Act (PMLA).
Even though Mallya now seeks a chance at redemption for his deeds, it does not away from the criminality from what he did. He has misled the banks and misused the funds as per the allegations. Point is not that he wants to repay the PSU Banks, but why and how he was allowed to escape?
"Recovery of loans is a civil matter which has been criminalised in my case. I am tired of this relentless pursuit of me by the government and its criminal agencies. All my efforts are either ignored or misunderstood," Mallya, whose current whereabouts are in the UK said in the statement. However the question arises here is, why is he politicising the criminal charges? By writing letters to the Finance Minister and Prime Minister, does he want interference from the PMO to supersede the his criminal charges? Is he trying to undermine the ED and the PSU Banks by seeking help from the tallest leaders in BJP? Why is the UK government still rendering him asylum in spite of his criminal charges?
He has also been accused of not paying salaries to the staff of Kingfisher Airlines, once considered as India's 5 star airlines.