Vikas Dubey encounter: Dreaded UP gangster killed in a shootout
Dreaded Uttar Pradesh Gangster Vikas Dubey arrested for killing 8 cops shot dead in encounter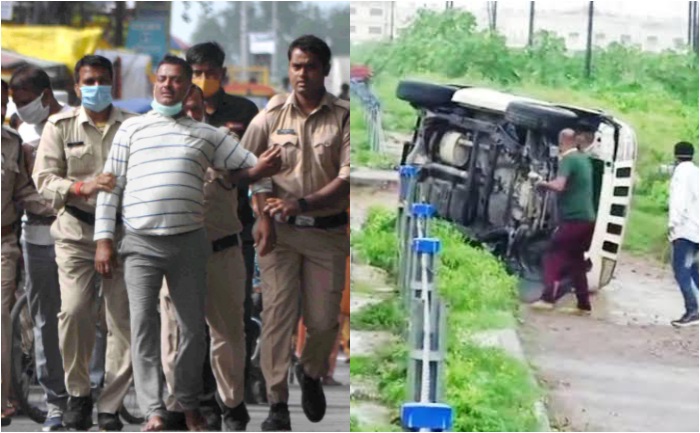 Dreaded Uttar Pradesh gangster Vikas Dubey was killed in a police encounter on Friday morning. Dubey was being taken to Kanpur from Madhya Pradesh, where he was arrested yesterday. He tried to escape when the car in which he was traveling overturned. Dubey was shot dead by the police when he tried to escape from police custody after snatching a gun. He was declared dead in the hospital.
Kanpur Police said in a statement. "Vikas Dubey snatched a weapon from one of the policemen after the accident. He then ran to a nearby field. After being chased by the police team, he was asked to surrender but he did not and started firing with the intention of killing them. The police team fired back in self-defense after which Vikas Dubey was injured. He was taken to a hospital, where he died during treatment. Four policemen were also injured in the accident."
Vikas Dubey has been on a run ever since the raid on his home in an attempt to arrest him. The police personnel had unknowingly walked into a trap because some other police officials tipped off Dubey. A deputy superintendent of police, three sub-inspectors, and four constables were killed.
Wanted in 60 cases of murder, arson, kidnapping, and rioting. Vikas Dubey was caught on Thursday morning outside Ujjain's Mahakal temple after being on the run for five days. The UP administration tore down Dubey's house and had launched a massive hunt for him. Two policemen were arrested for allegedly helping him. Dubey's wife and son were also taken for questioning last evening.
Also Read: Gangster Vikas Dubey Arrested At Madhya Pradesh Temple