Volcano Erupts on Spain's Canary Islands, Villages Evacuated
Volcano erupts on La Palma in the Spanish Canary Islands thousands evacuated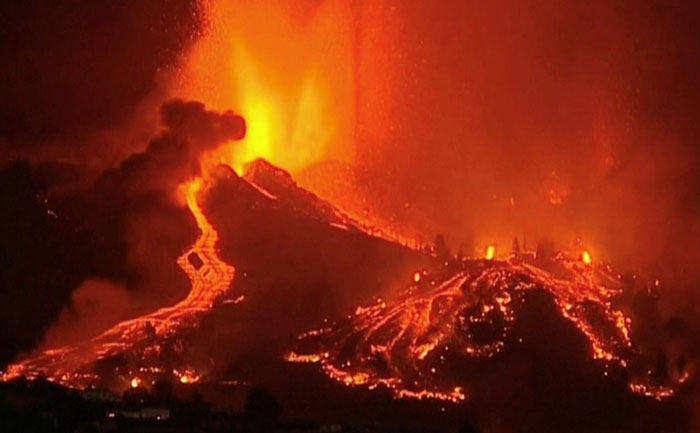 The Cumbre Vieja volcano erupted on the Spanish Canary Island of La Palma on Sunday. The volcano sent huge plumes of ash, lava and smoke high up. Soon lava started streaming towards nearby villages, prompting an evacuation. More than 5000 residents were evacuated. of more than 5,000 residents.
Volcano Eruption in Canary Islands #LaPalma #LaPalmaeruption #lapalmavolcano #CanaryIslands #جزر_الكناري #بركان#لابالما pic.twitter.com/Sq5xFWZYfU

— Daily Weather (@wetter_ar) September 19, 2021
Stavros Meletlidis is a specialist in volcanology at the Spanish Geographical Institute. He said the eruption had torn five holes in the hillside and that he could not be sure how long it would last.
Cumbre Vieja is one of the most active volcanic regions in the Canaries. The volcano had last erupted in 1971.
The eruptions come after a week-long buildup of seismic activity. Video footage showcases fountains of lava shooting hundreds of metres in the air. Soon three rivers of molten rock started flowing down the hill,
Si. Pero no por mucho tiempo #Lapalmaerupcion https://t.co/qehRxvxOqj pic.twitter.com/AOsRqTz9OO

— INVOLCAN (@involcan) September 19, 2021
The Spanish Prime Minister Pedro Sanchez has delayed his trip to United Nations General Assembly in New York. He took a view of the situation and the resources needed to cope with the natural disastor.
Flights to and from the Canaries were continuing as normal. No injury has been reported so far.
The Canaries, an archipelago of seven islands off of northwestern Africa, last recorded a volcanic eruption in 2011, undersea off El Hierro Island. Cumbre Vieja erupted twice in the 20th century — in 1971 and in 1949.
Also Read: Caribbean's St Vincent Volcano Erupts, Spews Ash & Smoke