Caribbean's St Vincent Volcano Erupts, Spews Ash & Smoke
St. Vincent Volcano Erupts for the First Time Since 1979, Spewing Ash and Smoke for Miles.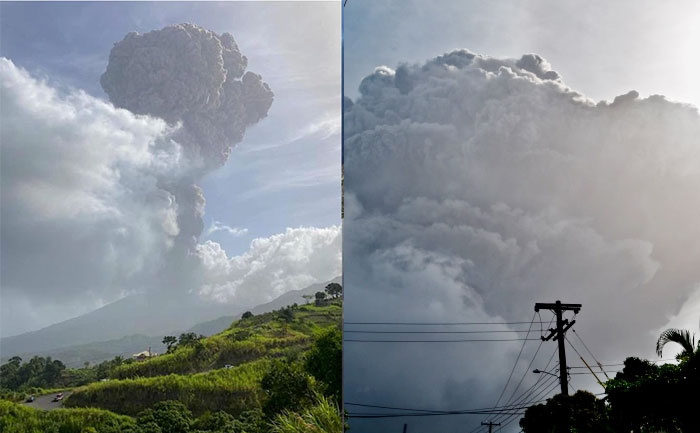 An explosive eruption rocked La Soufriere volcano on the eastern Caribbean island of St Vincent. A volcano that had been dormant for decades erupted in a billowing blast of grey smoke. It spewed clouds of ash and smoke for miles and forced thousands to evacuate. The ashfall had been registered as far as the country's international airport on the southern part of the island.
The eruptions came a day after officials had raised the alert level. It was following several small tremors detected at the volcano, with clouds of steam seen erupting from its peak.
Video footage of eruption at #LaSoufriere #SVG today. Credit: MVO, Dr Thomas Christopher @soufriere_hills @mvoms pic.twitter.com/p91Z5yXYmS

— UWISeismic Research (@uwiseismic) April 9, 2021
La Soufrière, located on the eastern Caribbean island of St. Vincent, erupted on Friday. It blasted a pillar of smoke and ash 20,000 feet high. Officials say more than 16,000 people had been evacuated from the area surrounding the volcano.
Heavy Ashfall in the North of St Vincent. https://t.co/LKk5QZZEPB pic.twitter.com/pX7LFCMtd5

— News784 (@News_784) April 9, 2021
The morning eruption was followed about six hours later by a "second explosive eruption" There are no immediate reports of casualties from the eruption.
Prayers for our Caribbean brothers and sisters in #StVincent & Grenadines where #Soufriere Hills #volcano is rumbling & spewing.
🙏🏽🙏🏽🙏🏽🙏🏽 pic.twitter.com/cMbZ1WtooT

— Marcia Forbes (@marciaforbes) April 8, 2021
The volcano last erupted on April 13, 1979, and a previous eruption in 1902 killed some 1,600 people.
Also Read: Iceland: Fagradalsfjall Volcano Erupts Near Capital Reykjavik