Vote for us, we will throw them out via NRC: Amit Shah in Rajasthan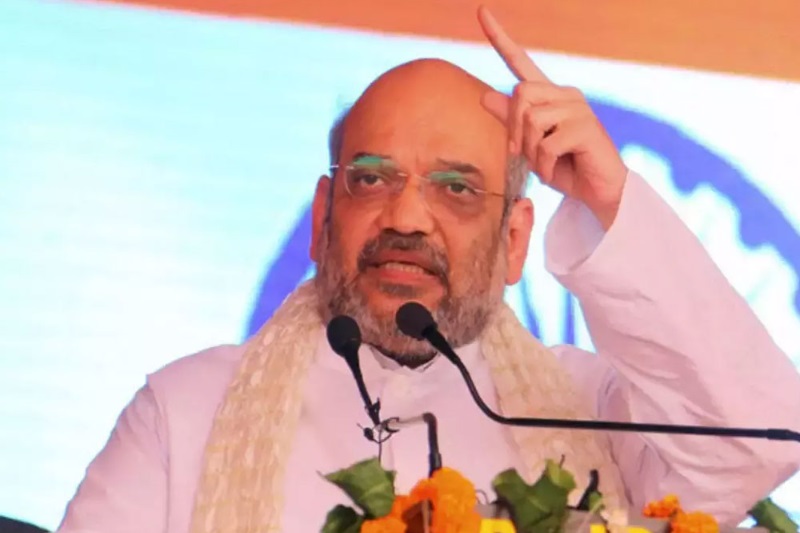 With Rajasthan Assembly elections due in a week's time, BJP national president Amit Shah has stepped up the attack on Congress, who is hoping to get back to power in the state riding on anti-incumbency factor. Shah took it out on his Congress counterpart Rahul Gandhi for showing concerns for the "rights of illegal immigrants in Assam". Defending the government's NRC move in Assam, he said the Narendra Modi government will ensure "each and every infiltrator is identified and thrown out of the country" if voted back to power in 2019.
"Vote for the BJP in Rajasthan now and in the Lok Sabha elections next year, and we promise to throw them out. Kashmir se Kanyakumari, Kolkata se Kutch, ek ek ghuspethiye ko chun chun kar desh se bahar nikal denge (From Kashmir to Kanyakumari, Kolkata to Gujarat, we will identify each and every illegal immigrant and throw them out)," Amit Shah said in Nagaur.
Shah made it clear that national security and much debated Assam citizens' register top government's priorities for the moment. NRC dropping 40 lakh names in Assam has ignited a debate throughout the currently. The opposition has accused the BJP of pinpointing Muslims in garb of finding out illegal Bangladeshi immigrants.
"This is a question of national security," Mr Shah said and turned Congress again saying that "for 10 years (during the Congress-led government), Alia, Malia, Jamalia kept entering from Pakistan. Nobody stopped them as Congress saw them as vote bank".
Suggestions from crowd
He asked for suggestions too. "Shouldn't immigrants be thrown out?" he asked as the crowd responded in expressing their nod. He again turned his focus on Rahul Gandhi and asking the latter to clear Congress' stand on infiltration.
"NRC ghuspethiyon ko chinhit karne ka vyavastha hai (The NRC is a process to identify infiltrators. In Assam, 40 lakh intruders were identified by our government). Rahul baba and his company made hue and cry in the parliament. Why are you throwing them out, what will they eat, where will they go, what about their human rights, they asked. But when these infiltrators enter our country and throw bombs killing our countrymen, what about the human rights of their families?" the BJP president said.
"I want to make this clear in front of the people that the NRC is a result of the Assam Accord signed by Rajiv Gandhi, when the Congress had full majority," he added.
ALSO READ: Rajasthan Assembly elections: Amit Shah says Congress became private firm of Gandhi-Nehru family