Telangana: KCR loses cool at man, when asked about reservations, Watch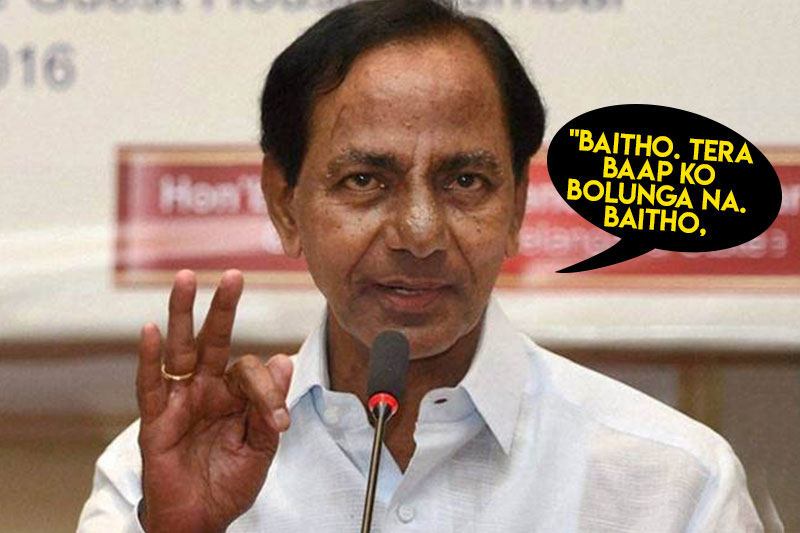 The Congress party lashed out at K Chandrashekar Rao, Telangana Chief Minister for losing his cool on a common man at an election rally held in the Asifabad. The Telangana Pradesh Congress Committee (TPCC) condemned his behaviour and called him a 'dictator'.
Taking to Twitter, the party wrote, "Drunk with power, KCR acts like a dictator. Mr KCR, you are answerable to the people of Telangana. Arrogance and dictatorship have no space in a democracy!"
Ahead of Telangana Assembly elections, while addressing an election rally in Asifabad, a man asked him about 12 percent reservations for minorities in the state that he had assured to give them in 2014.
The video of a man asking 12 percent reservations for minorities comes a day after Maharashtra government has cleared bill allowing 16 percent reservations for Marathas in the field of job and education.
The man's demand made Rao angry, Rao asked him to sit down and accused him of doing 'Tamasha' or a gimmick. He added, "Yes, I will talk about it but you just sit down."
#WATCH: Telangana caretaker CM K Chandrasekhar Rao says to a person during a speech in Asifabad, "12% hi bole. Khamosh baitho. Baith jaao. Baitho na. Tumhare baap ko bolun kya baatein". The person had asked him about promise of 12% reservation for minorities. (29.11.18) pic.twitter.com/ruPKVf9rLh

— ANI (@ANI) November 30, 2018

Seconds later, Rao burst out at him saying, "Baitho. Tera baap ko bolunga na. Baitho," said the leader to the voter, adding that he would explain about it to even his father.
After having received heavy criticism, the Telangana caretaker chief minister blamed his detractors and stated that the opposition parties could have set up the man in the rally.
"A rival party making a person drink and sending him to this meeting cannot be ruled out. It happens," said KCR.
Notably, the legislative assembly election in Telangana is slated to be held on December 7.
Also read: Hardik Patel: If Marathas can get reservation then why not Patidars