Black Friday 2019 Posters: Ads From Walmart, Amazon & Best Buy Get Leaked
You can check out lucrative deals being offered by Amazon, Walmart and Best Buy during Black Friday Sale this year.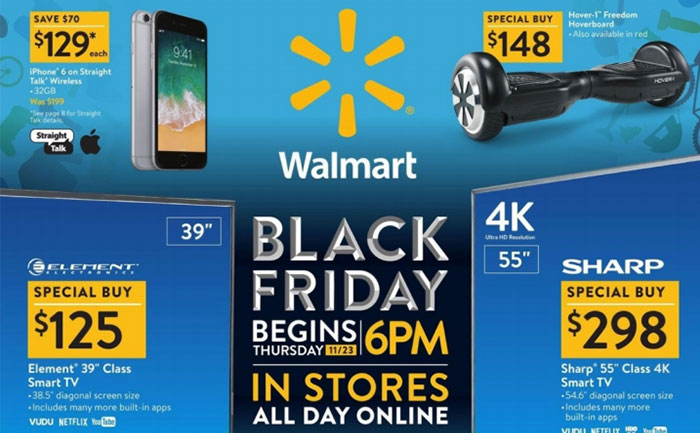 Days before Black Friday Sale 2019 started, there are several advertisements showing massive discounts have been leaked on the internet. We are still a few days away from Black Friday sale but leaked ads have already got us excited. Looking at Black Friday leaked ads, online retailers including Walmart, Amazon, Best Buy, Newegg and other are all set to offer massive discounts on scores of products.
In this article, we have compiled all the leaked Black Friday ads making it easier for you to spend your holiday and make a purchase. Some of the deals may not have taken effect yet, but it's helpful to be able to check them out now.
Without any further ado, let's take a look at leaked Black Friday sale deals.
Amazon Black Friday Sale 2019 Deal Revealed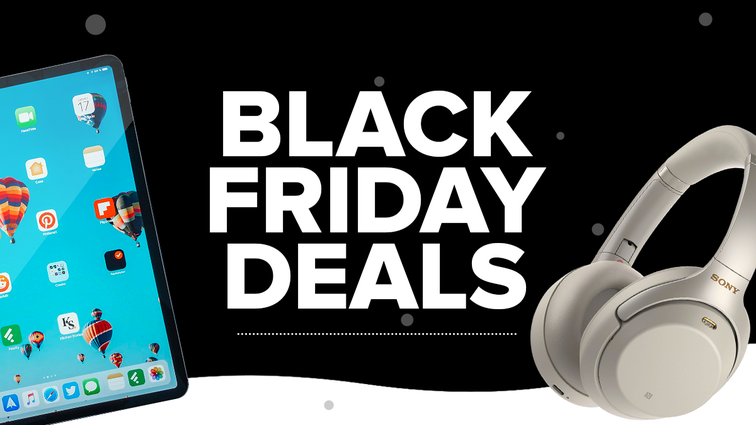 The mega online retailer Amazon's Black Friday sale is scheduled to begin from November 22 but some of its deals have already made their ways on the internet. The e-commerce website is all set to offer a huge discounts over the Thanksgiving shopping period.
During Amazon's Black Friday sale, you can purchase Amazon Echo Show 8 at $99.99 and save up to $30. You can also save $39 if you make a purchase of Amazon Music Unlimited for 4 months.
Walmart Black Friday Sale 2019 ads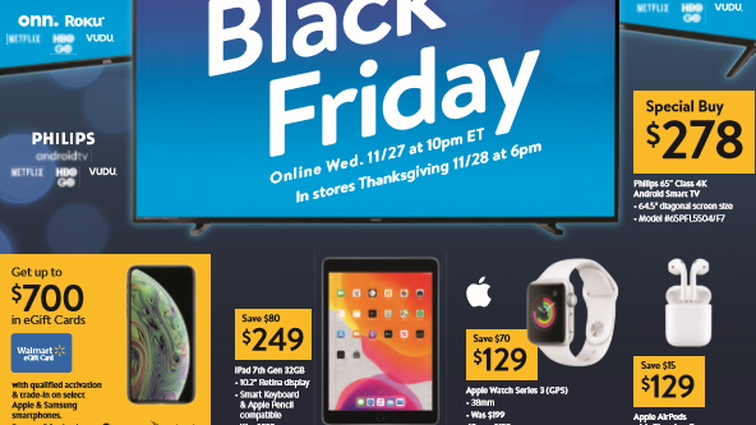 Walmart's Black Friday sale is all set to start at Walmart's official website at 7 pm on Wednesday, November 27. The doors of offline Walmart stores will be opened at 6:00 pm on Thanksgiving. If you are looking for best Walmart Black Friday deals, you have come to the right place.
Yes, Walmart is offering a lucrative deal on Google Home Mini and Chromecast bundle. Yes, you can save $30 if you purchase the mentioned product. Most importantly, you can avail huge discount on 55-inch Vizio M-Series Quantum (M558-G1). The online retailer has reduced $350 on 55-inch Vizio M-Series Quantum (M558-G1).
Best Buy Black Friday Sale ads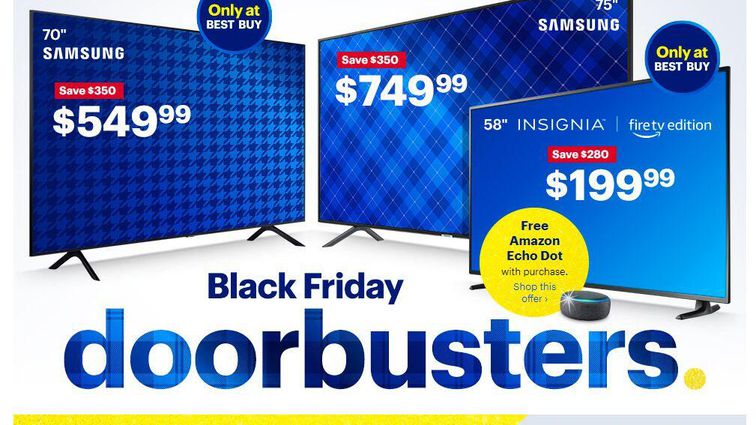 The Black Friday sale of Best Buy is scheduled to begin at 5:00 pm, Thursday, November 28. The online retailer has been offering daily "doorbuster" deals following a 5-day pre-Black Friday sale. The sale is likely to start as early as 12:01 a.m. ET on Thanksgiving Day, if not earlier.
You can purchase UE Boom 2 LE Portable Bluetooth Speaker at $70 and Microsoft Surface Pro 7 at $649 and save $110 and $310 respectively.
Aren't you excited for Black Friday 2019 sale?