Weekly Horoscope January 12-18, 2020: Check astrological predictions for all Sun Signs
Get most accurate astrological predictions and weekly horoscope for all 12 zodiac signs for January 12-18, 2020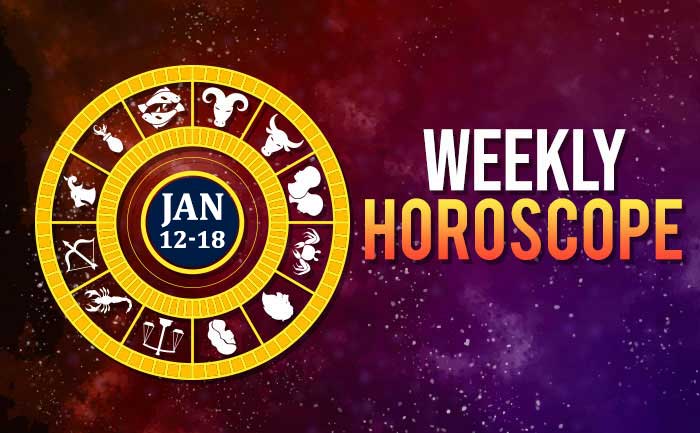 Planets have a big influence on our life. They affect each individual in a different manner as per their Sun Sign. Sometimes they have a positive influence and sometimes it is not so. You must be wondering how this first week of September plays out for you? Do not feel jittery read our weekly horoscope. Follow it, and relax.
Here is your weekly horoscope as per your Zodiac Sign:
Aries:
This week you will be working for charity organizations.  You will also have many chances to meet people from foreign land too.  Your career seems to be improving, lately. Set new goals and work hard to prove your abilities.  Be prepared to make smart, flexible moves in order to deal with some issues that might crop up.
For couples, there will be arguments in the relationships, try to be silent, so that you can heal yourself. If you are single, your sexuality is vibrant and it will attract many people. You will get into new adventures, so have fun! At work, you will set bigger goals than you usually do. Make the most of every means you have to promote your career.
Take care of your health. Avoid spicy and oily stuff. Join a Yoga or meditation group.
Taurus:
Dear Taurus, this week you will focus on issues related to your family or the people close to you. The planets will send you all the positive influence necessary to resolve these issues. You will also meet many interesting new people who will help you make your dreams come true.
This week you will get good news in relation to their occupational field. There will be some new projects coming up at work. You will discuss the possibility of partnership ventures as well. Try to be flexible in these discussions. Your personal life is in a great place right now. Your relationship is perfect and this makes you happy and calm.
The aches and pains that have been plaguing you will increase. Do consult a doctor.
Gemini:
This is an important time for foreign or long trips. It can be for official as well as personal purposes as well. For students, the week will bring some good news. They will plan for higher studies. Spiritual inclination also is seen during this week.
There will be some tensions in your marital and familial life. You can expect arguments with your partners. You need to improve  relationship with your partner. If you do not want to take it further better be clear. Don't make new deals or big changes in your professional affairs, because you are not likely to succeed in them this week. Your financial issues too will aggravate.
Take some time off for some spiritual activity to calm your mind.
Cancer:
This week you will face a number of challenges but come out in winning colors.  You will have to cope with ups and downs in money-related issues. Try not to stretch anything beyond your capacity. Try to manage your finances and spend carefully.
You need to adopt a softer attitude towards your partner. Be very cautious during the weekend and make sure you don't let anybody come between you and your partner. At work, you will feel huge pressure, new collaborations are favored,  you will meet people who could help you advance in your career.
On the health, front take care to maintain a healthy diet and also exercise regularly.
Leo:
Dear Leo, your life is moving towards a different path than what you visualized. Be more diplomatic with the people around you and avoid conflicts. Settle any issue that has been stressing you out. Your creative energies will be increasing and you will get some opportunities to show off your skills.
If you are in a relationship, you are at the beginning of a calm and peaceful period. Things between you will become even more stable and real. Improve your relationship with your colleagues and let them help you in your ventures.  New social contacts are also seen during this week.
This is a good time to take up meditation to keep you happy and peaceful. Your health will remain good.
Virgo:
This is a time to improve your official relationships as they will bring some much-needed contracts for you.  You may also get projects through socializing as well. Students will get good results in their work.  But you may get hassled by unnecessary expenses and journeys.
There will be new beginnings and some new changes at work. It can come as a new project or a new job. But keep up the hard work and you will soon be rewarded. In your finances, expect a small r
Be cautious about your health.  Physical health can be a little concerning, but that will be for some time only. However, you should not ignore it.
Libra:
This is a big week for your creative energies and you will have a lot of opportunities to display your talents. This is also a good week for studies and you may join a new course. Your dynamism and confidence will help you achieve your goals.
For some of you, there might be a change of work. However, you should not be in a haste to grab that opportunity as there will be some complexities. The week will bring positive developments in your love life. If you are in a relationship, you will come closer to your partner through honest and open discussions.
Take care of your health as an older ailment may bother you. Health issues can also come up during this week. You will be taking up a new diet or a health care program.
Scorpio:
The week will bring positive results for monetary gains. Real estate deals and construction-related opportunities can come up. However, there will be some arguments regarding these real estate deals that solve them amicably.  This week you will face a number of problematic situations that will concern both your personal and professional life.
At work, there can be few complex projects and you will have some difficulty in performing at it. That can cause some arguments at work also.   If you are single, make sure you permanently shut every open door to the past. Plan new beginnings that will revive and excite you.
This will be a good week for your health concerns. Take up Yoga for a better and healthy life.
Sagittarius:
You will get gains and support from your siblings this week. But you are advised to exercise restraint on your speech and anger. The weekend will be confusing and complicated, so maybe you should take some alone time, to avoid getting involved in unpleasant conflicts.
This week you need to focus on your career and make the most of your energy and creativity to deal with your obligations.  Your finances are under pressure, so avoid any risks. If you are single, this week you can take the first step to approach the person who interests you.
Take care of your health and do not overtax yourself with work.
Capricorn:
Try to priorities your duties. There will be a good time with your siblings or relatives. Please don't encourage any negative people in your life, especially during this week. Lately, you have been concerned with issues regarding your personal and family life. Now is the time for you to resolve them.
Your professional affairs demand time and effort but in the long run they will bring some positive response and appreciation from seniors. In your finances, try to increase your income. Have an honest conversation with your partner and talk about what you really need and what you must do to improve your relationship
You may have to deal with health-related problems. You must take care of what you want. It is likely that a large sum will get spent on your health.
Aquarius:
During this week, you will have new beginnings in your personal life. New projects or new people also can come into your life.  You will have more interest in your beauty and vitality as well. Your luck will bless you this week. Some of you may travel abroad. This will be an average week for students.
This is a week to work with team settings.  You will have some ideas regarding your long term projects. New friends or teammates also can come up. You need to be realistic and careful in your professional affairs. Don't make reckless moves. . You will have an honest conversation with your partner about some important issues in your relationship.
There will be some mental relief and peace this week.
Pisces:
This week,  you will face separation and detachment so there will be a lot of emotional issues. At work, you will have some complex projects, so you need to work hard. Developments will take place that, if handled correctly, can strongly benefit you and your career.
You must remain cautious in money-related issues as the demands of unnecessary expenses will bother you.  Make a smart, efficient plan in order to remain on top of things. Planning and discipline will get you back on your feet. If you are single, things in your love life are about to change thanks to a new acquaintance that will fill your life with love
Be silent and focus on your mental health and peace. Prayer and meditation will be ideal during this week and that will help you to be calm and peaceful.
Also Read:  Capricorn Love Horoscope 2020: Personality, Traits, Compatibility & Celebs Born Under This Zodiac Sign