Weekly Horoscope January 18-26, 2020: Check astrological predictions for all Sun Signs
Get most accurate astrological predictions and weekly horoscope for all 12 zodiac signs for January 18-26, 2020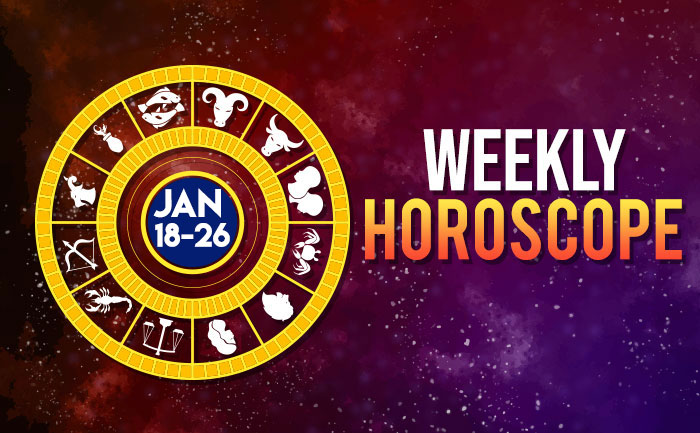 Planets have a big influence on our life. They affect each individual in a different manner as per their Sun Sign. Sometimes they have a positive influence and sometimes it is not so. You must be wondering how this first week of September plays out for you? Do not feel jittery read our weekly horoscope. Follow it, and relax.
Here is your weekly horoscope as per your Zodiac Sign:
Aries:
This week finances will be fine your cash inflow will be steady.  You are likely to spend on luxuries to make yourself feel better. For students, this week may not be ideal. If you're planning to pursue higher education. You will have to be ready to take up challenges from long term projects.  You will have many chances to meet people from foreign land too.
The week is good for salaried people as they might get a promotion. The stability you are looking for on the career front will be achieved this week. This week, your partner and you will not see eye-to-eye. But you both can take the time and think upon it to seek solutions.
In terms of your health, this week is likely to bog you down because of a hectic work schedule. You are advised to take due rest. There are chances of an old health problem resurfacing.
Taurus:
The financial situation will be better this week.  Your cash inflow will be better than before. However, you will have reasons to make expenses as well.The middle of the week may give some tensions. There will be unnecessary issues to deal with and heightened expenses too.
This week, you may be in trouble and face problems on the career front.Speak to your seniors and consult them in important matters. You will get a positive respite by the end of the week. Your love life will face ups and downs this week.  Give your partner time and space to breathe.
Health will be challenging this week. Avoid all street and junk food and make sure you. Eat good home-cooked food.
Gemini:
Geminis are going to have a moderate week. You are advised to take decisions in your work and familial context only after careful thought and analysis.  This will be an average week for students. Your mental well-being may be affected adversely. It would be best to avoid stressful situations. On the bright side, this week will prove favorable for finance-related matters.
For working professionals, this week will be great.  Students wanting to go abroad to pursue an education will find this week extremely favourable. Your busy work schedule this week will be tiring and it's best that you stay clear of office politics. Married couples will feel less harmony in their relationship. This can lead to depression.
You need to pay attention to your health this week as there may be issues that will hamper your health. Also, try to pick a sport or go for regular walks in order to maintain good health.
Cancer:
During this week, Cancerians will be required to stay patient. Keeping a check on your temper will prove vital for the well-being of your relationship. In terms of finance, you are likely to come by some lucrative opportunities. Your familial life will remain normal. Students will find this week extremely favorable.
Cancer sign people will take forward those projects which had got stuck because of some problems. There is no shortcut to hard work so, stay focused and committed to your work.  Stay calm and patient as there can be differences and disputes between you and your partner. Suspecting your partner unnecessarily has no point and you need to stop to maintain a healthy relationship.
You may remain worried about health-related issues. It would be wise not to ignore symptoms or minor issues in regard to your health.
Leo:
The week will bring mixed results for students. The middle of the week may give some tensions. You may remain a little worried about your child. You may plan a trip this week or a guest may arrive at your place.  In terms of finance, there is a possibility for you to receive monetary benefits from relatives or loved ones.
It is best to stay in your current job right now as the time is not favorable for a job switch. If you have a new offer, delay it. You may feel very confused about your relationship. Due to too many expectations, there will be stress, hurt and anger in your relationship.
Do not take health lightly as some old health issues may crop up. Go for timely routine health checks.
Virgo:
This week, you will most likely to be in a generous mood. It will be one of those times where you believe in giving more to others than being at the receiving end. This generous attitude of yours will attract many people to befriend you. Even in terms of finances, this phase will prove to be fruitful. Students will have an exceptional phase.
This phase is a mixed bag as you will have both – good and bad experiences. But continue the hard work and soon you will see positive results in your professional life. This is a phase where you will be more giving in your relationship. You will be dedicated, loving and caring towards your partner.
The middle of the week may bring health and work-related tensions. Physical health can also be little concerning, but that will be for some time only.
Libra:
This is a big week for your creative energies, you will have a lot of opportunities to display your talents and thus get noticed in the public. Libra sign people are likely to be hassled by financial problems. You will earn a minor amount but your expenditure will remain very high. This is also a good week for studies and you may join a new course.
You are supposed to get new job offers also. However, you should not be in a haste to grab that opportunity.  You will be burdened with work but consult your seniors to ease your problems. You will be positive about your love and life, thereby feeling a boost in your relationship.
The portion from neck to hand is very sensitive and you need to take care of those organs.
Scorpio:
Stay determined. Be focused on your work. You will yield good results and this will boost your morale on the work front. Education – Make the most of this phase as your chances of achieving academic success are greater.  A Good time to pursue something new. Continue to work hard and put in your efforts.
At work, your efforts will be appreciated by your seniors and colleague. This will boost your confidence and morale – pushing you to do better work. Love is in the air during this week and you will experience a great time with your partner. You will be able to bond better with them and strengthen your relationship.
Do not take risks with your health. Keep a close tab as to what you are eating or you may fall ill.
Sagittarius:
You are likely to travel this week, mostly because of work. When it comes to financing, the phase will be a mixed one. If required, seek help from your family for investment. Business people will have to put in extra effort in the workplace. This will be a good week from the perspective of money. There will be chances of sudden monetary gains.
Be prepared to travel for work this week. If you are in marketing this is a good time for you. If you get a chance to explore an opportunity abroad, pursue it as it will work out well for you. This is a good time to enjoy your relationship. For married couples, this is a harmonious time. If you are unmarried you may meet someone with whom you can envision your future.
While you may not suffer from any major health issues, you still need to be careful about your health.
Capricorn:
The new moon indicates new beginnings and during this week, it is going to impact your finances. There will be some unexpected expenses, so you have to be financially very much prepared. Time is of the essence so make the most of the opportunities that come your way and do not waste time overthinking. For students, this is a good time for you as a student to apply and appear for competitive exams.
On the career front, you will get many opportunities that are beneficial to you. You can expect many positive developments in your favour during this phase.  This is a period of bliss for you and your loved ones. You will be able to plan many romantic dates and spend quality time with your partner.
Health is not be taken for granted. There are chances of some serious health issues cropping up at this point in time so you need to be very alert
Aquarius:
Aquarius sign people will get good news related to their job. Your officers will maintain harmonious working relations with you. Students may have to face certain difficulties.  If you are planning to apply for competitive exams, it's a good time. Some of you may travel abroad this week.  Keep a close eye on your expenses.
Your career path is challenging during this phase as there is a lot of stress from work pressure coming your way. Stay calm and try to complete every task at hand at your own pace. On the relationship front, this is a good phase for married couples. Avoid conflicts and arguments on silly or petty issues.
Health is good for now but do not take this period for granted. If you overexert yourself, you will feel fatigued.
Pisces:
Your seniors will shower you with praise and be prepared as a promotion and salary hike will certainly make you happy. On the education front, it's important you don't lose your focus. Finance-wise, things don't look as good so be sure to save some for the rainy day.
If you are a service professional, this is a good time for you.  Your efforts will be recognized by your seniors and you will earn appreciation for the same. You may even land promotion and get a good salary hike. Your love life will be a mixed bag at the moment. Be ready to face some ups and downs in your love life.
Take proper care of your health even if you feel fit and fine and maintain a healthy lifestyle.
Also Read:  Capricorn Love Horoscope 2020: Personality, Traits, Compatibility & Celebs Born Under This Zodiac Sign