Weekly Horoscope January 04-12, 2020: Check astrological predictions for all Sun Signs
Get most accurate astrological predictions and weekly horoscope for all 12 zodiac signs for January 04-12, 2020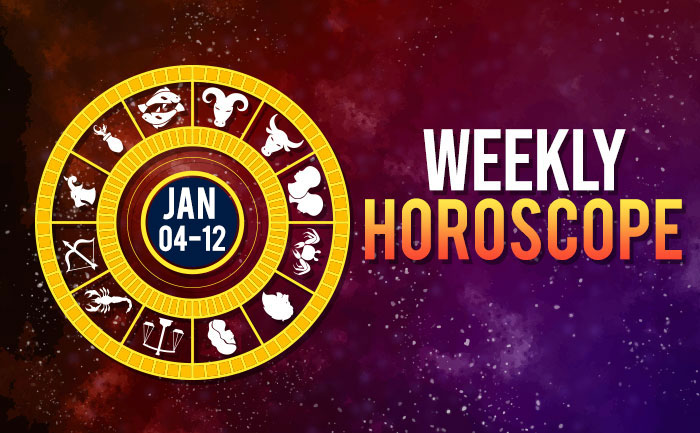 Planets have a big influence on our life. They affect each individual in a different manner as per their Sun Sign. Sometimes they have a positive influence and sometimes it is not so. You must be wondering how this first week of September plays out for you? Do not feel jittery read our weekly horoscope. Follow it, and relax.
Here is your weekly horoscope as per your Zodiac Sign:
Aries:
Aries you see the best in people and love is one of the key things that bring life meaning in your eyes. Despite your fiery approach, this week you will take a more poetic look at potential partners.  At work, you will jump in with excitement and flair at new projects. You may even come up with some unconventional prospects.
This week a casual flirtation could turn into something far more serious this time. If you are single this could well be the person that you have been waiting for.  You will find yourself in great spirits this week. This week see that you do not make it a habit to have a relaxed attitude and are more punctual at work. You should also meet your deadlines well ahead of time.  Good strategies will help you to expand your business.
Some of you are likely to see some improvement on the health front this week. You will feel much better, as you finally find a cure to an ailment. Meditation will help you immensely by keeping mental tension at bay.
Taurus:
At work, people will be interested in you due to your work ethic and pleasant demeanor. Nothing seems to get you down and you can plug on endlessly. Someone important may offer you a promotion. At work, you are a brilliant force to be reckoned with.  You want to stand out and will be noticed by people who matter.
This week's romance may not be very satisfactory for some of you.  You need to make serious efforts to avoid arguments and misunderstandings. Towards the middle of the week, you`ll make your partner feel special. You might start a new business venture this week. This might be the start of a brilliant career and financial gain for you.
This week don't tire yourself out by overindulging in work if your health is not in good condition. Try your best to get rid of the most minor of problems and then decide on how you want to take it forward.  Some of you may be under a lot of work-related stress take care.
Gemini:
Gemini is a sign of duality. You are fortified by your friendships and relationships with others.  Others will be tremendously supportive of you and in love you will dive into your romantic side. You must prioritize your health as you are prone to nervous tension. It is of paramount importance that you find time to put yourself first.
The week ahead is indicated to be excellent for creating romantic memories. Your supportive and caring nature helps you take your relationship to a whole new level. Your relationship with your mate is better than ever before. This week you will see growth in your career. Any new contacts you made in the past few days will prove beneficial to you. Any issue related to your work will be resolved this week.
Those worried over skin-related issues are advised to consult a specialist. Expecting mothers are likely to have a wonderful week. They would do well to keep themselves cheerful and happy and eat healthy food.
Cancer:
You start this week with pressure on your shoulders, especially financially. You may be struggling with some debt, which ultimately you need to keep chipping away at. Your health may also fluctuate. You are often riding the waves of life, both its ups and downs. Take some time and space for yourself.
Love may take a backseat this week as you find yourself completely engrossed in work. Your partner will be supportive and will lend a helping hand to you. Singles will find your love life to be better than ever.  This week you will be overjoyed to learn that whatever targets you had set are now within easy reach. This week you will have your priorities right and realize what is important.
You will be focused on improving your health. You modify your lifestyle and get involved in outdoor activities. Some of who have been suffering from a disease for a long time now will finally get cured this week.
Leo:
Leo, love explodes into your life in the form of exciting new friendships. Your ability to innovate and explore sets you above your peers. You adore being adored and plenty of that will be coming your way this week.  Your artistic and creative talents may also bring fame, success and financial achievement.
Love blossoms in your life in quite a surprising manner this week. Great opportunities for romance are indicated as you are to meet that special someone. Expect moments of sheer happiness towards the middle of the week. This week the guidance of an expert or a colleague will motivate you to achieve more on the career front. This is a good week to make decisions regarding what you want to do in future. You may also not get selected for a project you were keen to be a part of.
Your health will be fine and problems are not likely as the fresh air does you good. Your good mood combined with your good habits will increase your fitness levels. However, you need to avoid overeating,
Virgo:
You are typically a very well-disciplined person because structure and organization help you to feel secure.  This week, you may find that you give in to excessive behaviors which can lead to fatigue. Take good care of yourself, and remain alert – things may not go perfectly according to plan.
Those of you who have been going through a dull phase in your marriage will see an improvement in your situation. You will reap the benefits of all the soul searching that you have done. Your career front will benefit as you make some very good decisions. You manage to get some important projects for your company.  Some of you will be given additional tasks at work.
Asthma patients could aggravate their problems purely due to negligence. Expectant mothers, do ignore spicy and junk food. Involve yourself in some sort of recreational activity.
Libra:
There is a hum of tension throughout your life which suggests that change and transformation are afoot. The change may be something such as parenthood, a new career or new opportunity. This is a period of much novelty and you will welcome in many new friends and possibly a new love amongst them.
This week you may face some misunderstanding in your love life. Your partner may fail to fulfill a commitment which may leave you feeling hurt. Opening up the communication channels will solve the issues. This is the perfect week for getting pending work out of the way.  Students will do especially well this week as they pass their examinations with flying colours.
This week you will make some wise choices that help you improve your health. Your eating habits will be much better this week. A good diet and positive thinking will make a huge difference to your health this week
Scorpio:
Scorpio is always primed for change. Life is always bringing you something new and unexpected.  Life bends and breaks us to shatter the shackles of ego. Whatever newness tries to come to you this week, allow it in and welcome it warmly. Avoid quarrels and disputes with loved ones.
You will seek advice from a good friend regarding a relationship problem.  This week misunderstandings and miscommunications are bound to occur if you do things in haste this week. But issues in your love life will be sorted out by the end of this week. Those in sales and marketing may feel a strong urge to go abroad for work.  The self-employed will be able to enhance their work/business.
This week you need to take special care of your health. Try modifying your eating habits and also join a gym or go for walks. Youngsters worried about their skin problems will need to take it easy on junk food and aerated drinks.
Sagittarius:
Sagittarius is the sign of the explorer. Many short trips suit you very well. You get the opportunity for an adventure but in a short burst.  Your ability to come up with cool new concepts boosts you financially so tap into your mental powers. You will work hard but may not see the fruits of your labour immediately. Do not worry evidence of your efforts will show.
Married folks will spend a lot of time rekindling their romantic feelings for each other. Those in a relationship will find all past verbal spats being resolved. A great week lies ahead of you on the career front. For artists and designers, this may be one of the best periods of your life. Do not let opportunities slip through your hands.
Your mood will mostly be good for most of the week and you will feel positive. Elderly people need to take care of their medication. They should take all the medicines at the proper time to avoid complications.
Capricorn:
This is a financially excellent period for Capricorn natives partly because your economic expertise is second to none. You understand the importance of money in a material world.  You are an expert at saving it, storing it and investing it. When you spend it, you purchase timeless classic pieces that age well.
As your relationship has an extra bit of zing these days, indulge in something fun and exciting such as taking a dancing class or seeing a movie together.  The week ahead will be great for you and for reconnecting with your sweetheart. Seniors at work are totally floored by your performance and your ability to work independently. Additional responsibilities may be loaded upon you.  If you are in the field of e-commerce, you need to be thorough at your work.
Older people will find themselves meditating this week. Youngsters will sail through the week with the help of an exercise regimen.  Your optimistic outlook will ensure that you remain healthy throughout the week.
Aquarius:
During this week, issues that were outstanding come to be completed which gives you a feeling of accomplishment and satisfaction. Women will make an important and powerful impact on your life. Mothers, wives, sisters, daughters, aunties, nieces, will all be extremely helpful and supportive. Your own inner feminine energy will also be of tremendous importance.
Committed singles are likely to come across some stress, courtesy a third person. Those looking for love would find a good partner owing to the efforts of their parents. Some new opportunities are indicated to boost your career prospects this week. Make the most of these opportunities.  Some of you are expected to get higher income jobs during this period.
Changing your diet will help you stay healthy this week. Heart, blood pressure and diabetic patients will find relief this week. Eyestrain is indicated for youngsters this week.
Pisces:
As a result of your laidback attitude this week, you may find yourself spending money unnecessarily. Try to have a day or two where you spend absolutely nothing if possible, especially if you are spending money to chase away feelings of boredom or loneliness. This is a wonderful time to begin a new relationship and to begin anew
Trust related issues will be sorted out and you will see harmony return in your love life. Your love life will be almost perfect and you feel a lot more comfortable talking about issues, which have caused trouble in the past. New graduates will find this week to be very important for your career. You are likely to get a very lucrative job. Be prepared and make the most of this opportunity.
This week you will find some relief from chronic ailments. Stomach-aches that had been troubling you since last week are likely to be reduced.
Also Read:  Capricorn Love Horoscope 2020: Personality, Traits, Compatibility & Celebs Born Under This Zodiac Sign