Weekly Horoscope October 13-19: Check astrological predictions for all Sun Signs
Get most accurate astrological predictions and weekly horoscope for all 12 zodiac signs for October 13-19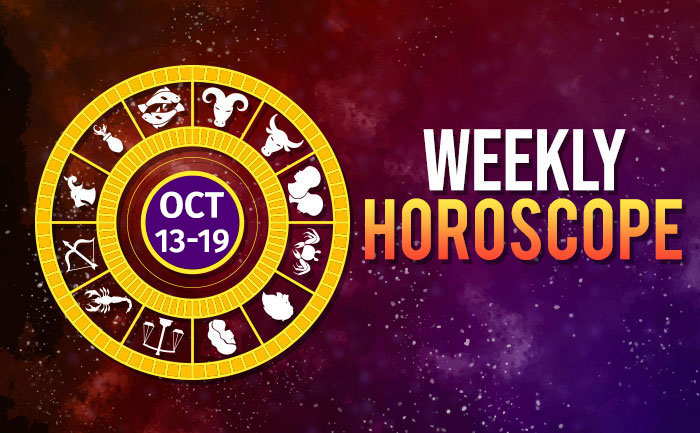 Planets have a big influence on our life. They affect each individual in a different manner as per their Sun Sign. Sometimes they have a positive influence and sometimes it is not so. You must be wondering how this first week of September plays out for you? Do not feel jittery read our weekly horoscope. Follow it, and relax.
Here is your weekly horoscope as per your Zodiac Sign:
Aries:
Slightly hot-tempered, you should be cautious not to argue mindlessly.  Misunderstandings and delays may upset you this week.  Best laid plans may not come to fruition as expected, but don't worry too much, better things may fall into place.
Creativity will be high this week and you come up with some pretty interesting ideas.  This is the time when you see recognition and rewards coming your way.  This week a new relationship is likely to take a deeper meaning. A casual flirtation will turn into something far more serious. You feel very passionate and the company of this special someone delights you.
This week you will find some relief from chronic ailments. Stomach-aches that had been troubling you since last week are likely to be reduced. Your health will improve only if you take particular care about what you eat.
Taurus:
With the sun in Libra, you'll want to put the focus on your health, and especially on eating healthy, nutritious foods and exercising. Taurus natives tend to over-indulge, either in place of comfort or pleasure. Try to moderate yourself.  You're in a sociable mood and enjoy being around others, enjoying the finer things in life.
This week your leadership skills will help you handle tough situations at work much better. Teamwork will help you complete your projects on time Your career will get a big boost when a pending business deal gets finalized. Your love life will be almost perfect and you feel a lot more comfortable talking about issues, which have caused trouble in the past. Life will look-up because of the presence of a special someone by your side.
This week you will find some relief from chronic ailments. Weight gain issues will be resolved by exercising. This week your attitude towards life is positive and you feel relaxed and happy after a long time.
Gemini:
This week children feature importantly in your life, whether they are your own, or belong to others. Gemini is famously childlike itself, curious, inquisitive and sprightly, you relate to children very well.  You need variety and to experience new things constantly. This feeds you.
You are likely to get a very lucrative job, which has many perks to offer. Be prepared and make the most of this opportunity.  You will be appreciated for the efforts that you make.  Those looking for love would find a good partner owing to the efforts of their parents. Extra-marital affair is likely to lead to tension in your relationship. So strictly avoid it.
Changing your diet will help you stay healthy this week.  Eyestrain is indicated for youngsters this week. Make sure you don`t stare at your computer screen for long hours.
Cancer:
You may feel a restless sense of tension surrounding something important to you. It might be impatience overgrowing a business or frustration surrounding a relationship.  Life keeps bringing new things your way and this keeps your spark of gratitude and appreciation strong and sincere.
This week is a good period for media and communication professionals. Some of you looking for a change come across a good offer; accept it immediately.  Your choices will be quite good for you and will boost your career prospects. This week you might experience some ups and downs in your love life. An argument may occur between you and your partner which could give a big blow to your relationship.
A good week, health-wise, for most of you!  Some women who had slight body aches and pains in the last few days also get rid of all of that quite easily this week.
Leo:
This is a very active week for you, dear Leo. You enjoy surrounding yourself with people, hustle and bustle. When you are at the centre of things, you shine. Your positive, happy spirit wins you many friends and admirers. Be careful not to dominate things too much. There is a tendency to come on strong when subtlety might do just as well.
This week is a great week for you on the career front. Apart from improving your communication skills pay more attention to your technical skills this week. This week you will get solutions to some of your romantic troubles. Those who are not happy with the current relationship that they are in and are considering a separation should think the matter over carefully.
This week you will have to keep your anger in check as it could lead to increased levels of stress.  By ignoring your doctor`s advice you may even aggravate your problems.
Virgo:
You've got plenty of money coming in to take a look at your finances and make sure that they are in order. Planning for the future is a sensible idea. Ensure that you don't offend someone with idle or careless words.  You are a natural communicator and will do well in interviews and on dates particularly.
This is a good time to reassess your value and worth at your workplace. A very strong word of caution: be extremely careful with your attitude and words. There are chances that you may have to face some problems due to a co-worker. This might even become worse and threaten your job. Therefore, be very careful in your workplace.
This week will bring in good changes and improvement in your health.  Your improved diet will start showing some good results now. Practice yoga if you are worried about your weight.
Libra:
This week, you may suffer from lower confidence than usual. Something has given you a knock. You may struggle to concentrate and fear a loss in your life. Pouring your energy into some cause or passion is recommended as this will stop you feeling powerless, remind you that you can make a difference.
You will be facing no major hurdles this week on the career front. Your superiors and colleagues will appreciate your ideas. You may even expect to be sent overseas for a business-related project.  You are likely to be very busy this week making arrangements for an upcoming wedding. If you are single, then you may find that you are very caught up in a close friend`s wedding preparations.  This will be a great week; enjoy and make the most of your time.
This week when it comes to your health you need to take enough precautions to avoid falling ill with a seasonal illness. Avoid giving into arguments and being short-tempered. This will only aggravate matters.
 Scorpio:
This week you may be unsure of what you want to do. You may have many opportunities and options and therefore not be quite certain of which to pursue. Take your time. There is no need for immediacy or urgency.  It's better than you are sure before you start rather than having to turn and make a change halfway through.
Your seniors will notice the efforts that you put into your job and will be impressed with your ability to lead a team.  A senior colleague will offer you good advice during this time. This week marks the beginning of a wonderful new relationship.  Married couples may need to pay more attention to your partner's needs.  Also, don`t trust an outsider when it comes to your relationship this week.
This week will be smooth sailing for you on the health front. You face no major health problems and will also find some relief from a stomach ache.  Exercising in the fresh morning air and eating healthy food makes a huge difference.
Sagittarius:
This week, your partner plays a starring role in your life. They help you to feel supported, appreciated, loved and cared for, as they should, and although you are fairly independent in spirit, you truly lap up this love.  You want to fortify your bond and connection. You want to enjoy the finer things in life with someone that you hold dear, and this is the week to partake in all of life's wonders.
That much-awaited promotion is likely this week.  Some of you are likely to see an increase in your workload and find it a bit harder to complete your projects on time. Your hard work will pay off soon.  Do not give in to unreasonable demands made by your partner as this could lead to differences and arguments between the two of you this week.
Weight issues are likely to trouble some of you so you need to take care and eat in moderate amounts. Your improved eating habits help you keep your weight stable.
Capricorn:
When it comes to your professional life, you'll need to work hard.  You'll need strong will power, don't be lazy.  You are drawn to class, morals and values. You will eagerly look forward to establishing a new relationship that will bring you a lot of happiness.
If you have been thinking about entering into new ventures or expansions in business, you may start planning from now on. Those who are into sports and adventures will perform really well this week. Those of you in a long-distance relationship will be thinking about your partner a lot this week. You may find yourself lost in the memories of your partner.
This week youngsters need to be cautious that they do not overdo things. Especially when it comes to their social life they should avoid eating junk food and drinking alcohol in excess.
Aquarius:
This week you are at the peak of good health on all fronts (physically, mentally and emotionally.)If you've been adopting healthy practices, you do well at keeping to these. In love, you may be moving towards marriage. This is a great spiritual stretch for you. You are learning about who you truly are and building a life to reflect this.
For people in managerial posts, this week will prove to be excellent. You can expect a raise or a promotion in the near future. Sales and marketing people if offered a new job should take it up as this will prove to be a very good chance for you later on. Changing your diet will help you stay healthy this week. Digestive disorders are indicated for you so avoid overeating at all costs.
Remember the rush of first love, the time when you would do anything to be with your beloved? Pamper your partner and let them know how important they are to you. You will be bestowed with charm and wit. Let love mend your broken heart and make everything right.
Pisces:
This week your mind may feel somewhat scattered, so don't make any big decisions.  There is plenty of time for all that.  Working with your gut instincts may help you arrive at an answer. Remember, we don't need to know everything immediately and urgently.
Careerwise, this week will not present any difficulties in front of you and it will be smooth sailing all through. Make sure that you take advantage of this wonderful opportunity and show your best at work.  This week is really good for single people as you come across a really interesting person who engages your interest. As the week draws to a close those who are in a committed relationship will receive a marriage proposal from their partner.
This is a mixed week as far as health is concerned. Joint pains are indicated for elderly people, skin infections will trouble a lot of people due to the change in weather so be a little careful.