Weekly Horoscope October 06-12: Check astrological predictions for all Sun Signs
Get most accurate astrological predictions and weekly horoscope for all 12 zodiac signs for October 06-12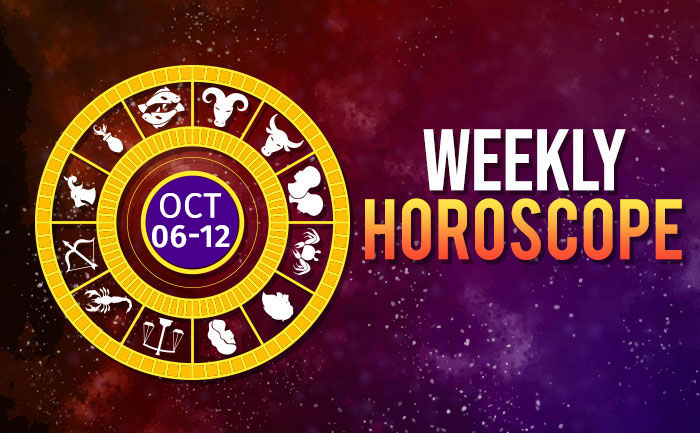 Planets have a big influence on our life. They affect each individual in a different manner as per their Sun Sign. Sometimes they have a positive influence and sometimes it is not so. You must be wondering how this first week of September plays out for you? Do not feel jittery read our weekly horoscope. Follow it, and relax.
Here is your weekly horoscope as per your Zodiac Sign:
Aries:
You may be more prone to quarrelling with loved ones this week. Chances are, it won't be over anything big, just petty inconveniences.  You may feel somewhat moody and anxious, less sure of yourself, which is alarming for a sign who so likes to take charge.  Don't stress too much. This state will pass.
This is a good week to make decisions regarding what you want to do in future.  You may also not get selected for a project you were keen to be a part of.  Great opportunities for romance are indicated as you are to meet that special someone. Expect moments of sheer happiness.
Your health will be fine and you will stick to a good diet to keep your weight under control. Problems are not likely as the fresh air does you good.
Taurus:
You may be drawn to education or parenthood. There is a sense of wanting to lay down roots, progress or grow in some way. You want to get to the next level. You don't owe anyone this positivity but remember it does help. You have the perseverance, dedication and people tend to warm to you.
This is the week when you must plan your work and get good results. Some of you will be given additional tasks at work. This week a new relationship will be first and foremost on your priority list. A casual flirtation could turn into something far more serious.
You feel much better, as you finally find a cure to an ailment. Meditation will help you immensely by keeping mental tension at bay.
Gemini:
Gemini's are eternally restless, and although this can be a frustrating trait, it can also lead you onto plenty of adventures, though you must be cautious about abandoning things at the first hint of boredom. Others respond well to you this week.
This week you will be overjoyed to learn that whatever targets you had set are now within easy reach. You will have your priorities right and realize what is important. Love may take a backseat this week as you find yourself completely engrossed in work.
Some of who have been suffering from a disease for a long time now will finally get cured this week. You will now be focused on improving your health.
Cancer:
You have itchy feet and want to explore and travel and this you most certainly should do, even if the trips you take are to local places of interest. You want to expand your horizons, see new places and meet new people, and this would be a great experience for you.
This might be the start of a brilliant career and financial gain for you.  This week will bring you many great options and good fortune. The week ahead is indicated to be excellent for creating romantic memories.  Your relationship with your mate is better than ever before.
Those worried over skin-related issues are advised to consult a specialist. Expecting mothers are likely to have a wonderful week.
Leo:
Financially, this is a great week for Leo natives. Money that you've saved or invested will grow.  Relationships with relatives which may previously have been rusty will improve. You are drawn to travel and will enjoy the experiences and memories you make.
This week you will be experiencing some positive changes in your life. Any new contacts you made in the past few days will prove beneficial to you.  Misunderstandings and miscommunications are bound to occur  but this is not a good time to give up on your relationship.
This week you need to take special care of your health especially if you are worried about gaining weight. You need to get an exercise regime into place before it is too late.
Virgo:
Your quest to focus on the self continues to bring favourable rewards. You will be expanding, growing and developing as a person and this is a time of tremendous change for you. For those of you who feel more indecisive, continue to keep up with consistent spiritual practice. Remember, your ability to communicate with others is your strong point.
This week you`ll meet your deadlines well ahead of time and are very impressive. Good strategies to expand your business will help you make progress.  This week romance may not be very satisfactory for some of you. But towards the middle of the week, you`ll be in the mood to pamper your mate.
This week don't tire yourself out by overindulging in work if your health is not in good condition.  Some of you may be under a lot of work-related stress and have some sleep-related issues to deal with.
Libra:
You'll find those things you've been dreaming of continue to happen. It's almost like you have an intuitive sixth sense and listening to this sixth sense is powerful and the more you harness it, the more you'll learn. You'll easily complete any task you start.
Some new opportunities are indicated to boost your career prospects this week. Make the most of these opportunities. Your career will get a big boost from your recent achievements. As your relationship has an extra bit of zing these days, you should not let yourselves stay at home; get out and paint the town red.
Those of you who had been suffering from minor ailments will recover completely and feel free from all the tension that you have been feeling of late.
 Scorpio:
You continue on in high spirits and with plenty of self-confidence.  Your confidence will propel you forward, and others will be amazed at how magnetic you truly can be. Happiness comes from something new, such as a relationship, baby or career.
This is the perfect week for getting pending work out of the way.  Students will do especially well this week as they pass their examinations with flying colours.  This week you may face some misunderstanding in your love life. Opening up the communication channels will solve it.
You will be in full control of your life this week. You make some pretty wise choices that help you improve your health.
Sagittarius:
The pressure is on at work, but you navigate this well due to your natural light and joyous spirit. It is hard to rile you up. You will be rewarded for your hard work so take comfort in this.  Try to balance your professional and personal life's. You may be putting more into one than the other.
If you are in the field of e-commerce and marketing, you need to be thorough at your work as you may find it harder to achieve set targets. Do yourself a favour by showing urgency towards your deadlines. The week ahead is the best time to express your feelings for someone as you are sure to get a positive response.
Asthma patients could aggravate their problems purely due to negligence especially in the middle of the week. Expectant mothers, do ignore spicy and junk food.
Capricorn:
Capricorn, would you say that you are lucky? It's true that you work hard and much of what you have is a by-product of this.  Although work brings its challenges, you manage to sail through and outlast your competitors. All you need to watch out for is giving into self-destructive habits.
A great week lies ahead of you on the career front. For artists and designers, this may be one of the best periods of your life. You are likely to get recognition and a raise in your income.  Hesitation and fear stop you from opening up your heart to the one you love.
Do not ignore any ailment else a small problem might result to a big disease. Diabetic patients should take special care of their health.
Aquarius:
Aquarius, as a fixed sign, once you set your sights on something (or someone) or understand the importance of it, you find it easy to follow through. This is useful when you direct your mind to something that's good for you. You have the attitude to take it a long way.
Efforts you make towards your goal will bring you fulfilment! You may not know this, but the effort you put in this week, will be the deciding factor for, and directly proportional to, your growth. Committed singles, you may find yourselves in a dilemma as an old flame returns to your life and you feel attracted to that person all over again.
The week is likely to be a good one for most of you. However, those of you who have just recuperated are advised to be careful and cautious as there are chances of a relapse.
Pisces:
You are a mixed bag of energy this week, feeling physically strong, well and fit but mentally weak and fatigued.  You need to look at yourself holistically, only when you do this will you realise that you can heal your whole self uniformly. Make sure that your ego doesn't infiltrate your relationships.
Efforts you make towards your goal will bring you fulfilment! The self-employed will be able to enhance their work/business. Students, study well; there is nothing to fear.  Those in a relationship will find all past verbal spats being resolved. Divorced people may find a good match via an online matrimonial service.
Although you will not face too many concerns regarding your health this week you still need to be careful with regards to your diet especially.