Weekly Horoscope September 08-14: Check astrological predictions for all Sun Signs
Get most accurate astrological predictions and weekly horoscope for all 12 zodiac signs for September 8-14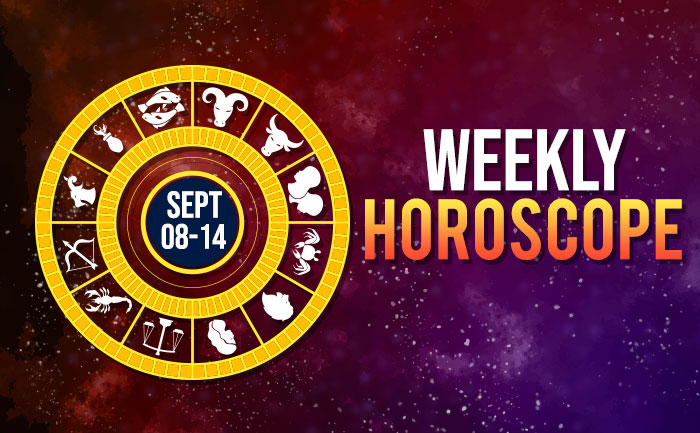 Planets have a big influence on our life. They affect each individual in a different manner as per their Sun Sign. Sometimes they have a positive influence and sometimes it is not so. You must be wondering how this first week of September plays out for you? Do not feel jittery read our weekly horoscope. Follow it, and relax.
Here is your weekly horoscope as per your Zodiac Sign:
Aries:
This is a very prosperous time for you across all avenues of life and you will flourish.  Things may not go as you expect, but that might mean they end up better.  Your confidence will remain high throughout the week.
Disagreements with your spouse over small issues are indicated at this time. These ups and downs in your relationship are temporary. Those of you thinking about marriage proposals should wait for a better time, as your plans may not go the way you expect them to.
Do not put all your hopes on one interview and keep on trying elsewhere as well, if you are in need of a job. Beware of a colleague who may try to harm you because of jealousy and professional rivalry. Do not forget to take care of your health while you work hard and manage finances and other issues.
Taurus:
The innate sense of restlessness occupying your mind right now encourages you to move in all senses, but you do seek a home as you are motivated by security and the establishment of roots. You will be in a place to forge new friendships. Your ability to innovate is emphasized by your communication skills.
Love is your strong suit this week. Your partner will be a special priority, or your pursuit of love will be at the forefront. If you feel you are wasting your time in a one sided affair, this week you need to move on. By coming out of this relationship, you will be saving yourself from getting hurt in future.
If possible, take the help of like-minded colleagues at work to help you address any problems that arise this week.  You are likely to be entrusted with additional responsibilities, as your boss wants you to contribute more.  In the long run you will be the beneficiary.
Gemini:
Some of the challenges you face this week will not be ideal, but you will grow from them and deepen and mature into a person. Although the emblem of the Gemini could be likened to a butterfly that flits from flower to flower, learning to establish roots can be powerful and transformative for you.
This week will be all about having a good time with your partner.  Nothing can spoil your mood this week.  But  some of you may remain worried about your married life.
This week you need to be more flexible to see better results on the work front.  You will remain very busy with your work. You may have to perform new duties in the workplace. New jobs with better perks are indicated for those of you thinking about a job change.
Cancer:
This is a good time to discuss matters that may previously have been swept under the rug.  Do not be relaxed with money. You should be aiming to save and let your money work for you. Resist the temptation to make impulsive purchases.
In love you are warm and soulful and pretty much always able to attract a partner, should you want one?  Married couples to avoid stagnancy in your relationship. Do not continue in a relationship if you are really miserable.
A little daydreaming and living in a fantasy world is good for the soul, but make sure you pull your head out of the clouds and plant your feet firmly on the ground. You might undertake work-trips. Health-problems will continue to bother you.
Leo:
A natural leader, especially when there is a promise of glory, you will continue to excel in this role this week. This may detract you from personal or romantic matters. A desire to balance your life is apparent and you would serve yourself well if you managed to keep all the plates spinning.
It is advisable for couples not to spend too much time in each others' company this week. Overcrowding your partner can scare them off. Divorced people can come across someone interesting at a social function. Be patient and use this time to know this person better.
You can expect a change in your job location this week. Either you might decide to change your job or you might have to travel to a distant location because of new responsibility on the work front.  Your family and friends, however, might not be very happy with this move.
Virgo:
You may flounder in yourself, but you should remind yourself of the lessons you've learned.  Do not let the energy or outside influence of others shake your core.  Your concentration and focus will be high but need to be attuned to the appropriate places.
Your prospects for developing a romantic relationship are high today as you are likely to meet someone you find charming and warm.  Single people should feel very optimistic about their love life today. Look and feel your best today.
This week your hard work and dedication will help you achieve some of your career goals.  This week you will prioritise and focus on what is important. Nothing distracts you from achieving your aims.
Libra:
Tackling challenges is becoming your forte. You have a strong need to complete what you start meaning you leave nothing unfinished. This is a wonderful time to consider making impactful financial investments.
If you find yourself wanting to propose to someone who has caught your eye, go ahead and do so. As far as singles are concerned this is an excellent week for finding love and romance. Committed couples, however may not have such a good time. Arguments and heated debates are highly indicated to affect your relationship.
You know just how to handle your rivals – with tact and diplomacy. Your opponents in the workplace will look for every opportunity to put you down in front of your seniors. Don`t let them succeed.
 Scorpio:
Few workers are as productive as you and a huge part of this is down to your intense nature. You don't do things by halves.  It is partly because of this intensity that you consistently accept new challenges. You mustn't over commit yourself, as once you sign on the dotted line, you'll be reluctant to tear yourself away.
This week you will feel very confused when it comes to your feelings. There might some disagreements with your partner at the start of the week itself. On a positive note, these problems will be resolved soon. T
You will deliberately keep things as simple, clean and easy to understand as possible at work this week. You will not conduct business behind closed doors without any sort of oversight. There will be a lot of political influence for businesspeople and this will take you to new levels in your business.
Sagittarius:
You are always in the mood to celebrate and there is plenty to enjoy this week.  You want to spend time with people, understanding that they are your most precious resource. You are at your best when you infectiously energize others. You have a natural ability to find a happy ending in all situations.
This week avoid hurting your partner at all costs or it could even lead to the end of your relationship. If you want to let your family know about your intentions for marriage wait for a while before doing so.
This week you need to work at maintaining order at your workplace. You may lose your patience quickly and get frustrated when a project is left unfinished. Deadlines, contracts and initiatives may not be on time.Make your best efforts to motivate your team to work harder.
Capricorn:
You often feel your mortality quite heavily and this can make you cram your life quite full. You understand that you have responsibilities, duties, and obligations that you must fulfill, and that time is a fleeting resource.Your secret fear is that you won't live up to your potential
This is a great week for most of you on the romantic front. You are likely to fall in love with someone nice and charming. Many opportunities for romance are indicated during this period.
This week, media professionals are likely to get some challenging assignments at work. Challenges that you face this week will bring out the best in you. Good work opportunities are indicated for graphic and web designers.
Aquarius:
You are a beacon of light to all around you right now, like a lighthouse that stands proudly on a clifftop. As an air sign, verbal explanations come easily to you, but if you can find a way to show not tell then your love life will deepen. Let's face it, you are too naturally aloof to feel too impassioned!
Romance is on the cards this week and you are likely to have an exciting time on the romantic front. You are likely to meet someone who makes you truly happy.  Don`t hesitate to express how you feel about this special someone.
This week you will get many opportunities to exhibit your talent. You`ll impress everyone with your amazing strategies and plans. This is also a good time to apply for a new job. This new job is likely to take your career to greater heights.
Pisces:
The key life lesson for Pisces natives is to use your tremendous capacity for love and joy to enrich life for yourself and others, whilst not allowing others to jeopardize you.  Firstly, boundaries must be imposed. It must be clear who is allowed into your inner sanctum and who is confined to the outlands.
Your mate may not find it easy to discuss certain issues with you and this may increase the problems between you two. This lack of understanding is likely to cause some minor problems.  Don`t lose control of your emotions and take initiatives to make your partner more comfortable about discussing problems.
This week you must put in your best efforts to complete pending work on time. You may find yourself hampered with delays and disappointments on the work front. These delays may affect your whole work schedule so you will have to be a bit more careful.