WhatsApp Web App: How To Use WhatsApp On PC, Download Apk
Here's everything you need to know about WhatsApp Web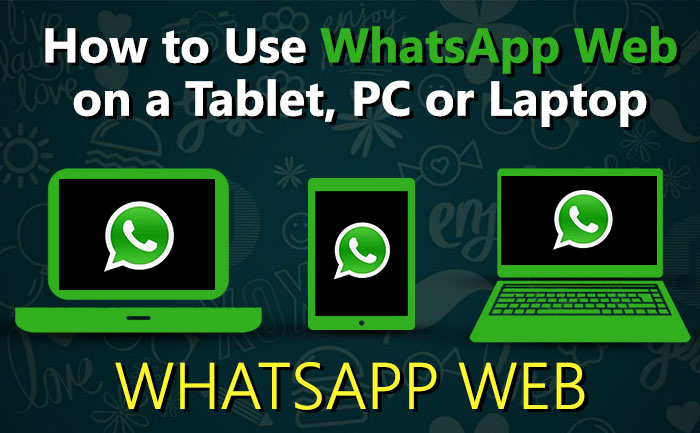 WhatsApp Web is a website version of your mobile application, WhatsApp. Yes, if you do not want to see your WhatsApp messages on your mobile phones while using PC or Laptop, you can use WhatsApp on your PC or Laptop by using WhatsApp Web App. WhatsApp Web requires you to scan the QR code properly to sync with the mobile app allowing you to send and receive WhatsApp messages from your laptop or computer.
You should know that there is also a WhatsApp Web app and a website whose link you can find simply by searching 'WhatsApp Web'  on Google. WhatsApp Web is one of the easiest ways to send WhatsApp messages, receive video and images from PC.
How to use WhatsApp Web App on your PC
It is quite easy and you can run WhatsApp Web on your own. You just have to find WhatsApp Web link which you can visit by clicking on the link. When you click on WhatsApp Weblink, there is a screen appears along with a QR Code, showing you how to use WhatsApp on your computer or PC. You can do this by installing WhatsApp Web Application which is available for both Android and iPad.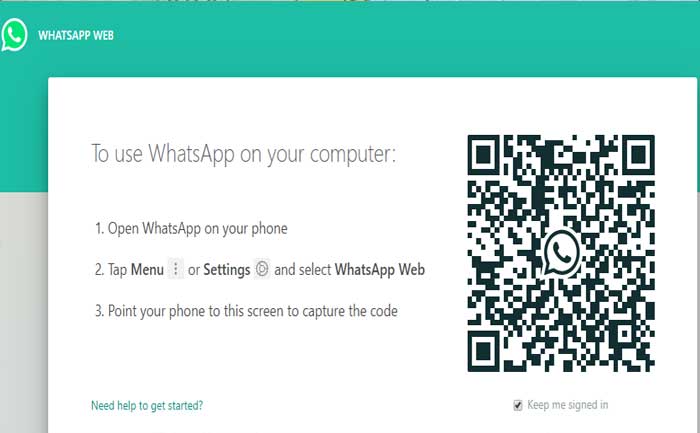 Instead of taking a break from work and checking out messages in WhatsApp, you should use it on your PC by using WhatsApp Web App. The above picture is the main page asking you to scan the QR Code. To use WhatsApp web, you should have a smartphone with a working camera or a Laptop or PC to use Web WhatsApp. If you do not know how to connect WhatsApp from your PC or Computer, below is the step by step method:
Open WhatsApp Web Link
Open WhatsApp on your mobile phone
Tap on the Meni (three-dotted sign on the right top)
Select WhatsApp Web
Point your camera to scan WhatsApp Web QR code
How basically WhatsApp Web Works?
In WhatsApp Web, you can use all the features that you actually use in WhatsApp App. Yes, this web WhatsApp requires your mobile to be kept in some meters of range. To be honest, Web WhatsApp is not as smooth as the WhatsApp app. It always asks you scan WhatsApp Web to reconnect your PC if you want to use it.
If your mobile phone does not have an Internet connection, you would not be able to see or send messages on WhatsApp web. Yes, your mobile and PC both should have an active internet connection run WhatsApp web in your PC. This could be irritating some times but it is better when it comes to privacy.
How to install WhatsApp Web on a computer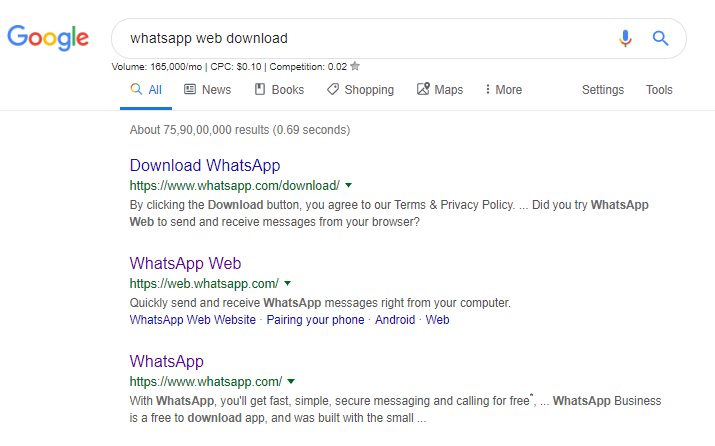 You can simply search on Google 'WhatsApp Web Download' on Google. You can download WhatsApp Web for PC and Mac from click on this link.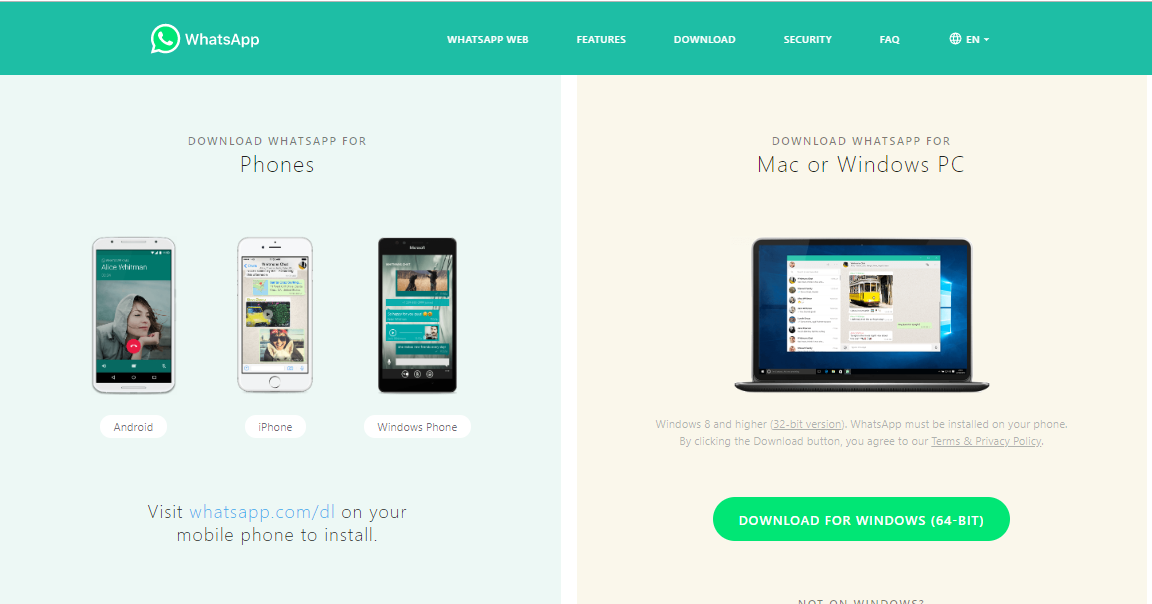 When you click on WhatsApp Web Download, a screen will appear giving you the download link of WhatsApp Web for both Mac or Windows. You just have to click on the green Download button to download the installer file to your PC or laptop.
After downloading the WhatsApp Web (WW) App, you will be prompted to scan QR code to run WhatsApp on your PC smoothly. The WW will keep you logged into WhatsApp until logged out by own.
WhatsApp Web Application -Features
Download images, videos and audio file director to your PC.
It has a search option to begin a new conversation or existing contacts.
You can view contact into
Connect multiple computers to your phone and save them for the future. Y
You can also remotely disconnect any browser from your phone.
Have an option to mute desktop alerts and sounds.
Send or receive photos, videos, documents, and contacts.
Watch WhatsApp Status updates from any contact.
Select multiple messages, and delete messages from PC.
Reply, forward, star, or delete messages.
Change your profile.
Everything has its own advantages or disadvantages so Web WhatsApp is no different. Yes, you might send photos, videos or type from Keyword but there are certain things which you can't do with WhatsApp Web. Let's talk about that.
What You Can't Do With WhatsApp Web Apk
You can't send a WhatsApp Broadcast on Web WhatsApp Apk.
You can't make or receive WhatsApp Voice calls or WhatsApp Video calls on apk.
You can't upload new WhatsApp Status on Web WhatsApp.
You can't share maps or your current location.
Settings are limited to notifications through WhatsApp Web and chat wallpapers.
Can we use two accounts using WhatsApp Web Apk?
Yes, you can use multiple WhatsApp on your PC or laptop by using different browsers. Yes, there are people who have many numbers associated with different WhatsApp accounts. WhatsApp Web Apk makes it easier for you to use multiple accounts simultaneously.
In order to do that you need to open WhatsApp Web Link in many browsers such as Google Chrome, Opera and US browser. Notably, you can also open WhatsApp Web in an incognito window, but that logs out after an hour.
What makes WhatsApp Web special
WhatsApp web is famous for many reasons but Keyboard is the one which makes it very special. Yes, why should we use WhatsApp on the phone when it is easier to use than a mobile phone. Witing messages via Keyboard helps you engage in a long conversation with someone.
According to reports, WhatsApp Web also works with WhatsApp Business and you'll be glad that you can take care of multiple customers through it. You can use keyboard shortcuts keys as well. The most useful two to remember are Ctrl + Shift + [ to go to the previous chat, and Ctrl + Shift + ] to go to the next chat.
Is WhatsApp Web Download safe or secure?
Unlike GBWhatsApp, Downloading WhatsApp Web is fully safe and secure. When WhatsApp had introduced this web WhatsApp, it received harsh criticism for its lack of security. Later, WhatsApp has introduced end-to-end encryption for its millions of users.
Now, WhatsApp has become one of the most popular chatting applications around the world. But if you are using Web WhatsApp, you should follow some steps to protect your safety and privacy.
Can we make a Video Call with WhatsApp Web?
No as of now, WhatsApp Web does not have an option of making a video call on Web WhatsApp. Actually, the service is only limited to its mobile application. As of now, it is not possible to make a video call via WhatsWeb Web.
What is the Future of WhatsApp Web Calling?
According to rumours, WhatsApp Web is planning to add supporting voice calls soon. But it has not officially confirmed as of now. If voice calls over browser client get a good response then you can also expect a roll-out for video call on the WA Web.
WhatsApp Tips & Tricks
There are plenty of WhatsApp Tips & Tricks that most people do not know about them. We have brought you some tricks that you would definitely love to read. Do you know that you can read WhatsApp messages without marking them with blue ticks? You can switch off the read receipt on your phone if you want to disable but WhatsApp Web has something better than that.
If you are having a conversation with someone but do not want to read their messages without them getting a read receipt, here's are some steps which you need to follow:
Open the chat in your WhatsApp Web window.
You have to open a Notepad file and change its size so that you can see the full WhatsApp Web chat in the background.
Click in the Notepad file and keep your cursor there. When you do this, the computer understands you are working in a different window.
Whatever Messages you receive will load in the background chat window, which you read without getting them a read receipt.
Instead of blue ticks, there will be double grey ticks indicating that you have received the message but have not read yet.
When you are done with marking them as read, just click on the WhatsWeb chat window and ticks will immediately turn blue showing them that you just read their message.
The limitation of this method is that you can only read the content of one chat at a time. But how often do you really need to use this trick anyway?
Apart from this blue ticks, there are plenty of WhatsApp Web tips and tricks available on the internet from WhatsApp Web short keys, emoji with the keyboard to how to change emoticons to emojis. 
How to Log Out of WhatsApp Web
When you are done chatting with your friends or anyone on WhatsApp and want to log out of WhatsApp Web, how would you do that? Logging out of WhatsApp Web is easier than logging out of Facebook. You should know that WhatsApp Web does not get logged out automatically, you will have to do it manually.
In order to log out of Web WhatsApp, you will have to go to open WhatsApp in mobile and go to Menu and then WhatsApp Web. When you go to WhatApp Web it will show you that you are active and if you want to log out from all the devices so click on the log out clickable text.
WhatsApp Web on Mobile
There were reports doing the rounds that WhatsApp is currently working on a project allowing its users to connect their WhatsApp on PC or Laptop when their mobiles phones are switched off or do not have an active internet connection. Yes, if everything falls in place, users would be able to use WhatsApp Web on their mobile phone or can access WhatsApp account from multiple devices.
According to WABetaInfo, the WhatsApp tracking blog that first reported the feature has confirmed that the multi-platform support functionality will not extend to WhatsApp Web.
If the report is to be beleived, WhatsApp users will have to wait a little bit longer to use WW without working internet connection.
"WhatsApp Web **should** still need an Internet connection on your phone. It will be used when you want to open WhatsApp on a different PC for a few minutes," the blog site wrote in a tweet.
WhatsApp Web likely to use in-app Verification Code
There are reports flying high that WhatsApp is likely to use in-app verification code to the second phone. This would allow you to link a second device to your original account and let the company's servers know that you have linked a second device to your WhatsApp account with the same phone number. This feature will allow its user to use WhatsApp Web when your phone does not have an active internet connection.
According to the blog, the chat would still be stored on your phones as against the company's servers and the synchronisation of chats, instead of taking place between the connected devices would take place from server to device 1 and from server to device 2 and so on.
The Facebook-owned company has not made it clear that when this feature will be available to its millions of users. It must be noted that apps developed under UWP work only on a Windows 10-enabled Phone. WhatsApp, however, withdrawing support for the Windows phone OS soon.
WhatsApp Web Experimenting Quick Edit Media Shortcut
According to reports, WhatsApp has been experimenting with new features such as the Quick Edit Media Shortcut. This new feature would allow its users to edit media files that have been shared on the messaging app. It can be used to edit media files quickly that are shared on both individual and group chats.
The messaging app reported that WhatsApp is currently developing a new QR Code Shortcut. The new shortcut would allow users to scan QR codes quickly by tapping on the shortcut. The feature was spotted on the Android beta version 2.19.189 update and is not available for the public.
WhatsApp to allow third-party stickers on WhatsApp Web soon
WhatsApp has plenty of features to keep us engaged in its messaging app but they still come up with a new feature in a week or two. We already have features like videos, images, doodles and GIFs as per WABetaInfo report,  WhatsApp is planning to introduce new functionality to WhatsApp Web allowing its users to share stickers created using third-party apps on WhatsApp Web.
Apart from this, WhatsApp is working on several other features to its web messaging app. According to reports, WhatsApp is likely to add pinned alert for issues feature to its iOS-based platform. This soon to be added feature will notify users whenever there is an issue while downloading a media file. The notification will be pinned to the top of the individual chat window and highlighted in a special colour with the message explaining the issue and the cause.
Also Read: How To Download 'WhatsApp Status' Images And Videos Of Your Friends