From Pulwama to Coronavirus, When Akshay Kumar donated crores to help needy
Here's everything you need to know when and how much Akshay Kumar donated to help others.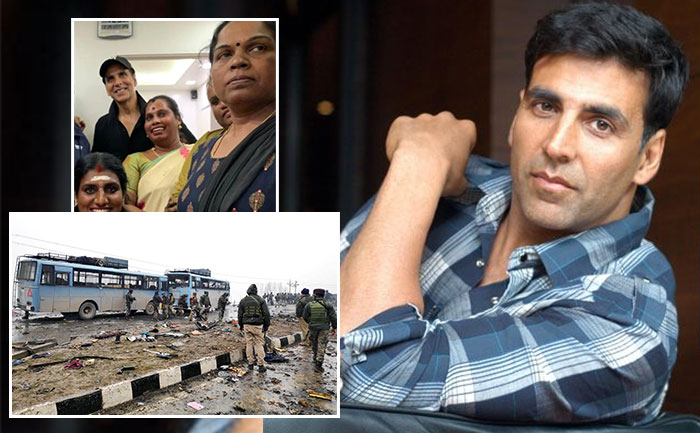 You must have noticed that Akshay Kumar was amongst the first one who contributed to Prime Minister Narendra Modi's coronavirus relief fund called PM Cares. Yes, Akshay Kumar took to social media and informed his fans that he has donated a whopping Rs 25 crore to PM Cares, aiming to help Indian citizen and fight the Covid-19 war.
If you are a fan of Akshay Kumar, you must have known that this was not the first time he has shown us how magnanimous Bollywood star he is. Akshay Kumar is a Bollywood star who always comes forward to help people who have nothing.
Besides contributing Rs 25 crore to PM Cares, Akshay Kumar had donated crores of rupees on various occasions. From Coronavirus to Pulwama, The Sooryavanshi actor had contributed a lot of money to help needy people.
In this article, we will talk about various occasions when Akshay Kumar donated crores of rupees. Without any further ado, let's take a look:
When Akshay Kumar Donated Crore of Rupees To Help Needy People
1. Pulwama Terror Attack
Bollywood actor Akshay Kumar called Pulwama incident a "dastardly terror attack", that killed 40 CRPF personnel and injured several others. The Khiladi of Bollywood, who is known for showing his generosity reportedly donated Rs 5 crore to the families of the martyred soldiers via Bharat Ke Veer, a fundraising initiative of the Union Ministry of Home Affairs.
Saying that the incident should not be forgotten, Akshay had written on Twitter, "Numb beyond belief at the dastardly terror attack on CRPF soldiers in Pulwama. May God give peace to their souls and strength to their grieving families. Wishing the injured a speedy recovery. We can't let this be forgotten."
2. ​At 'Samuh Vivaah' Mass Marriage
Superstar Akshay Kumar is known for his philanthropy. The Good Newwz star who has helped many in their times of need had presented 100 brides a sum of Rs 1 lakh at a 'samuhik vivah' or mass marriage event in Maharashtra.
I am also thankful to Akshay Kumar for giving ₹1 lakh each to newly wedded families in this mass wedding ceremony. pic.twitter.com/wvKbaAx9GY

— Devendra Fadnavis (@Dev_Fadnavis) February 22, 2019
A source told DNA, "Akshay and Chief Minister of Maharashtra, Devendra Fadnavis, were present at a samuhik vivaah of lesser-privileged persons. Around 100 couples tied the knot under the same roof. Akshay is said to have given each bride a gift of Rs 1 lakh. The money was deposited into their individual accounts. It was the actor's way of ensuring that these newly-married couples have something substantial to begin their lives with.
3. Floods in Bihar
Akshay Kumar had donated Rs 1 crore to rehabilitate 25 flood-stricken families in Bihar. At a time when people were suffering from flood, Akshay had come forward and announced to donate Rs 4 lakhs each for the 25 families who lost everything due to the floods.
Akshay Kumar had said that a natural calamity reminds us we are nothing in front of it. He said that we should help in whatever way we can.
4. Floods in Assam
When Assam was facing the rage of nature in the form floods, Akshay Kumar had extended his helping hands and donated Rs 1 crore each to the Assam Chief Minister's Relief Fund, and for the rescue work in Kaziranga National Park.
On donating crores of rupees for Assam floods, the actor had said that God has given him enough money, so he gives away without thinking twice.
In an interview with Hindustan Times, Akshay had said that the images coming from the flood-hit areas of Assam made him sad and he didn't twice before donating the money.
Absolutely heartbreaking to know about the devastation by floods in Assam.All affected, humans or animals,deserve support in this hour of crisis.I'd like to donate 1cr each to the CM Relief Fund & for Kaziranga Park rescue.Appealing to all to contribute @CMOfficeAssam @kaziranga_

— Akshay Kumar (@akshaykumar) July 17, 2019
He had said, "One of the images that really affected me was of a mother holding her baby on her shoulders and wading through the floodwaters. There was no expression of sadness or stress on her face. And that's a dangerous sign. What all she must have gone through that she forgot all her sorrows. When I come across such photos, I am like, it can happen to my wife or my daughter.' Aisi photos bahut choobhtin hai. That's why I did what I did."
5. For Transgender People in Chennai
Akshay Kumar —  who will be seen playing a transgender person in Raghava Lawrence's Laxmmi Bomb —  had donated Rs 1.5 crore to build homes for transgender people living in Chennai. The news of Akshay Kumar donating a sum of Rs 1.5 crore for the transgender community was shared by the film's director.
Sharing pictures of the Mission Mangal actor and himself with some of the members of the transgender community, Raghava Lawrence wrote a long note to share the news. He wrote on Facebook, "Hi friends and fans, I would like to share one good news, Akshay Kumar sir is donating 1.5 crores for building a transgender home for the first time in India (sic).
6. Coronavirus Outbreak
In order to be a part of the fight against Coronavirus, Akshay Kumar has come forward and donated a sum of Rs 25 crore to Prime Minister Narendra Modi's relief fund called PM Cares. Informing his fans about the contribution, He tweeted, "This is that time when all that matters is the lives of our people. And we need to do anything and everything it takes. I pledge to contribute Rs 25 crores from my savings to @narendramodi ji's PM-CARES Fund. Let's save lives, Jaan hai toh jahaan hai. ??".
This is that time when all that matters is the lives of our people. And we need to do anything and everything it takes. I pledge to contribute Rs 25 crores from my savings to @narendramodi ji's PM-CARES Fund. Let's save lives, Jaan hai toh jahaan hai. ?? https://t.co/dKbxiLXFLS

— Akshay Kumar (@akshaykumar) March 28, 2020
What do you think of Akshay Kumar's generosity? Do let us know in the comment section below.