Will Shatrughan Sinha join RJD? SP also on radar?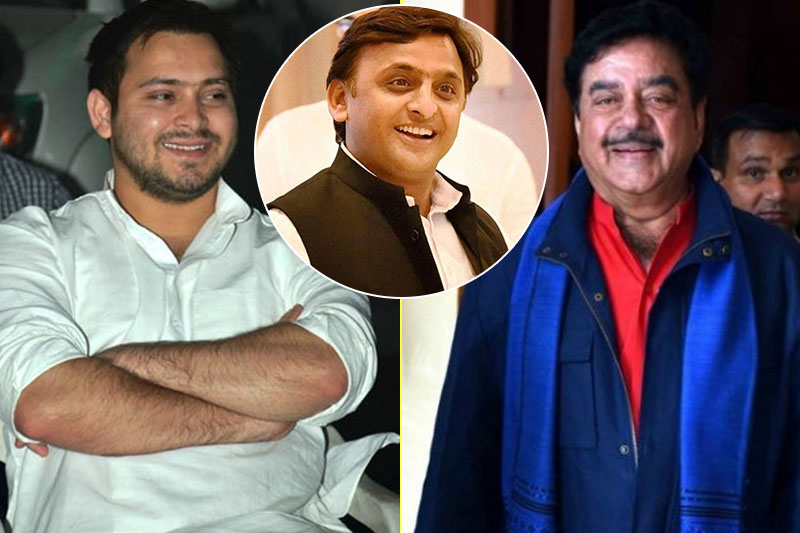 One thing is pretty clear. BJP Member of Parliament Shatrughan Sinha is no more with BJP — at least by heart. On paper he may still be on the party roster, but as a politician and leader he has drifted far away from the saffron brigade.
If taking regular swipes at Prime Minister Narendra Modi was not enough an indication to show his apathy for the party; then the Durga Puja pandal hopping in Patna's Krishna Nagar with Tejashwi Pratap Yadav is definitely one.
Sinha not only accompanied RJD supremo Lalu Prasad's son, but also addressed him as the "future of Bihar". Taking this as a normal one-off incident would be grossly wrong. With growing animosity with the saffron brigade, Sinha's actions are significant and enough fodder for a drama to ensue.
"Tejashwi Yadav is definitely the future of Bihar. He is strong, qualified and also loved by a lot of your politicians. Today, I have done his rajyabhishek and blessed him. I see the future of the state in him," Shatrughan Sinha was quoted by Indian Today while doing aarti alongside the former Bihar deputy chief minister.
What was more striking was the actor-turned politician didn't miss even this opportunity to take another potshot at Modi and pledging support for RJD, whose supremo is a long-time friend of Shatrughan Sinha despite having contrasting political affiliations. "Main acche din ke baare mein nahi keh sakta magar shubh din zaroor aane wale hain," the current Patna Sahib MP said. What he actually meant by shubh din is anybody's guess.
In a befitting response, Tejwashwi also expressed his closeness with his fellow iconic Bihari babu and the current Patna Sahib MP. "He is my guardian who has always to stood by my family whether, in good or bad times and today when I got an opportunity to go with him on pandal hopping, I did not want to miss it," said Tejashwi Yadav, RJD's de-facto chief.
It may be noted that Shatrughan on landing in Patna made it a point to call on former Bihar chief minister Rabri Devi at her 10, Circular Road residence. Following the meeting with Rabri Devi, Sinha set out for pandal hopping accompanying Tejashwi.
If anything can be construed from this is whether Shatrughan Sinha is planning to quit BJP sooner than later and look for greener pastures as far as electoral politics is concerned. According to reports, BJP has already shunted Sinha and Bihar deputy chief minister Sushil Kumar Modi is being thought of as the saffron candidate from Patna Sahib parliamentary constituency for 2019 general elections.
Also, sources close to Samajwadi party claim that Sinha may be offered to contest on an SP ticket from Varanasi against Modi in the next year's Lok Sabha polls, provided he quits BJP before elections.
Now a couple of questions that are being raised are — first, Will Shatrughan Sinha quit BJP shortly? And the second is which party he would resort to — Samajwadi Party or Rashtriya Janata Dal (RJD)? Watch this space for more updates…
ALSO READ: General Elections 2019: BJP may field Sushil Modi, and not Shatrughan Sinha from Patna Sahib