United States: Winter Storm Leaves Millions in Texas Without Power
United States Of America: Cold Snap Leaves 8 Million In Texas, Mexico Without Power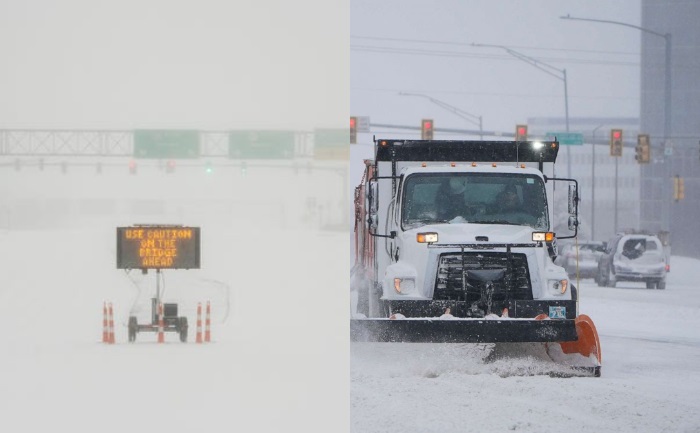 Winter Storm URI caused havoc across Texas and Mexico leaving millions without power. More than 3.6 million Texas homes and businesses were without power Monday evening. The rare deep freeze in Texas raised the demand for power. Texas' power grid experienced a system-wide failure as demands surged. It forced the U.S. state's electric grid operator to impose rotating blackouts to combat the demand as the storm continued to batter the states.
The Great Texan Snowstorm of 2021
11°F and still dropping ❄️ #austin #texas #winterstorm2021 pic.twitter.com/0gOaidQHNH

— Sarah L. (@tear_xenon) February 15, 2021
Outages in Texas lasted for hours. To help conserve energy, ERCOT asked residents to close their blinds, unplug unused appliances, wait for a few days to do laundry, and wear warmer clothes among other steps.
Temperatures are below freezing across all of Texas. There is another winter storm likely on Wednesday. Hundreds of departure flights have been cancelled or delayed at major airports in Texas. Due to snow and ice on the runways, George Bush Intercontinental Airport closed early Monday morning and will remain closed until at least Tuesday. Metro transport services have also been closed. Major businesses, schools are closed till Tuesday morning.
Central Texas right now… This is insane. 12° 💨🌬️❄️🌨️💙#TexasWinterStorm #TexasFreeze #Texas #TexasSnow #TexasWeather #Snowmageddon2021 #Snowpocalypse2021 pic.twitter.com/eB8k9qVhY9

— Jessica Calvello (@JessicaCalvello) February 15, 2021
The cold snap sweeping across Texas has also reached the northern part of Mexico. 4.7 million users lost power early on Monday. But the services were restored around midday to almost 2.6 million of them.
Also Read: United States: 6 Killed In 130-Vehicle Pileup On Texas Interstate