World Diabetes Day: 5 Best Diabetic Friendly Recipes To Please Your Taste Buds
World Diabetes Day 2020: Submerge yourself in this divinely diabetic friendly dishes to please your taste buds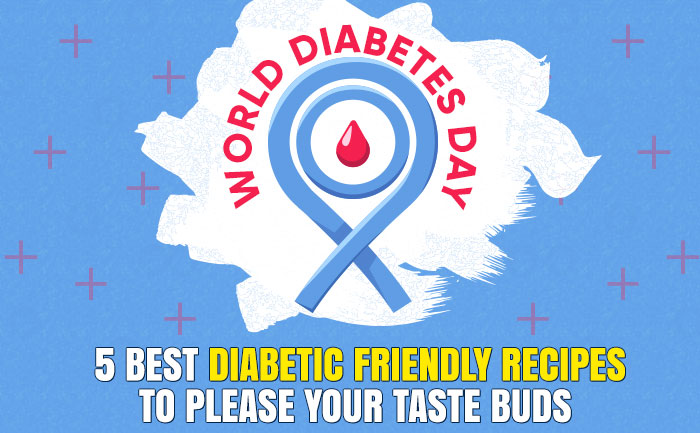 Diabetes is a serious lifestyle disease affecting millions over the world. As per statistic 7.29 crore, people are affected by this condition in India. 1 in 2 people lives with type-2 diabetes undiagnosed. Over 425 million people are affected by type-2 diabetes. World Diabetes Day (WDD) was created in 1991 by IDF and the World Health Organization. It was in response to growing concerns about the health threat posed by diabetes. World Diabetes Day became an official United Nations Day in 2006.
When is World Diabetes Day Celebrated?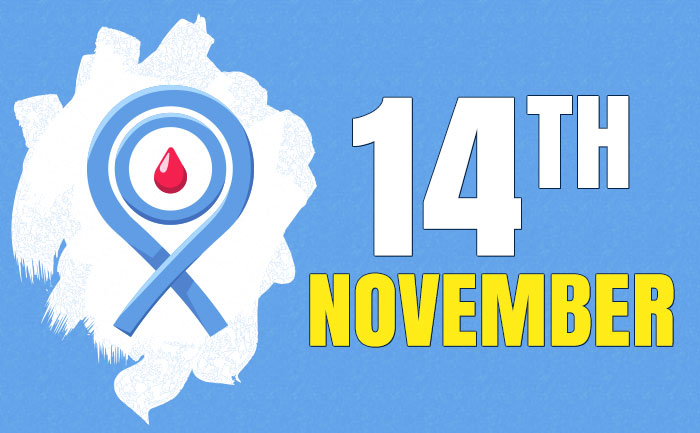 It is marked every year on 14 November, the birthday of Sir Frederick Banting, who co-discovered insulin along with Charles Best in 1922. The day is dedicated to the spread of awareness, risks, and management of this disease. The aim of this day is to increase awareness of diabetes through campaigns.
How is it recognised?
World Diabetes Day is recognised by the 'blue circle logo' in both live campaigns and online.
World Diabetes Day 2020 Theme:
The theme for World Diabetes Day 2020 is The Nurse and Diabetes. The campaign aims to raise awareness around the crucial role that nurses play in supporting people living with diabetes.
On this special day here are five popular diabetic-friendly recipes:
1 Low Fat Butter Chicken Recipe: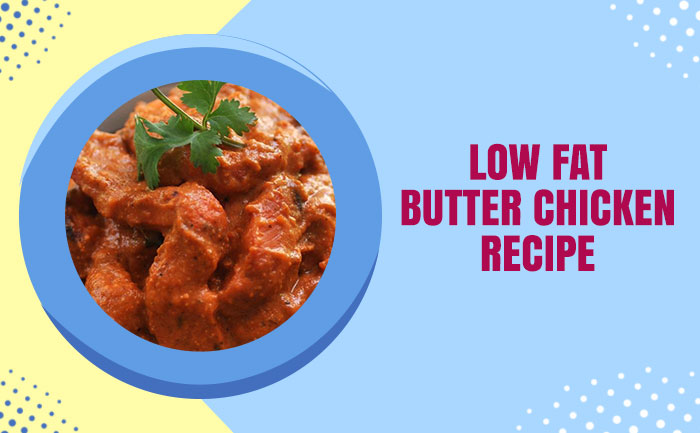 Ingredients: 
400 gms chicken chunks
4 large onions
2-3 Cinnamon sticks
4 Cloves
2 bay leaves
1 tbsp garlic paste
2 Cardamom
5-6 large red tomatoes
Salt to taste
1/2 tsp red chilli or more if you want it really spicy
1/2 tsp coriander powder
1/4 tsp turmeric
3-4 green chillies de-seeded
for garnishing Fresh coriander
1/4 cup yoghurt
2 tsp oil
Method:
1.Take a pan and put 2 tsp oil.
2. Add onion cut in long slices, cinnamon, Bay Leaf, cardamom, garlic paste. Saute all this in oil nicely till the onion gets a little brown.
3. Cool the fried masala and blend with chopped tomatoes and curd till a smooth paste is formed.
4. Take the pan and saute chicken.
5. As soon as the chicken softens add the onion, tomato/curd paste and cook.
7. Add salt to taste, red chilli, coriander powder, turmeric, green chillies.
8 Let it simmer till the chicken softens and the oil rises to the top.
9.Garnish with coriander before serving.
2. Low-Fat French Onion Soup Recipe: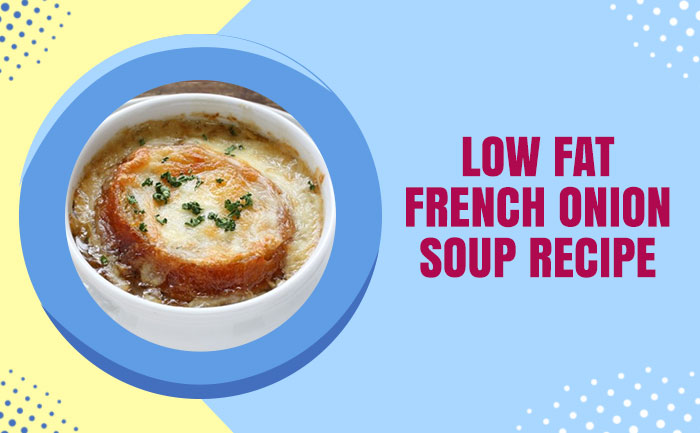 Ingredients
4 onions, sliced
1/2 tsp butter
A little olive oil or canola spray
3 tbsp white wine
A sprig or two of fresh or dry thyme
4 cups chicken stock, large
Salt and pepper
A piece of whole-wheat toast baked in the oven with grated gouda cheese till it browns slightly.
1 tsp garlic paste, finely chopped
Method:
1.Take a heavy-bottomed pan.
2.Add butter and olive oil or spray.
3.When warm, add onions and garlic.
4.Now the idea is to keep cooking these onions on a slow flame.they should caramelize in about 20 minutes.
5.After adding these onions, cook on low for 10 minutes. Now add wine.
6.Once the onions are nicely caramelized, add the stock add let it come to a boil.
7.Taste and season with salt and pepper.
8.Put wholewheat bread in toaster and toast. now add grated cheese and let it melt till slightly brown in the oven.
9.Add soup to soup bowl with a good amount of onions. Top with toast and serve.
3. Bikaneri Wheat Khichdi: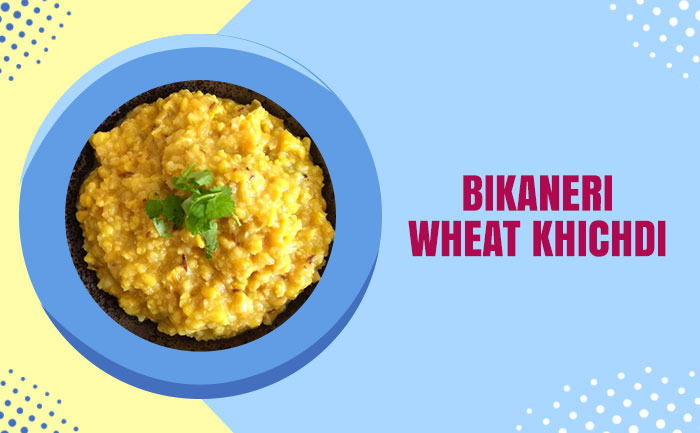 INGREDIENTS
Whole wheat 1/8 cup
Moong dal or split yellow gram (negligible cup)
Ghee 1/8 tsp
Oil  1/8 tsp
Jeera or cumin seeds a pinch
Hing or asafoetida a pinch
Haldi or turmeric powder little
Salt
Method:
1.  Take the overnight soaked wheat and grind it in a mixer without using any water.
2. Take a pressure cooker and heat it for a minute after putting ghee and oil in it.
3. Add green chillies, asafoetida and cumin seeds
4. Next, add moong dal and ground wheat in it and saute for a few seconds.
5. Add water according to the quantity and then add turmeric and salt to it.
6.  Wait for 2 whistles. Mix well and serve with curd.
Tip: Wash and clean wheat and soak it overnight. Drain well before grinding it.
For moong dal, wash and clean well, allowing it to soak in water for 2 hours. Drain well before using it.
4. Sugar-Free Badam Ki Barfi: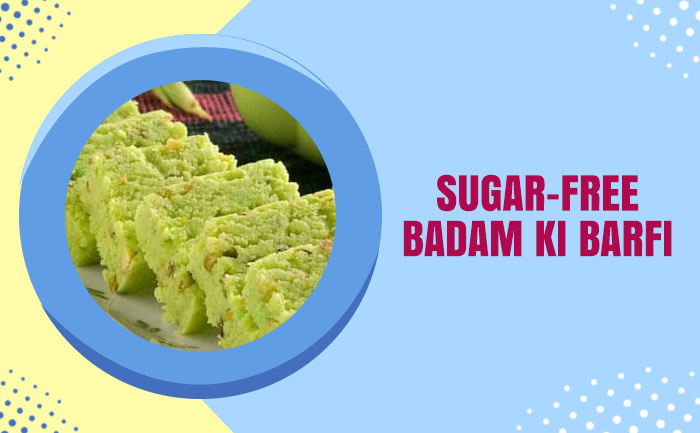 Ingredients:
1 1/2 Cups mawa
1 cup  Dehydrated mix fruits, chopped
1/2 cup mixed nuts (walnuts, almonds, pistachios and figs), chopped
1/4 tsp cardamom
A pinch of nutmeg powder
Method:
1.Combine the Mawa and nuts in a deep non-stick Kadhai.
2.Mix well and cook on a medium flame for 5 minutes, while stirring occasionally.
3.Add the mixed nuts, dehydrated chopped fruits, cardamom powder and nutmeg powder.
4.Mix them well.
5.Put the mixture into a greased Aluminum tin.
6.Keep aside for 5 hours to let the mixture cool down.
7.Cut into equal pieces and serve.
5. Kaala Channa: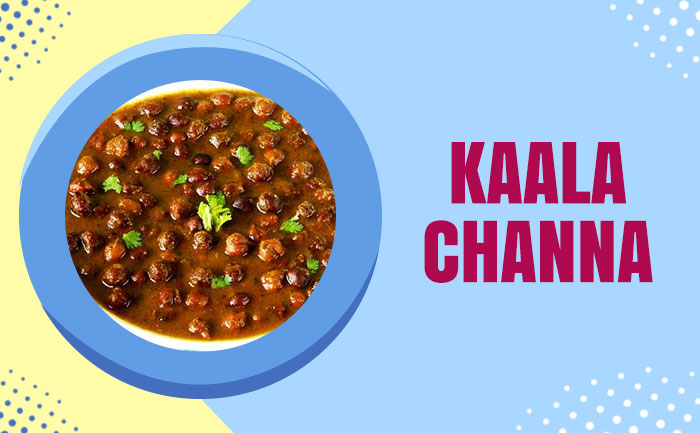 Ingredients:
1 cup kaala chana
3 tablespoons oil
1/8 teaspoon asafetida
1 teaspoon cumin seeds
2 tablespoons gram flour
1 tablespoon grated ginger
1 green chilli finely chopped
2 tablespoons coriander powder (dhania)
½ tablespoon turmeric
½ teaspoon red chilli powder adjust to taste
2 teaspoons salt adjust to taste
 1 teaspoon lemon juice and chopped coriander for garnish
Method:
1. Wash and soak kaala chana in approx. 4 cups of water, for at least 6 hours.
2.In a small bowl mix ginger, green chilli, coriander powder, turmeric, and chilli powder with ¼ cup of water.
3. Heat oil in a pressure cooker .
4. Add cumin seeds, asafetida and gram flour. Stir for few seconds. Add the mixed spices (step 2) and stir for another minute.
5. Add soaked kaala chana, and 4 cups of water to the pressure cooker.  Cook for 4-5 whistles.
6. Simmer for a few minutes on gas after opening till the gravy thickens.
7.Stir in lemon juice and chopped coriander. Serve Hot.
Also Read:  Filter Coffee Benefits: Drinking 3 cups of coffee may keep diabetes at bay; find out how