Worli Residents Will Burn Coronavirus Effigy
Worli residents have decided to burn Coronasur this year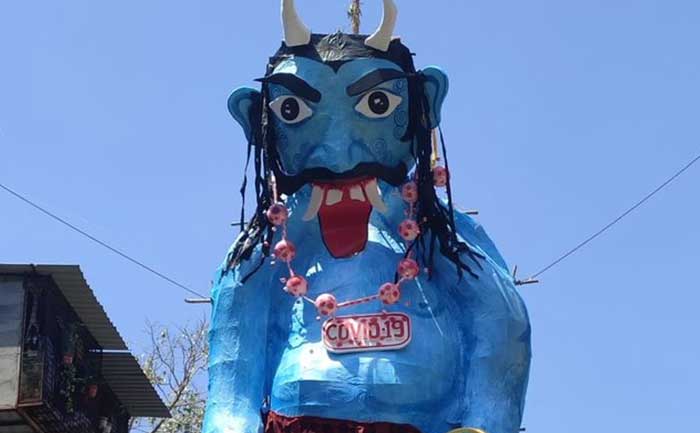 Coronavirus has caused a worldwide panic as the death toll continues to rise. The disease has claimed over 3,000 lives worldwide. In addition, there are more than 5,000 critical cases of the disease. Amidst the widespread panic and anxiety about Coronavirus, the residents of Worli have decided to burn an effigy of Coronavirus itself. Labeled the Coronasur, this effigy will be burned during the Holika Dahan Festival on March 9, 2020, in Worli.
There are 15 suspected cases of Coronavirus in Mumbai. However, none of these have been confirmed as of yet, according to livemint.
The Coronavirus effigy is not the first instance where the residents of Worli have replaced Ravan with a more contemporary demon. The Worli residents had previously burnt an effigy of Nirav Modi who is on the run after the PNB fraud case.
The Worli residents want to symbolize the end of Coronavirus by burning it as 'Coronasur'. There are currently over  100,000 people affected by the virus worldwide. In India, there have been 39 confirmed cases of Coronavirus till Sunday.
The Coronavirus originated in Wuhan, China in the Huanan Seafood Wholesale Market. This market sells fish, as well as a panoply of other animal meats. Such markets pose a heightened risk of viruses jumping from animals to humans. This is due to the hygiene standards being difficult to maintain as live animals are being kept and butchered on site. Typically, they are also densely packed.
The source animal for Coronavirus has not been identified yet. However, the original host is believed to be bats. While bats are not sold at the Wuhan market, they could have infected the animals sold there.
ALSO READ: Coronavirus In India: Here's Everything You Need To Know About COVID-19