WWE Champion Brock Lesnar Is Now A Part Of The Marvel Universe?
Tony Stark dropped the news of WWE champion Brock Lesnar existing in Marvel Universe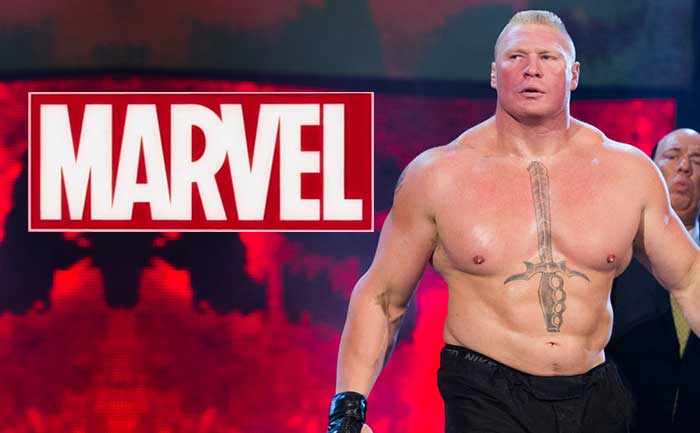 WWE and Marvel now have more in common than Drax the Destroyer. Apart from The Animal Batista, WWE Champion Brock Lesnar is also a part of the Marvel Universe now. The WWE superstar is not actually a character in the Marvel Universe though. He is mentioned by Tony Stark in the latest Marvel issue, Avengers #31.
In the comics, Tony is transported back to the 1,000,000 BC and does a little name dropping while he battles prehistoric Avengers. "Look, Ghost Rider Snuffaluffagus and Brock Lesnar Starbrand are one thing, but no way am I getting slapped around by Thor's daddy!"
This puts Brock Lesnar in the Marvel Universe as himself. It would make sense that billionaire Tony Stark would know of Vince McMahon and his empire if it canonically exists in his universe. Who knows, we might even see Brock Lesnar join The Avengers for a fight or two in the Marvel Universe.
WWE has always had a close association with Marvel. Former WWE Champion Dave Bautista stars as Drax the Destroyer in the MCU's Guardian of the Galaxy series. In addition, another WWE superstar CM Punk has written for Marvel Comics' Drax series.
Previously, WWE Champion Brock Lesnar has appeared in 2014's film True Giants. He also has cameos in Foxcatcher and Countdown. Fans of The Beast will surely be hoping that their favorite WWE superstar pops up somewhere in the next MCU movie.
Lesnar is gearing up to defend his WWE Championship on April 5 at WrestleMania 36 against Royal Rumble winner Drew McIntyre.
ALSO READ: Marvel Fans Slam BTS For Stealing Avengers 'Love You 3000' Phrase